15 of the most creative billboards ever designed
Sky-filling billboards are one of the best ways for a company to demand your attention. Companies and charities have all used the format to sell products and spread a message. Some have really gone above and beyond with creative ideas.
Our roundup features companies that gave away freebies with their billboards, astounded passers-by or created a visual spectacle.
15) Deliveroo – Free Burgers

Brands love giving away freebies on billboards. We've seen Coke Zero given away through giant straws and Mr Kipling ice cakes directly onto an edible billboard, but Deliveroo won a London lunchtime with this simple stunt.
14) McDonald's – The Golden Arches
People always say that the McDonald's Golden Arches are the most recognisable symbol on the planet. This set of billboards, where the arches are used to point people in the direction of their nearest Big Mac, is a simple and eye-catching way to drive footfall.
13) Lidl – Hijacking the Competition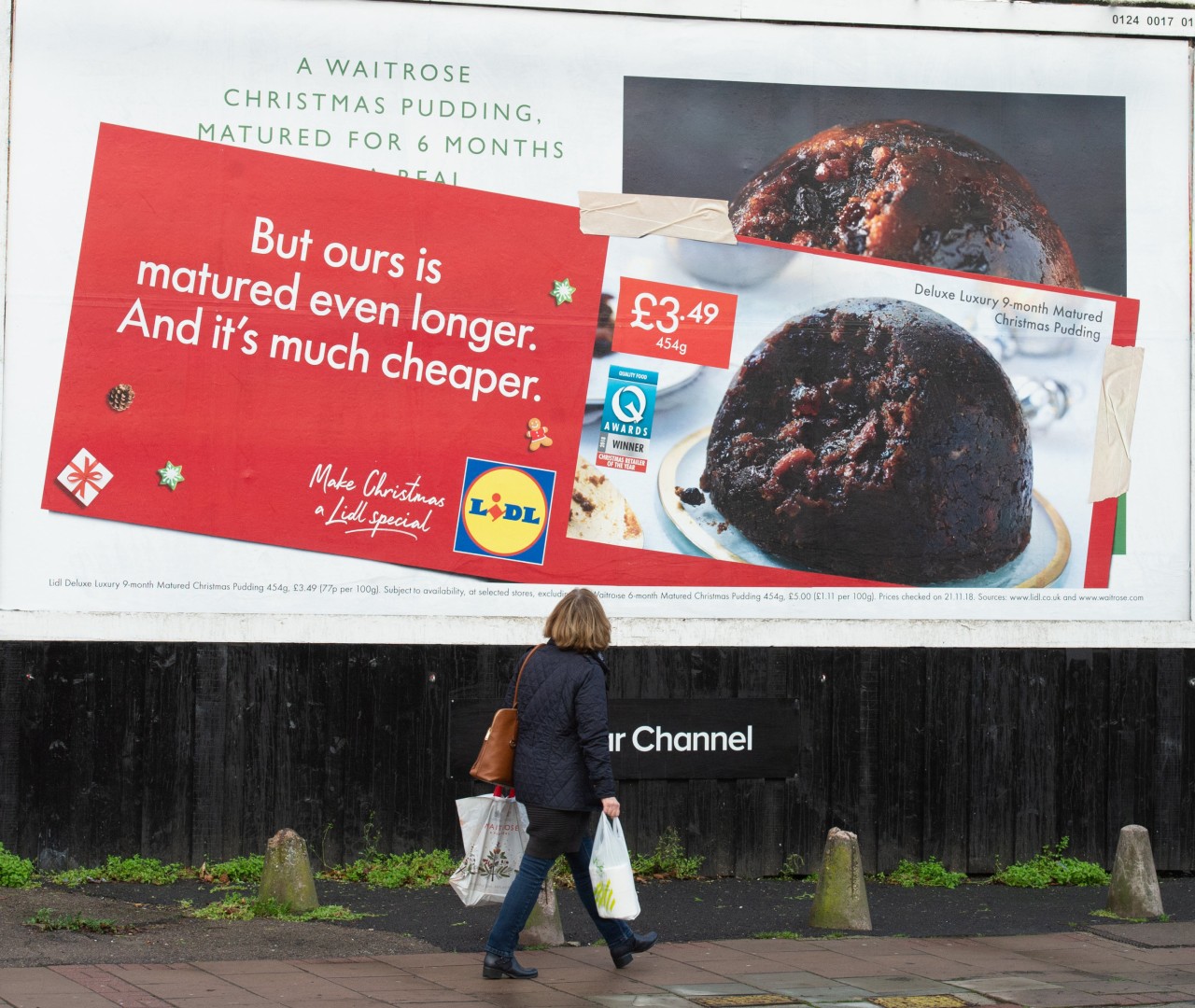 This savage take from the budget retailer saw them literally just stick their ads over the top of their rivals. Extra points for this glorious photo, featuring a woman doing a double take with her Waitrose shopping bag.
12) Corona – Highlighting Ocean Tragedy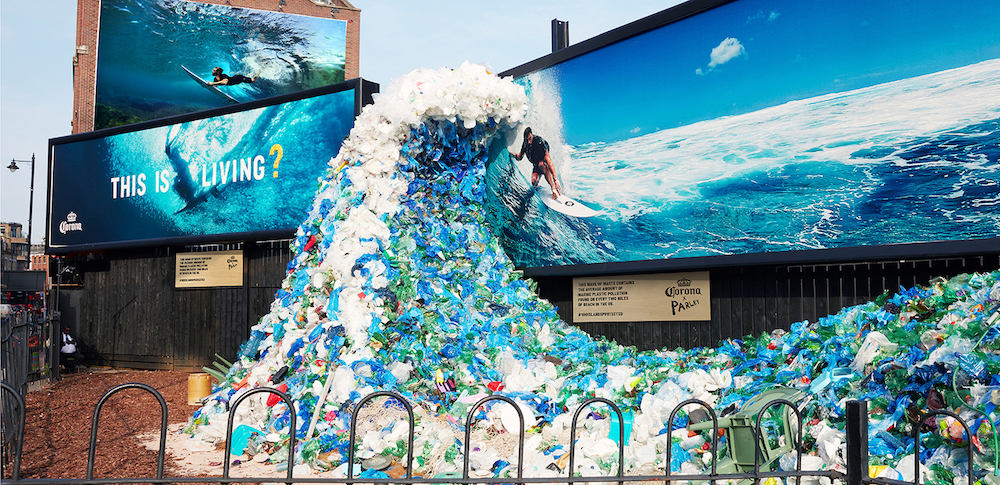 This arty example from the drink brand kicks off two of the big themes of this billboard roundup – it uses the physical space beyond the ad for effect, and it's for a good cause.
11) Xbox – Endurance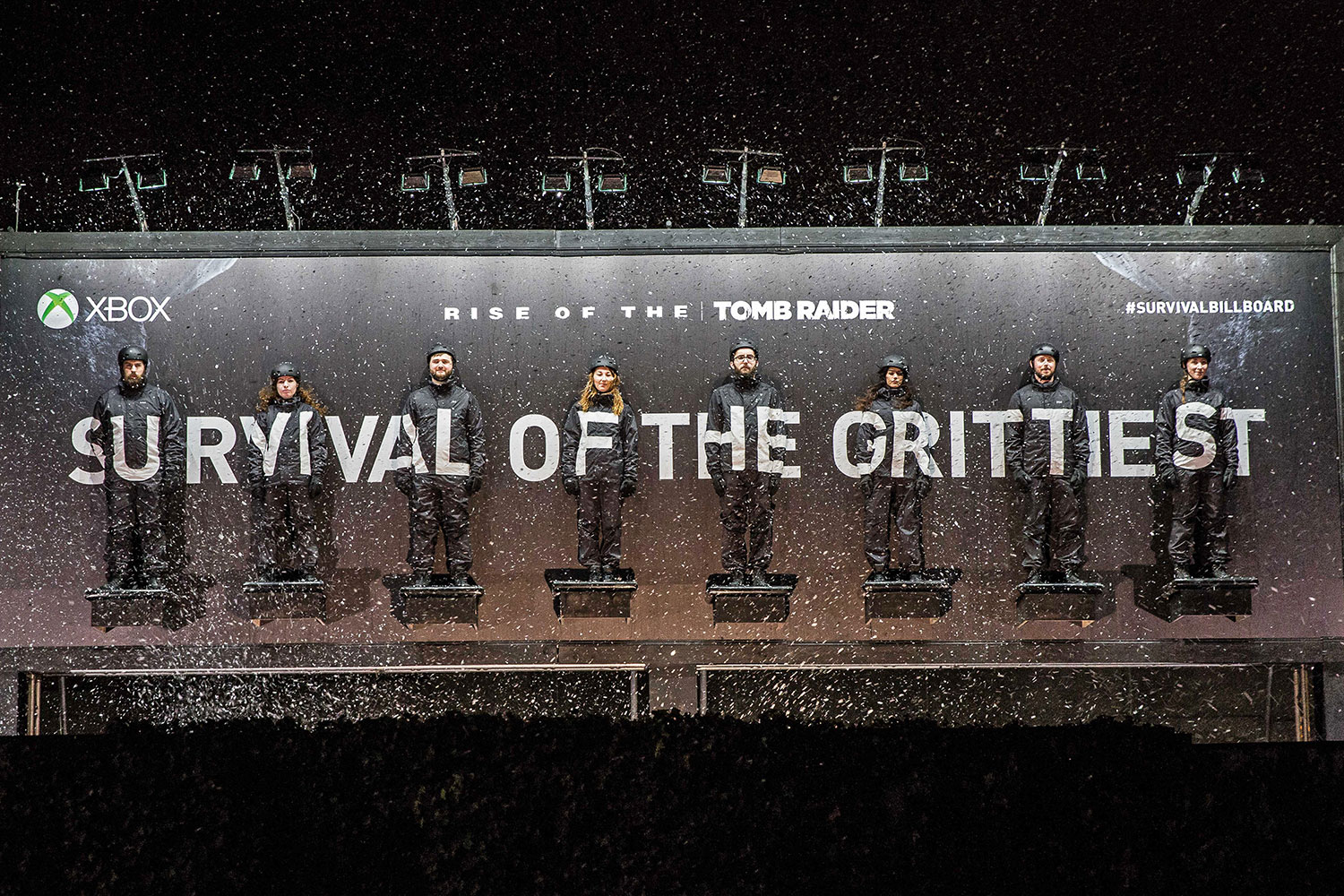 Xbox challenged eight Lara Croft Tomb Raider fans to survive and livestreamed it to the public. They blasted them with snow, heat and wind in a branded Hunger Games where people voted for how to torture these innocent souls. The winner lasted over twenty hours, one participant got pulled for hypothermia and two of them even started dating.
10) O2 – Broken Billboards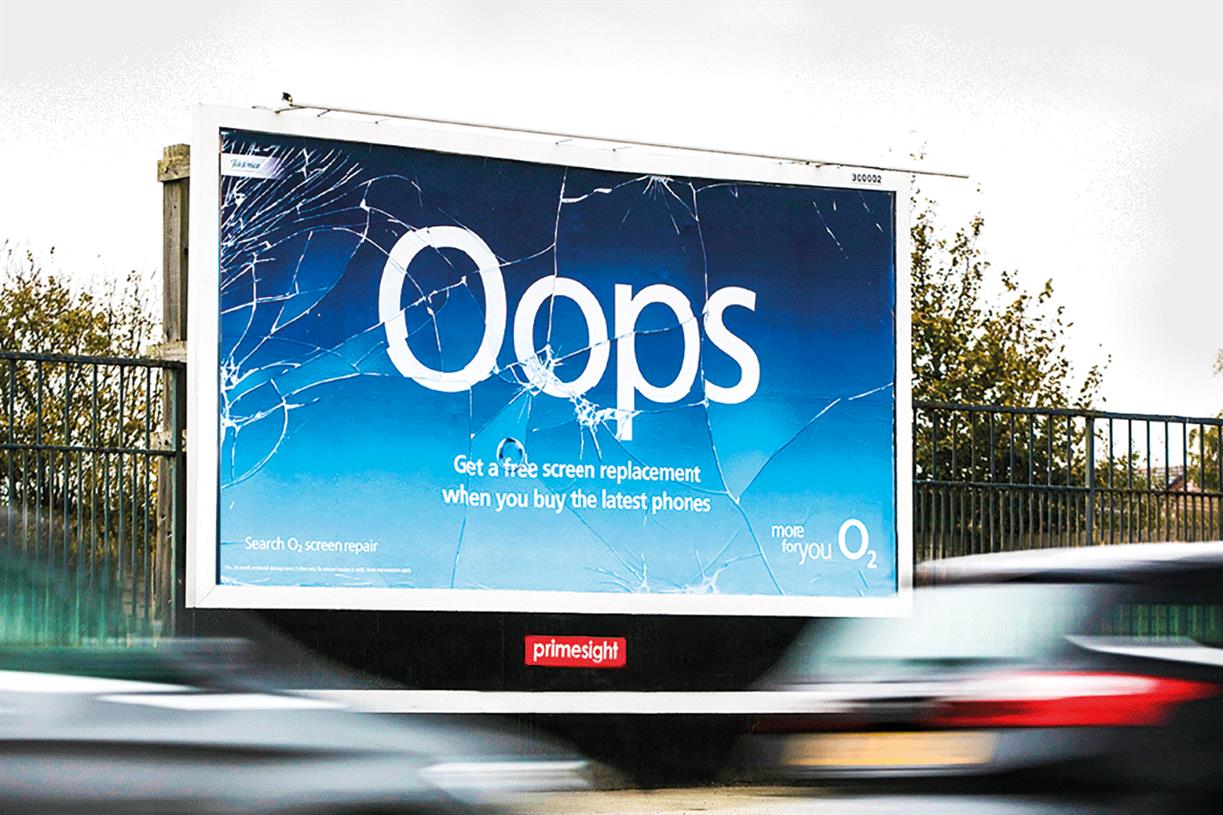 It's almost impossible not to look at these simple yet effective O2 billboards, smashed up to promote their screen replacement service.
9) Paddy Power – Traitor Tony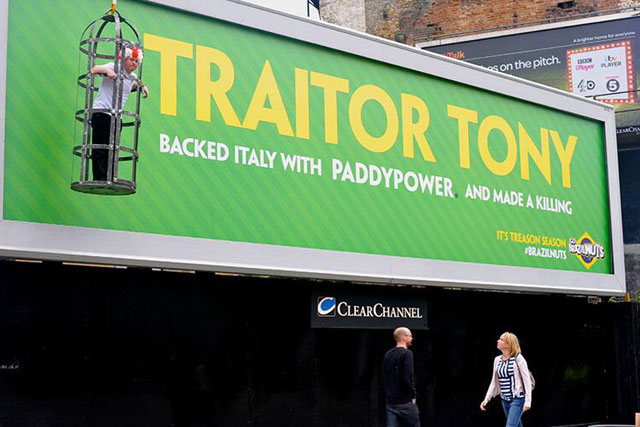 Only Paddy Power could get away with suspending a caged actor in front of a billboard.
8) MetService – Accurate Weather Forecasting
Someone definitely had a eureka moment to create this genius invisible billboard. Possibly the most accurate weather forecast ever?
7) Audi and BMW – Billboard War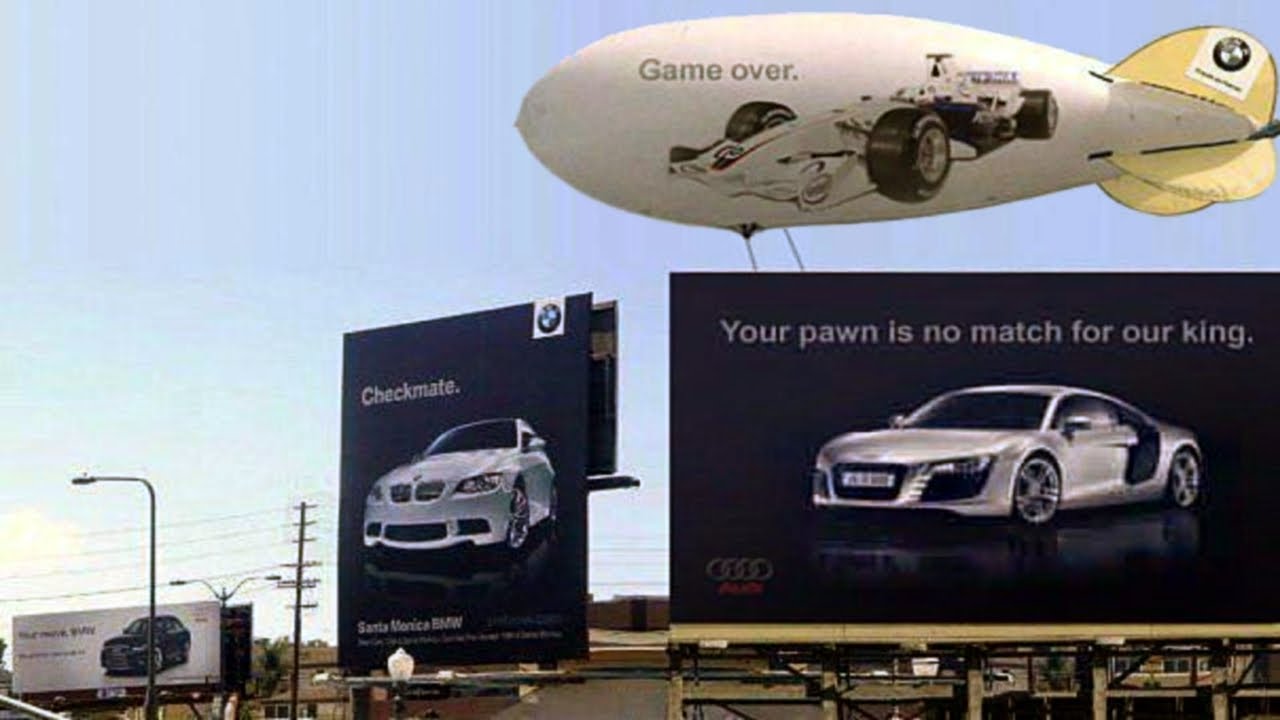 People love it when brands have a healthy rivalry online, so competing billboards (and blimps) are even more impressive one-upmanship. The logistics involved in pulling this off are scary.
6) Nationwide Insurance – Paint
This billboard gets a high placing for sheer scale and spectacle. It's also not what you expect – it promotes insurance rather than paint.
5) The Economist – Lightbulb
Is this the simplest idea on this list? It's also one of the most elegant – person steps underneath the lightbulb, making it to illuminate.
4) ANAR Foundation – Intelligent Perspective
This ridiculously smart and powerful campaign uses a lenticular billboard to show a different text and image for children looking from a lower angle. Advertising that uses technology to make a difference.
Adults see "Sometimes child abuse is only visible to the child suffering it."
Children see "If somebody hurts you, phone us and we'll help you."
3) Bird's Eye – Free Money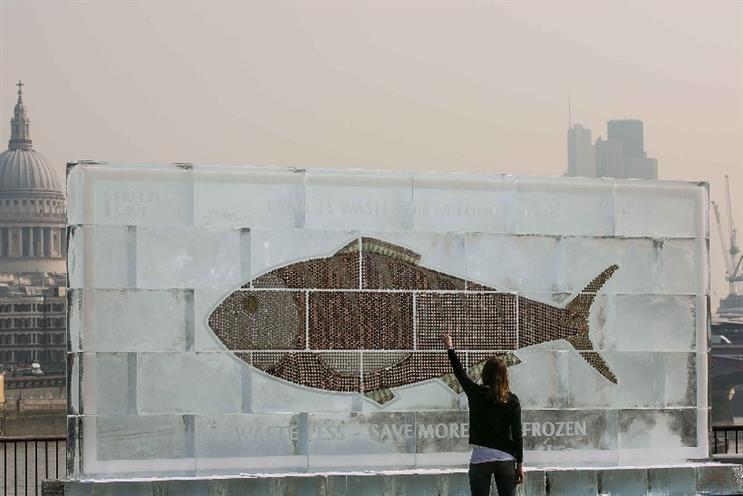 Bird's Eye took giveaway billboards to the next level by freezing £700 in a giant ice block. They claimed that consumers would save this much if they froze their leftover groceries. As the ice melted the coins and notes fell down for delighted passers-by to collect.
2) Women's Aid – Blind Eye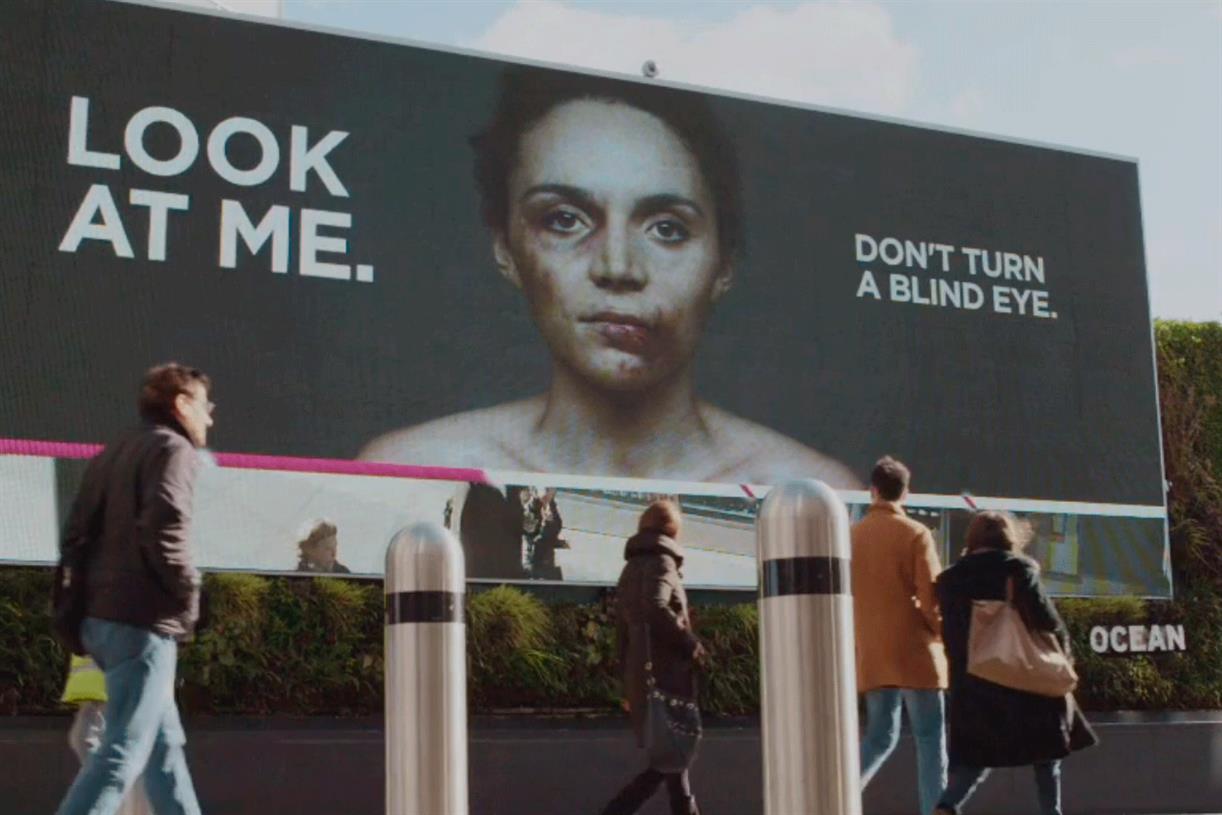 Another campaign against violence and abuse, these billboards use facial recognition technology to achieve a powerful impact. Cameras detected when people were paying attention to the billboard and healed the bruises and face faster, raising awareness of the stigma of domestic violence.
1) British Airways – #LookUp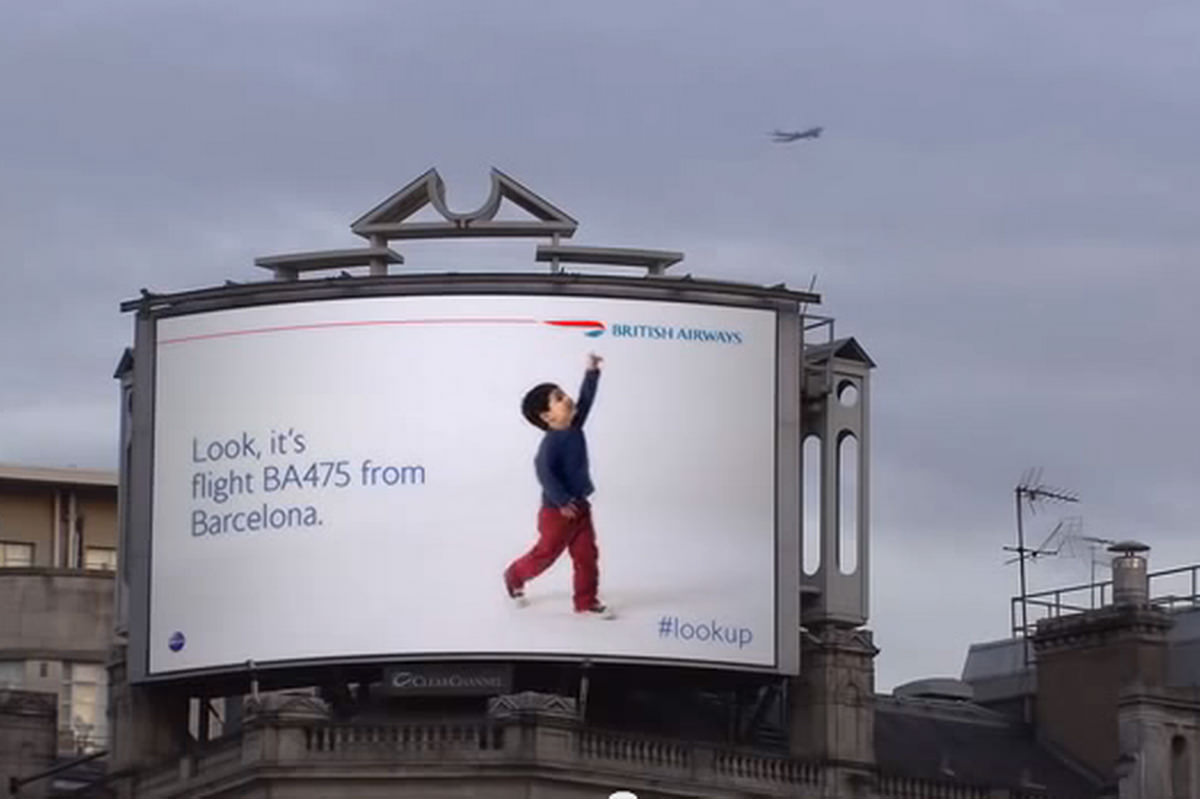 This is the billboard that changed the game for creative outdoor advertising, winning shedloads of awards and acclaim in the process. The digital boards encouraged people to look up and spot the planes in the sky, flashing across the destinations that BA travel to on the big screen. This is the perfect mix of marketing and magic.
Comments
comments