Fast food's latest vegan additions
This year's Veganuary introduced so many more plant-based foods to restaurants, supermarkets and kitchens everywhere. With meat and dairy-free products becoming more and more popular, we take a tour around the newest big-brand vegan options that have been introduced this year. Find out which ranked highest in our books and who failed to impress.
KFC Vegan Burger
First impressions of this burger are something else. The most notable feat of this burger is the impressive vegan mayonnaise. Eggs better move over because there's a new sheriff in town; the taste of this mayonnaise is truly something to behold. As for the actual 'chicken', the Quorn fillet is tender and tasty, coated with the Colonel's recipe of 11 herbs and spices. The breaded coating has great texture and paired with the iceberg lettuce in between a class burger bun, this vegan treat is a combination of all things good. Overall the KFC vegan burger is a top choice for a fast food option, however we are deducting points for the price-tag. If you're a strict vegan, you wouldn't be able to get this as a meal as the fries unfortunately are not suitable for vegetarians or vegans. The burger on its own is £3.99, which compared to other options on this list, isn't amazing value for money.

Greggs Steak Bake
When Greggs released their vegan sausage roll back in March 2019, the UK was truly shaken up. Opinions were divided, while people celebrated, others couldn't comprehend their favourite pastry shop catering to people with other dietary needs and wants. We believe it was the push the food industry needed to start providing customers with a wider range of options. This year they followed up from 2019's success, by releasing the vegan steak bake. For Britain, onions and gravy are a staple part of an English diet and this pastry is bursting to the seams with delicious flavour and warmth, all while being wrapped in a golden, flaky pastry. At the sweet price of £1.55 too, this is a revelation of meat-free alternatives, without missing out on flavour.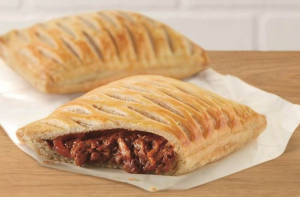 Costa Ham n 'Cheeze' toastie
This entry didn't make as much as an impact online as much as other contenders on this list, but we've decided to include it as a worthy high-street option for a meat-free lunch. Released on January 2, Costa released their 'Smokey Ham & CheeZe' toastie just in time to hop onto the Veganuary hype train. At £2.95, this toastie is better enjoyed as a comfort food, with golden toasted bread, soft gooey fake cheese and Quorn ham slices in the middle. While simple, it's still effective in providing a nice lunch without breaking the bank, however we have to admit it's nothing ground-breaking. The simplicity of the toastie means it's the easiest to re-create at home with ingredients from an everyday supermarket, while for a fraction of the price, you could be chomping down on a vegan steak bake instead.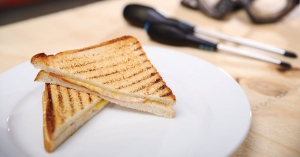 McDonalds Vegetable Deluxe
Two veggie goujons in the middle of a sesame seed bun. It's not exactly inspired and considering this is replacing the previous veggie burger, you would expect there to be a vast improvement. When describing McDonald's vegetarian options, they can be summed up in one word; mushy. For the price of £3.09, the veggie goujons are simply quite sad, with an overly prominent tomato flavour taking over the inside filling and just are not up to scratch to where other vegan alternatives currently stand. With more and more options for people with a meat-free lifestyle, this really is bottom-tier and with plant-based food becoming so advanced, there's no reason why McDonald's can't follow in the footsteps of other big names to put more effort into providing top-quality options for their customers.

Subway Meatless Marinara
This entry is the most filling choice for a meatless meal, with Subway's Meatless Marinara crammed full of sauce, cheese and meatballs, in-between a thick bread of your choosing. This is perhaps the most challenging option to review, as it seems as though people either find the sandwich perfection, or rather lacklustre. Let's tackle the actual meatballs first, which unfortunately, are lacking something special and taste quite bland and lack any real flavour. The sauce however is top notch, and makes for a delicious (yet messy) experience and coupled with the vegan garlic aioli and cheese, it does make up for the dryness and average tasting meatballs. At £3.59 for a 6-inch sandwich, the price is quite impressive for the sustenance and is the best option for if you're super hungry.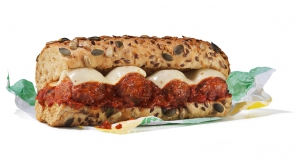 The Verdict
While it was some tough competition, we firmly believe Greggs are ahead of the game with their food options. The cheapest contender on our review, the Vegan Steak Bake triumphs in both taste and value for money, making it our new favourite go-to plant-based fast food.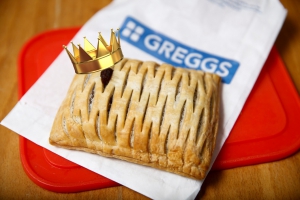 Comments
comments