Practising what we preach
As a Levy-paying employer, Coventry University: The Nationwide Apprenticeship University offers Degree Apprenticeships to both new and existing staff.  Here Ian Morley, Estates Stores Controller, talks about his experience of starting an apprenticeship 22 years after leaving school. Ian is one of the first Coventry University employees to become a Chartered Manager Degree Apprentice (CMDA). The apprenticeship lasts four years, at the end of which he will gain an Honours Degree as well as Chartered Manager status from the Chartered Management Institute (CMI).
Ian feels this opportunity will improve his future career prospects, as well as giving him a 'second chance' to undertake further education:
"When I first saw the advert for Degree Apprentices I was initially filled with a range of emotions: excitement, fear and anticipation. In my mind, this could be one of the biggest if not the biggest opportunity of my career.
"…this could be one of the biggest, if not the biggest opportunity of my career."
I left school 22 years ago with nothing more than a handful of GCSE qualifications. The years following were spent learning my way around the workplace where I worked hard and slowly moved up the ladder step-by-step, picking up as many vocational qualifications as I could. Eventually I found myself in a very satisfying position working within Coventry University as the Estates Stores Controller. The years of hard work were paying off.
But this was something else. The excitement I felt at the thought of enrolling filled me with drive and enthusiasm. With my manager's consent I applied, then visited one of the course discovery sessions, which eased some of my fears and further enhanced my enthusiasm. My remaining fears were short lived. As I walked through the door on induction day I was pleased to see some familiar faces, so I knew I was not going to be alone. Everyone on the course was in the same position; everyone had the same fears and concerns with studying at degree level whilst maintaining their current positions. We met our tutor who set our minds at ease from the start and gave detailed explanations of the course in a very friendly and approachable manner. I left that first day full of ambition, thinking firmly ahead to graduation 4 years away.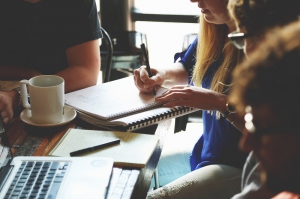 Since that first day friendships have been formed within the course and as we all worked towards handing in our first assignment the level of support from within the group was unimaginable. Everyone encouraged each other, setting each other's minds at rest. It was good to know everyone cared so much about doing well; it was good to know everyone felt the same as me. My results from that first assignment have boosted my confidence further, allowing me to realise that with hard work and determination this is achievable.
So my advice to anyone who is thinking about taking one of these courses is to just do it! Yes, it is hard work, but nothing that switching off the TV or putting your phone down for a few hours in the evening can't accommodate. Yes, it is a challenge, but the support you receive is excellent. You will make new friends, learn so much about yourself and really release your potential. It is never too late to learn."
Ian Morley
Chartered Manager Degree Apprentice
Coventry University: The Nationwide Apprenticeship University
For more information about Higher and Degree apprenticeships, speak to our friendly team on 024 7765 4960, write to us at info@apprenticeship-university.co.uk or visit Coventry University: The Nationwide Apprenticeship University online.
Comments
comments