By Dr David Bek from the Centre for Business in Society and Dr Jill Timms, Visiting Research Fellow from the Centre for Business in Society
The Coronation of The King and Queen of Great Britain took place at Westminster Abbey on Saturday 6th May 2023. The floristry in the Abbey reflected King Charles, the environmentalist, as the flowers and foliage were exclusively seasonal and British grown. In other words, the floral displays had a relatively low environmental footprint as they were not transported from overseas or grown in heated greenhouses.
Britain's new monarch, King Charles III, has been a fervent advocate of environmental issues and British farming, as well as a supporter of tackling climate change throughout his adult life. In many ways King Charles has walked the talk, having been at the vanguard of organic farming on his Highgrove Estate since the 1980s, and by publishing the annual carbon footprint records relating to his royal duties.
It was no surprise then, that the floral displays created for the King and Queen's Coronation in Westminster Abbey, London were made up of seasonal British grown flowers and foliage. Produce was sourced from five Royal Horticultural Society gardens and eighty-eight small scale British flower growers who belong to Flowers from the Farm an organisation whose members share a collective passion for producing seasonal flowers as sustainably as possible.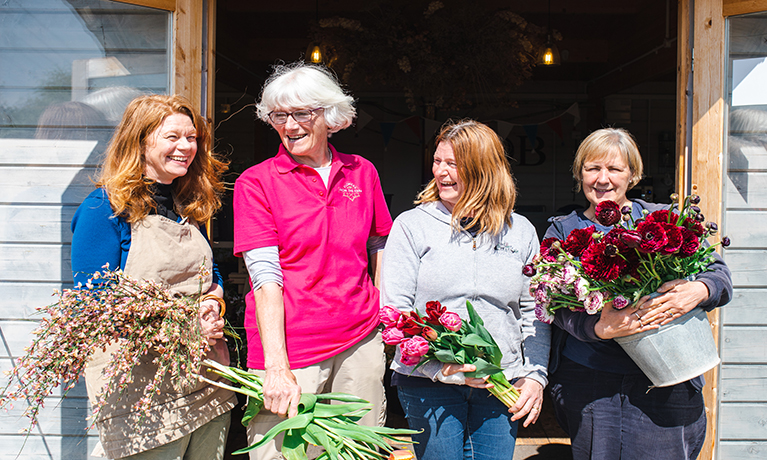 British flower growers deliver the goods for State Occasion
As such the Coronation can be viewed as an important moment for the British flower industry. In the last 3 decades or so the British flower growing industry has been in relative decline as the market has been increasingly supplied by imported flowers. Government figures show that the value of British flower production remained static between 1988 and 2016, whilst imports increased six-fold. However, the small-scale, 'local and seasonal' movement, as represented by Flowers from the Farm has been growing steadily in the last decade or so.
Until recently, Flowers from the Farm members have largely focused their business efforts upon localised markets with very little linkage to more commercialised, mainstream sectors of the flower industry. Yet, the organisation's ability to deliver high-quality, seasonal products – sourced literally from the four corners of England, Scotland, Wales and Northern Ireland – for a landmark British State occasion, with a global audience, may well have been a defining moment for its members and the British local-seasonal flower movement as a whole.
Creating the Floral Displays for the Coronation
Royal florist and Creative Director of the Coronation's floral displays, Shane Connolly, explained how the collaboration with Flowers from the Farm unfolded,
"First, I provided a colour palette from which our team could build our designs within Westminster Abbey." he said. "We then asked Flowers from the Farm to source flowers and foliage from as much of the United Kingdom's land mass as possible."
"A series of regional hubs were set up so that the flowers could be sorted and prepared for dispatch on to London in order to meet the tight time schedule within which the floral designers had to execute their work within Westminster Abbey."
"It had 120 different varieties of spring-flowering bulbs, blossom, perennials and foliage decorating the 'Quire' and the 'Grave of the Unknown Warrior. It was lovely that all the flowers and foliage in Westminster Abbey came from British soil."
British growers now have a significant opportunity to accelerate the market growth of flowers and foliage that represent a deep connection with nature and its heritage.
Wendy Paul, Co-Chair of Flowers from the Farm, said: "As suppliers of cut flowers we have moved up to the next level when it comes to customer awareness. Overnight, we have seen an increase in the international understanding of British flowers. King Charles's Coronation was definitely a game changer".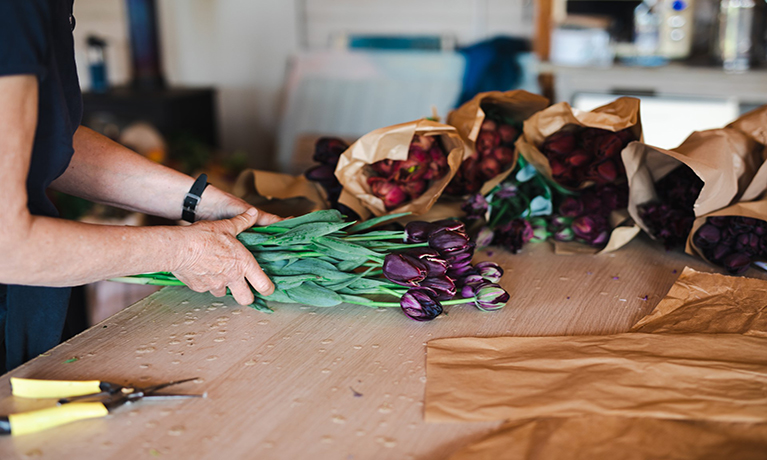 Raising the bar on sustainability
The big challenge now is to identify a way forward so that small-scale producers can collectively become a more significant component of the British flower market. Sustainability is a key component of the local-seasonal marketing pitch, however, the movement needs to ensure that the sustainability message is more robust and not open to accusations of greenwash. Yes, the end-consumer may know the provenance of a flower, i.e. where it is from and when it was picked but beyond that there are many unknowns. Was peat used during the growing process? Were chemicals used? If so, which ones? Was a heated greenhouse used? Were workers paid a reasonable wage? Equally importantly, as many small scale growers work long hours alone, are they able pay themselves adequately for the flowers they produce? And so on.
In many cases members of Flowers from the Farm and other small-scale producers do make every effort to employ sustainable practices. Their problem is the absence of a verifiable system that confirms that this. Large scale commercial growers can pay for standards and certifications which provide assurance relating to some aspects of their practices, for example, Fairtrade and Global G.A.P. but there are few options for smaller producers to demonstrate their sustainability credentials. Given the huge systemic differences between small scale, florist-growers offering locally outdoor grown flowers, and the huge global supply chain feeding into major retailers, is it even possible to compare the two systems in terms of sustainability?
The good news is that research is currently being undertaken via Coventry University to develop a set of principles which can be used to verify the sustainability of smaller scale production. This aligns with the development of an initiative to set-up a UK Sustainability Floriculture Network which is due to launch in late summer 2023. Therefore, the future looks bright for small scale producers who are passionate about driving the sustainability agenda forward. The Coronation of King Charles III may therefore represent a turning point not just for members of Flowers from the Farm but for proponents of sustainability within the cut-flower industry more broadly.
Photo credits: Steph Trowell Photography
Through understanding the impact of organisations' activities, behaviours and policies, the Centre for Business in Society at Coventry University seeks to promote responsibility, to change behaviours, and to achieve better outcomes for economies, societies and the individual.
Comments
comments