Conference Summary
The Centre for Business in Society hosts the Urban Europe, Precarious Futures? Conference
Some three-quarters of the European population live in urban areas, with more than 40 per cent living in cities. Different scenarios for urban futures arising from climate change, technological shifts, big data, the changing world of work, political (in)stability and a range of other factors have variously painted a broad spectrum of utopian and dystopian visions. In turn, these have given rise to multiple debates around the concept of precarity in various parts of 'the urban experience' and from a host of different disciplinary perspectives.
On 02nd December 2020, and in collaboration with the European Urban and Regional Studies journal, the Centre for Business in Society (CBiS) staged a major international conference to explore issues underlying precarity in urban areas, and to examine their implications for the urban future. Initially planned as a traditional conference to be hosted in Coventry, the shift to an online platform (in response to Covid-19) enabled participation to grow to 110 delegates and stretched further the international reach of the day. The complexity of notions of precarity across various social, economic and environmental aspects of urban life was reflected in the breadth of contributions by 19 presenters from 13 different countries across three continents.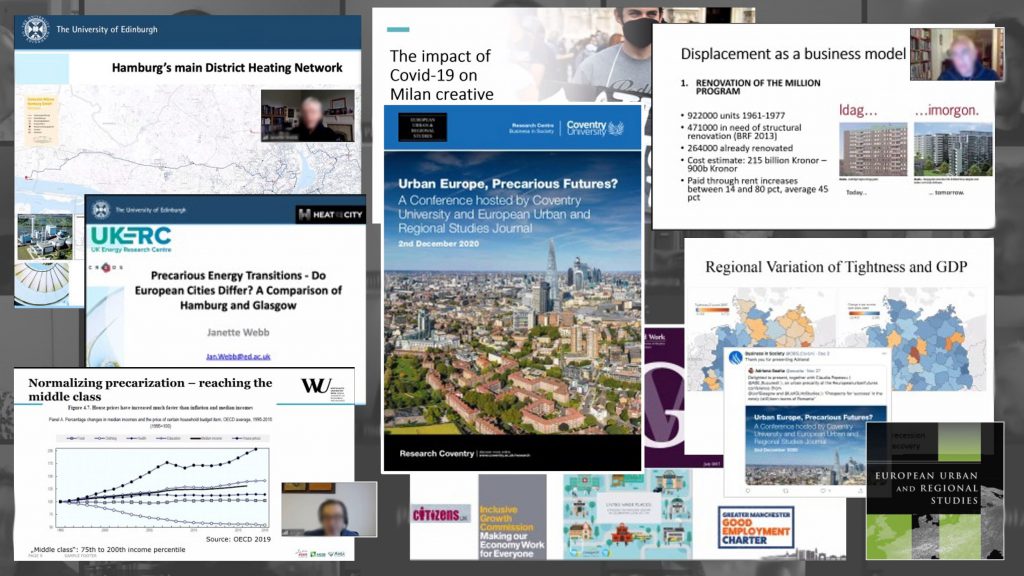 The event hosted three keynote speakers, Professor Jürgen Essletzbichler of Vienna University of Economics and Business, Professor Janette Webb of The University of Edinburgh, and Professor Guy Baeten of University of Malmo. Their insightful contributions focused, respectively, on precarity in urban governance, energy transitions and housing, and provided a strong conceptual framing for four themed parallel paper sessions that focused on urban governance and urban futures; labour and livelihoods; urban development, sustainability and resilience; and housing and communities. Presentations across the day highlighted not only the complexity of issues related to precarity, but also their interconnectedness, and how they are shaped by a wide range of factors at different spatial scales. The amplification of precarity arising from the impact of Covid-19 was also picked up by several presenters, including the very real impacts being felt by workers in the creative sector, and the funding crises that local public authorities now face. Such insights evidence that the pandemic is exacerbating pre-existing experiences of precariousness for many people worldwide, and that governments and economies in the midst of the crisis are poorly placed to respond:
"The immediate impacts of Covid-19 undermining many aspects of the urban experience are well appreciated; the longer-term implications are less easy to assess, but given the scale of the economic shock, social disruption and changing patterns of work and consumption, these are likely to be considerable. Early recognition of this in much ongoing research signals the need, now more than ever, for the academic community collectively to provide thought leadership and support to embattled policy makers and governments around the world."

Dr David Jarvis, CBiS Deputy Director
As part of EDIE's collaboration with European Urban and Regional Studies, the conference organisers will be editing a special issue of the EURs journal. The deadline for paper submission is 5 February 2021 and full details can be found on the event website.
Comments
comments