By Professor Katherine Wimpenny, Dr Alun DeWinter, and Dr Arinola Adefila
In this blog, Professor Katherine Wimpenny, Dr Alun DeWinter, and Dr Arinola Adefila from Coventry University's Centre for Global Learning: Education and Attainment discuss the JOVITAL (Jordan's Opportunity for Virtual Innovative Teaching and Learning) project. Working in collaboration with partners from three other European Higher Education Institutions (HEIs) and five Jordanian universities, the project aims to improve teaching quality in Jordanian HEIs. Read on to find out more.
---
Erasmus Days is a three day celebration of the Erasmus+ programme of the European Union, where participants and beneficiaries showcase the positive impact of the projects they are involved in around the world.
On 15 to 17 October 2020, we hosted a #ErasmusDays webinar to share how the JOVITAL project has fostered dynamics of collaboration and knowledge exchange between Jordanian and EU Higher Education Institutions (HEIs) by implementing an original approach to Virtual Collaborative Learning (VCL)*.
Through this project, the JOVITAL partners have learnt some key lessons that can be useful for the development of online learning approaches in the higher education sector.
The objective of our webinar was to share these lessons with other universities from Jordan and from other countries, to allow them to understand the processes and potential barriers of collaborative online learning, and to possibly implement the JOVITAL approach with their own students. A key focus of the webinar was on the student experience of the ETutors, who are an important conduit between the academic staff and students. ETutors help facilitate student learning within the online space, encouraging student participation, and addressing queries and clarifying understanding about the learning activities. The JOVITAL ETutors have had the opportunity to engage in training at TUD Dresden in Germany, which enabled them to facilitate a National VCL in August 2020.
"Everyone really enjoyed the training, but it was hard. There were so many barriers, cultural, language and skill to begin with. Intercultural communications with a new culture was a different experience. This was made harder by everyone being non-native English speakers all trying to talk English, even the Germans. We did the training in a respectful way as we knew that there would be challenges with difference. Everything was really new but this is good. We are pretty employability conscious and this would be a good experience for our CVs."

Jordan University of Science and Technology ETutor
In terms of the future, we know the opportunities of VCL and the role of ETutors for the Jordanian partners will be important to further progress and to ensure the sustainability of the internationalisation of education practices and experiences. The webinar concluded with the sharing of a JOVITAL position statement, co-curated, to be owned by the project consortium as well as to promote to wider interested HEIs.
For more information, please refer to the project website, where you can also follow up with the project activities and get in touch with the partners for additional sharing of insights!
We also have a project blog, where you can find out what we are doing and listen to testimonials from Jordanian students and teachers.
Project details
https://jovital.eu
Project length = 36 months
Project extended to April 2021 (due to Covid-19)
Five Jordanian universities
Princess Sumaya University for Technology (PSUT)
German Jordanian University (GJU)
Tafila Technical University (TTU)
Al-Hussein Bin Talal University (AHU)
Jordan University of Science and Technology (JUST)
Four European institutions
TUD Dresden, Germany (Lead partner)
Coventry University, UK
UNIMED Italy
ISSI, Slovenia
Four European institutions
TUD Dresden, Germany (Lead partner)
Coventry University, UK
UNIMED Italy
ISSI, Slovenia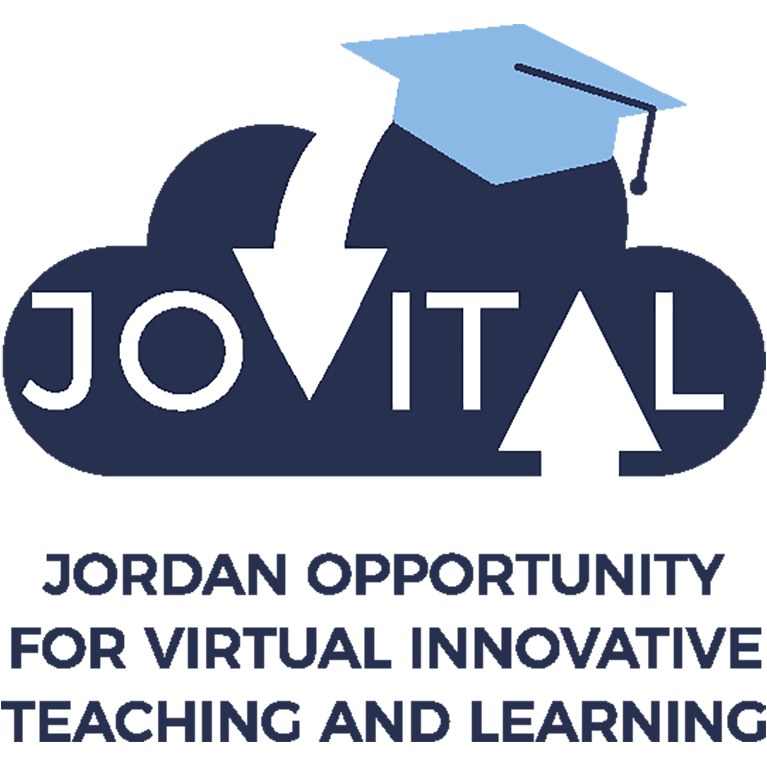 ---
* This is similar to Collaborative Online International Learning (COIL)
Comments
comments