by Professor Jacqueline Cawston, as seen in Business Insider.
Professor Jacqueline Cawston, Co-Director at Coventry University's Centre for Postdigital Cultures, discusses how businesses can gain a competitive edge with the use of immersive technologies.
The pandemic has presented businesses across all sectors with many challenges, but it has also provided opportunities, none more so than rethinking how to more effectively and safely engage with staff and customers.
Restrictions that have placed limitations on in-person contact over the past 18 months have put into sharp focus the need to embrace immersive technologies that were once mainly seen as exclusive to the world of gaming.
Immersive technologies, collectively referred to as 'extended reality' (XR), are designed to replace and/or expand the physical world in a 360 space that gives users the ability to look in any direction. XR includes virtual reality (VR), augmented reality (AR) and 360-degree video, none of which are particularly new, but their use is gaining more and more momentum in the mainstream and transforming the way we do things throughout society.
While the use of new technologies has definitely been accelerated by the pandemic, interest in the capability of immersive technologies and how they can transform the world of work has been growing over a number of years, with PwC predicting its potential to deliver a $1.5 trillion boost to the global economy by 2030.
Businesses and other organisations are gaining a substantial competitive advantage by adopting the technology, and there is a broad and compelling case for the benefits that include improving performance and streamlining workflows, making workplaces safer, improving the effectiveness of training, and transforming marketing and communications.
The creative industries have adopted these technologies, and while this has allowed museums and art galleries to continue to welcome visitors virtually during lockdown, many were already making use of XR to expand their audiences.
Coventry University has been working in partnership with the Shakespeare Birthplace Trust in Stratford-upon-Avon and immersive technology specialists AiSolve on a project called Shakespeare XR. The technology provides modern-day visitors to the town their first opportunity to have a look inside the final home of William Shakespeare — more than 250 years after his family home was demolished.
Advancements in the use of XR are also being made in other business sectors. My team is currently working in partnership with eLearning Studios on Erasmus+ projects called Xtended Reality Leadership for Xtraordinary Leaders which focusses on training programmes that use VR and AR to create new leaders for the 21st Century, and Virtual Inclusive Cultural Entrepreneurs which is creating interactive virtual 3D exhibitions.
Retailers are turning to AR to show customers how their products will look in their house rather than in a showroom environment, whether that's in person or online, and using immersive tech they can also take customers on a journey, for instance, to where the materials came from or to demonstrate the psychology of how different colours might affect mood.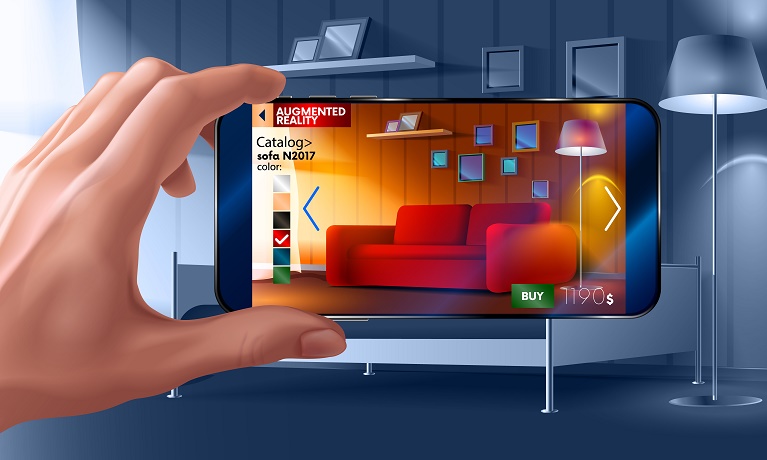 For many years the British Army has used immersive technologies to create virtual battlefields, while emergency services and other public authorities are scenario and disaster planning and training the future workforces in near real-life situations thanks to VR and AR.
Engineering companies are also using VR as part of their design, installation and repair processes.
My advice to anyone considering bringing these ever-evolving technologies into their business is to experience them themselves and think creatively about how a designed experience might be developed to support the organisation and add value to the working environment.
As these immersive technologies become more commonplace, companies will have no choice but to adopt them appropriately if they wish to have and hold a competitive edge.
Contact Jacqueline and her team at Coventry University's Centre for Postdigital Cultures.
Bio info
Jacqueline Cawston was instrumental in setting up three of Coventry University's most innovative centres: the Serious Games Institute, the Disruptive Media Learning Lab and now the Centre for Postdigital Cultures (CPC). She has been working in digital culture since she began her career as a graphic artist with the BBC.
The CPC brings together media theorists, practitioners, activists and artists. It draws on cross-disciplinary ideas associated with open and disruptive media, the posthuman, the posthumanities, the Anthropocene and the Capitalocene, to help both 21st century society and the university respond to the challenges they face in relation to the digital at a global, national and local level.
Comments
comments