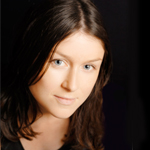 Guest post by Dr Emma Meehan
On the 6th of June, a symposium examining the increased sharing of creative process by dance practitioners took place at the Centre for Dance Research. Over 60 delegates attended the event from the England, Ireland, Wales, Belgium, and Holland;along with many international practitioner-researchers from countries such as Germany, Greece, and Japan who are now based in the UK.
This international perspective gave rise to debate on questions about why process is increasingly being shared, current methodologies in the field, the impact of developments in digital technologies and practice-led research, ethical issues and the audiences for the material that is disseminated. Keynote speaker Bojana Cvejic, who teaches at Utrecht University and dance schools such as P.A.R.T.S. Brussels, offered an example from her work developing scores with professional choreographer Anne Teresa De Keersmaeker and her company Rosas.
There were also a range of papers, panels, performances and practical events throughout the day. The varied programme included a discussion on why a graduate company might disseminate their practice by enCompass Collective, a paper exploring the relationship between love and neuroscience in a performance project by Michael O'Connor, and a panel called 'Scores Made Flesh' by a group of researchers from Belgium.
Practical presentations included as a Flamenco demonstration by Rosamaria Cisneros with student dancers, a performance intervention that consisted of running through and around the conference venue by Katye Coe, and a lunchtime demonstration of a newly developed smartphone app which tracks creative process by deaf dance artist Chisato Minamimura and digital media artist Peter Pavement.
Due to the wide interest in the topic and the number of excellent proposals to the conference, an edited collection will be developed based on the themes of the event and initial conversations have been started with an international academic publisher. The symposium is a recipient of the American Society for Theatre Research Co-Sponsored Event Award which supports events of regional, national, or international significance that foster scholarship on performance. Full details of the event and presentations are available on the C-DaRE website.
Comments
comments