Guest post by Dr. Martin Bollard
Day 4
Well a pretty full on today as we all attended the first day of the East Asia Forum of Nursing Scholar's Conference. After marginally avoiding an international incident at the taxi rank, as Agent Greaney took decisive action to move us up the queue in front of a group of Middle aged German women, we arrived at the Regal Waterside hotel. Armed with my CU goody bag and despite the sleep deprivation we were all in good spirits, ready to spread the 'Coventry joy'. The key note was delivered by a North American Dean from University of Washington keenly championed doctoral nursing programmes to help the nursing workforce compete with medics. In confident American style, she also highlighted the necessity to build up the community nursing workforce to tackle the existing global challenges. Then we had a round table with the great and the good from Pan Asian nursing scholars, including my Australian colleague. In Aussie style she stood up said 'I am a PhD snob and believe nurses should only be doing PhDs not Professional doctorates or Doctor of Nursing Programmes (DON) as this has diluted the quality of nursing scholars'. Well expressed words indeed and I found myself offering a response to that perspective stressing the transfer value to clinical practice that DON programmes can offer. Professor Alex Molaisis Chair of EAFONS foundation later said it was a shame that there was not more time to debate this further. After talking to a number of other Pan Asian colleagues at lunch, it appeared other nursing scholars were still keen to offer DON programmes at their respective HEIs.
Richard, Brendan, Simon and myself were soon standing in the room ready for our presentations. With military precision each of us had 10 minutes to share the CU joy, followed by questions. I shared CU Global Research Programme which seemed to go down well, particularly at the point of incentivising conference participants with CU Goodies. The value of Richard, Brendan and Simon's OIL projects with HKPU were validated by our partner colleagues, whose presentations deliberately sequenced after theirs, demonstrated the value to HKPU of our OIL/Exchange work to date. Interestingly, the Coventry joy was shared so exuberantly in our workshop (my presentation being received well with the microphone inadvertently turned up so loudly), we interfered with the workshop in the adjacent room. This came to light as Alex humorously asked who was speaking so loud they could not hear their speakers. Agent Luck quickly pointed the finger my way and to my surprise I found myself looking for the cyanide tube in his back pocket! More networking and then is was back to camp and a well-earned rest.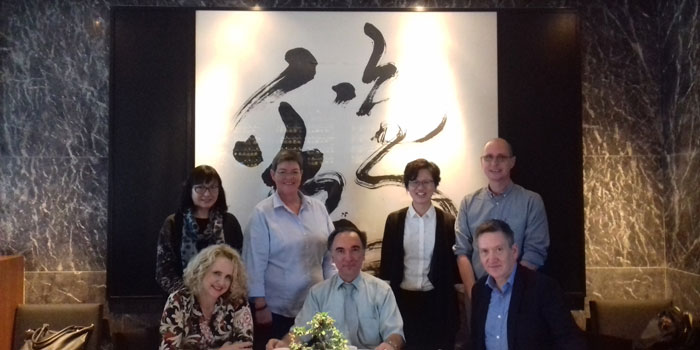 Day 5
Back at the Regal Riverside Hotel and after having the best night's sleep since arriving, we strolled into now familiar surroundings with a skip in our tails. The first session was very good, delivered by Professor Sonja Macilfrick. She was the Director of Doctoral Education at the University of Ulster and President of the International Doctoral Education Forum (IDEF). The purpose of this virtual group was to evaluate existing doctoral programmes and try to strategically communicate international learning from existing doctoral nursing programmes (DNP). Sharing the 'Bollard charm' and mentioning the fact I used to be an external examiner at Ulster I appeared to commit to becoming a member of IDEF and pledging support from our school (think I had experienced the Irish charm if truth be told!). I then had half an hour to judge 10 posters using the grid and marking scheme provided. There were 100s of very good posters across 3 floors. This took over an hour as I had the pleasure of listening to poster authors talking through a range of different research projects. The PG graduates and academics' work from across eastern Asia were highly professional and well presented. We decided to attend different symposia in the afternoon and do our own networking where possible. The conference we were attending was the 21st EAFONS annual conference and the 40th anniversary for the School of Nursing at HKPU. We were treated to more lovely food, a speech from Alex, dancing from children and singing from Vico (one of MH colleagues) and students- an absolute pleasure! I congratulated Alex on an excellent conference and firmed up a meeting Tuesday before we returned. Agent Greaney took charge of the taxi home and we were surprisingly soon back in our hotel, quite tired but somewhat exhilarated by the day's proceedings.
Day 6
Nine O'clock Saturday morning and Agent Luck and I are meeting Frederick our main contact here by the fountain. Strutting into a large lecture theatre. I allow Richard 10 minutes (which turns into 20 minutes) to do his excellent selling job of the CU joy and all our region and country has to offer exchange students. It was then a pleasure to share my LD knowledge with a receptive audience. Afterwards Frederick said the Dean of the private University he was joining in July wished to meet us before we flew home. Sensing a new opportunity, I quickly suggested a couple of times on Tuesday. Within a flash we had firmed up a meeting and myself and Richard began to think strategically about how our school provision could benefit from a new generic training at this private university and which of our courses lacked an international exchange experience. Saturday afternoon and pleased with our week's work, our discussions turned to our well-earned down time for the rest of the day and Sunday. Dressed, refreshed and looking forward to the evening ahead, Agents Greaney, Luck and I were soon heading to Hong Kong Island on the central line. As Richard and myself tucked into some wonderful street food, Agent Greaney had placed himself on surveillance in the local Burger bar. Disappointed with his meal selection, he was soon pulling up a stool next to us tucking into a plate of fried beef and vegetables. Brendan was in charge of getting us home and apart from the odd prompt from Richard we got back to base safely.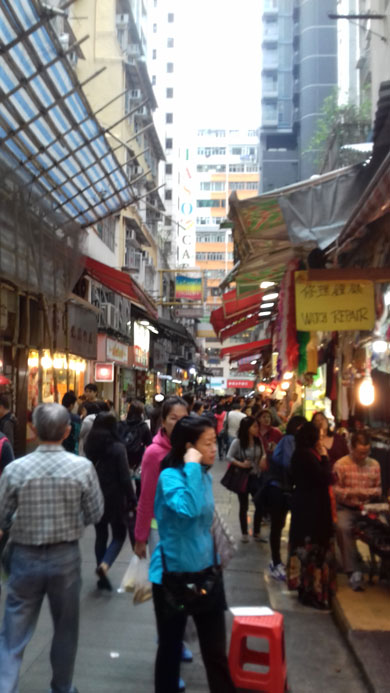 Day 7
The planned Sunday morning lie in still meant I was having breakfast with Brendan at 8.30 am- that's the thing with travelling through different time zones. Richard joined us sometime afterwards having properly switched to Hong Kong time. Agent Greaney found an aesthetically pleasing catholic church for Mass whilst Richard and I set off for Hong Kong Island via the hotel shuttle. Quickly finding ourselves in the Chaing Wan area, we were surrounded by contrasting colonial buildings, immense skyscrapers and wonderful food markets. Amusing ourselves watching different types of fish jumping around in trays, taking their last gasps of air, we both started to relax. Venturing into the next block of high raised buildings I could smell the affluence. This was reinforced by the Rolls Royce, Maclaren, Tesla and BMW garages. We had noticed the transient 'home help' population who on weekends were forced to sleep rough, but this was evidently a fast, technologically advanced, well-educated wealthy city. Coffee, savoury buns (like brioche) and another cake on the go, we headed for the ferry terminal to return to Kowloon. A 20 minute ferry ride and a new appreciation of this compact peninsula we were soon back at our hotel. We met up with religiously cleansed Brendan who had been doing some work on his PhD-just as well as he submits next month!
Day 8
Strolling into breakfast our usual panoramic harbour view was distinctly cloudy and I wondered what the weather was like back home? I had never been away from home for as long as this and found myself missing my family. My thoughts were interrupted as Brendan and Richard joined me for breakfast and they discussed their presentation for IVE Shape programme. As they set off, I had another coffee and organised my thoughts, revised my prior meeting notes and began my summary report of our first week. As I wrote I was pleased with our progress. My HKPU colleagues were pinging emails into my inbox- just finalising tomorrow's meetings. While Richard and Brendan continued to share the Coventry joy I popped over to Hong Kong island and bought myself a new jacket (90% off!), a scarf for my wife and a new set of head phones. My dad's voice popped into my head as I bought the head phones "things in Hong Kong don't last long and more than likely will go wrong"- but not deterred by fatherly advice I parted with my cash. Time by myself I took in the wonderful smells of the market the noise of the trams, the speed, pace that Hong Kong offers. Charming, nicely assertive people, I was warming to the race and culture. Back at the hotel, Richard and Brendan had done the business and we planned to have a quite evening in.
Day 9
With back to back meetings all day, I was up having breakfast in my suit at 7.30 am. Fed and watered I set off for HKPU. 9.30-11.00 was with the research colleagues and we agreed and clarified the themed areas contained in my previous summary notes. I was struck by the passion, focus and keenness to produce and do research from my new colleagues. However, they are employed on a 3 year plus 3 year contract here so no funding or publication outputs within that time and you're out! 11.00-11.30 met with Alex who was in a bit of a rush, but clarified the PhD supervision arrangements and the potential cancer research data set I was aiming for. HKPU and CU alliance more firmly established, Alex and a party want to come Spring 2018 to see our new Science & Health Building and I said he would be more than welcome. 11-12.30 was very productive with Wah and Dan- planned 2 areas of research and one on Laughter/Yoga Therapy. I would officially invite Dan to an International meeting which Richard is planning for June 2017 to keep this relationship going. Then off for a fantastic lunch. Wah and Vico gave us lovely silver book mark as presents. We made our excuses as Richard and myself went off to meet Frederick who was taking us to meet the Executive Dean of a private Catholic University who had requested to meet us at 2.30 pm. Frederick had just retired from HKPU and is due to start work at the new University in July. After a 50 minute trip to the East side of HK, I was beginning to flag. Soon awakened by a firm hand shake from Eric the new charismatic Executive Dean of Caritas University, we were whist around a very impressive facility, with locked in infection control unit, pharmaceutical dispensing rooms and more simulation dolls than you would know what to do with- this University was extremely well resourced! Natasha Taylor,(our PL in Simulation & Mark Norrish (AD International) mentioned and really beginning to feel quite tired now, we offered them our inter-disciplinary health education experience and set off back to base.
Last night in Hong Kong, Agent Greaney steered us to a discreet, easily missed Irish bar-(he had clearly found this from his previous surveillance mission the day before last). Enjoying all the hospitality the bar had to offer –no none of that-a man came up to us with a bag of watches and jewellery introducing himself as Del Boy! Falling off our stools with laughter he then referred to Richard as Rodney! After a verse of Hey-ho Hooky Street from myself, (could not resist it), the merchandise was quickly revealed. This guy was good and very funny as all of us bought a fake Pandora bracelet for our daughters. We drew the line at the Breitling and Rolex watches and bid him farewell. After a couple of wrong turns, Agent Greaney safely returned us all to our rooms.
Comments
comments