Projects research visit to Sao Paulo, Brazil, 8-15 June, 2019
Professor Sue Charlesworth, Drs Jana Fried and Matthew Blackett and Masters by Research student Rebecca Lewis visited Sao Paulo for two projects funded by Newton Institutional Links (Brazil, Zika) and Belmont (SUGI WASTE FEW ULL). We were hosted by Professor Ester Dal Poz of the University of Campinas who organised a fascinating set of field visits followed by research seminars at the University. Ester is responsible for one of the 4 Urban Living Labs (ULL) which make up the focus of the SUGI project in which the nexus between Food, Energy and Water is investigated in order to close wasteful loops in terms of resource production and use. You can find put more info on the project's website.
The other 3 ULLS are located in the Western Cape, South Africa (SA), Rotterdam, the Netherlands and Bristol, UK. We hope to visit the SA ULL in August and the one in Rotterdam in September.
Field visits in Sao Paulo
First of all, in the Parelheiros region, 40 km to the SW of Sao Paulo city, we visited a cooperative, comprised of some 400 small holders producing a variety of fruits, salad vegetables and greens which were grown 50:50 agroecological: conventional. The cooperative also grew native rainforest plants to be used to conserve the area.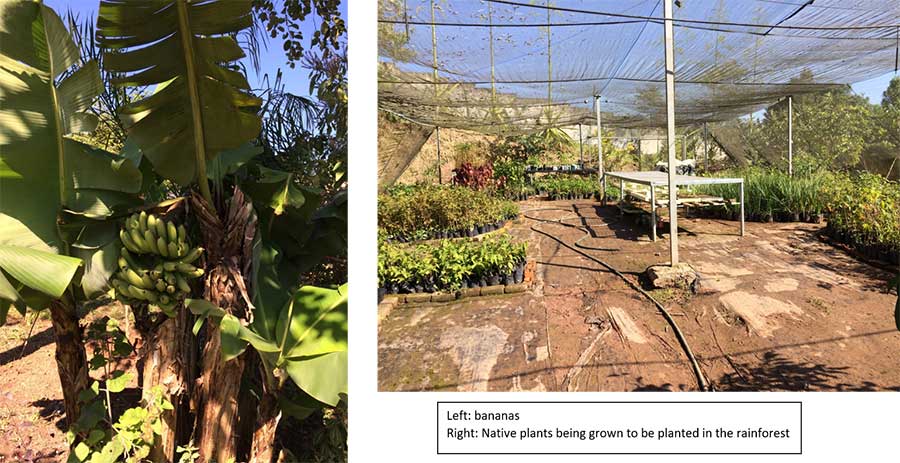 They also had poly tunnels where they undertook experiments with various produce such as sweet potatoes, onions and lettuce.
We then headed deep into the rainforest to visit an indigenous Guarani indian village visit arranged by the Sao Paulo City Food Supply, a partner in the Sao Paulo ULL. There we saw how this community is conserving the forest by removing invasive pine trees and eucalyptus and growing food agroecologically as shown in the images.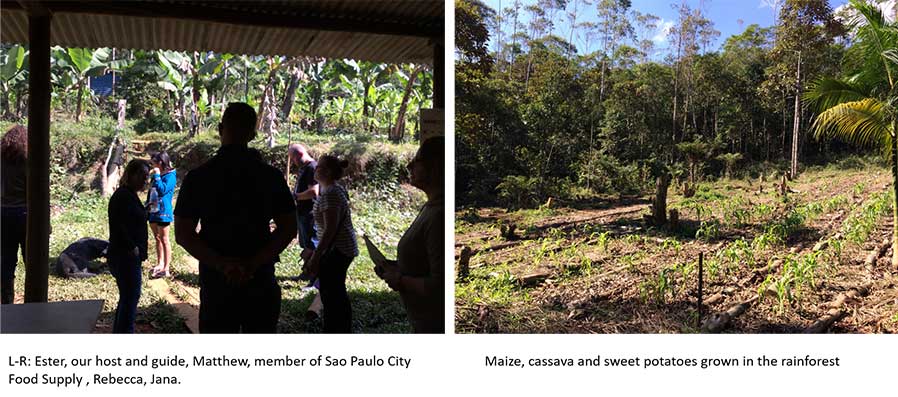 Travelling to Ibiuna, a mainly agricultural area (Motto: A agricultura é nosso forte (Agriculture is our strength)), but still classified as "urban" since it is situated in the Sao Paulo Metropolitan area, we met Edson on his 1 hectare farm. Here he grows maize, lettuce and cabbage agroecologically. He reduced pesticide use by planting cover crops to protect the produce from insect damage.
Project meeting, at the Institute of Economics, University of Campinas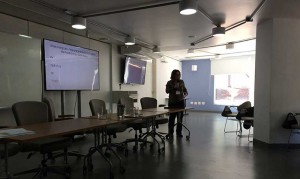 After a welcome from Ester, Professor Reynaldo Victoria – São Paulo State Research Foundation gave a talk around the funding perspective for our SUGI FEW project. This was followed by Professor Susanne Charlesworth, and Dr Jana Fried FEW ULLs Consortium Coordinator, who updated the delegates on the SUGI FEW Initiative, particularly the 3 remaining ULLs: SA, Rotterdam and Bristol. The São Paulo State Water and Sewage Co. (SABESP) an institutional partners for the SUGI FEW project gave an overview of the challenges of managing water and sewage for the 45 million people living in the 250 million km2 State. Professor Ester Dal Poz, São Paulo ULL Coordinator then talked about overall Project goals and approaches as well as giving an update on progress with the Sao Paulo ULL. The event closed with lively discussions and comments from the audience.
Our visit finished in Sao Paulo city in the remaining tract of rainforest, which is protected and conserved. Here they also grow native plants to ensure the forest continues.
For more information about this project please contact Professor Sue Charlesworth.
Comments
comments