In March 2021, the UK's Supreme Court delivered a verdict which is likely to have repercussions for the operations and business models of many of the companies usually referred to as part of the 'gig economy'. The Court concluded that drivers using Uber, the popular ride-hailing app in the UK, should be considered as employees of the company and not independent contractors as Uber suggested. This is the culmination of a five-year long battle in UK courts between Uber's drivers and the company, and one of many similar initiatives worldwide.
The ruling, accepted by Uber, means that Uber's drivers will have to be provided with the same rights as other workers. This runs counter to the business model of gig economy companies, which make use of data to connect customers (demand) to service providers (contractors), extracting a fee as intermediaries. The Supreme Court ruling strikes at the heart of this assumption: Uber, the ruling concludes, is not a market-maker; it is a ride-hailing company, and must pay its drivers accordingly.
A struggle between change and legitimacy
While Uber's current predicament comes from a legal decision, the company's travails arguably have a much more fundamental origin. Uber's business model involved the company describing drivers in its platform as external contractors. However, the Court's ruling has declared that Uber's drivers must be classified as workers, who are therefore entitled to a minimum wage, vacation time, sick pay and pension rights. Uber's arms-length relationship to its drivers challenges the meaning of what it is to 'work', and what are mutual obligations of workers and employers.
The Supreme Court ruling is not the first time that Uber's practices have been challenged. In 2017, Transport for London (TfL) temporarily removed the company's license to operate in London, in part due to its inability to register and assure the identities and rights of their drivers. Uber, therefore, sought to demonstrate the superiority of their business model by vowing to challenge the regulator in court.
The company eventually opted to comply with TfL's requirements, and subsequently recovered its license to operate in the city. Likewise, when the High Court first ruled in 2017 in favour of drivers, Uber opted to appeal against the ruling, while at the same time briefing the press that it would consider leaving the UK altogether were it required to treat drivers as employees. The company now says it accepts the ruling, and will act in accordance with its stipulations.
In reality, Uber looks set to continue its struggle to affect change in the world around it, rather than changing its business model to comply with social preferences. While guaranteeing drivers their worker benefits, the company quietly refused to confer the same status to couriers working for its Uber Eats subsidiary. The battle between radical change and legitimacy looks set to continue.
Where next for the gig economy?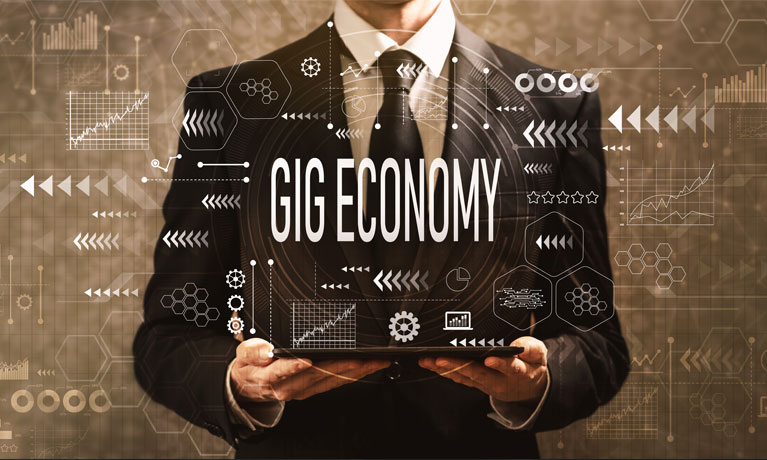 It is uncertain where the gig economy is headed in the aftermath of the Supreme Court ruling on the Uber case. As a chronic loss-making company, it is unclear that Uber can survive while being encumbered with paying for its workers' rights. Based on previous form, it looks likely that Uber will set out to develop new, radical business models which will avoid the new, costly regulations; perhaps by expanding into the realm of public transportation. Should this happen, perhaps the company will once more try to claim that its innovation abilities give it a natural advantage over existing competitors. Whether society – and regulators – eventually agree to the mantra of disruptive innovation probably depends on how much disruption the company causes.
It is not only Uber in the spotlight for such issues. Currently another big operator in the gig economy, Deliveroo, is listing on the stock market. Forecasts are that it will be valued at £8.8bn.  However, major institutional investors normally interested in such new listings are reportedly anxious. Press reports suggest that as a result, the valuation might be nearer £7.9bn. One major investor, Aviva (which manages £365bn of assets) has stated that it will not invest in Deliveroo because the company's riders do not receive the minimum wage, sick leave or holiday pay. David Cumming, chief investment officer at Aviva, told the BBC's Today Programme that investors were taking social responsibilities "a lot more seriously".  He added that "A lot of employers could make a massive difference to workers' lives if they guaranteed working hours or a living wage, and how companies behave is becoming more important". In response, Deliveroo said its self-employed riders had "freedom" to choose their hours. It will be interesting to see how Deliveroo reacts and whether Uber's court ruling influences other players in the gig economy. Certainly observers are suggesting that this might be the case. These events look poised to send an important signal to companies and managers. Social pushback against companies' practices can result in legal challenges and restrictions. A company's business model can be directly affected if said company does not follow existing cultural and social norms. It is therefore in the interests of managers to inculcate an organisational culture which considers the impact of business model innovation on society, employees and the environment, among others.
---
Authors
Dr Carlos Ferreir, Dr Alessandro Merendino, Professor Maureen Meadows and Professor Lyndon Simkin from the Centre for Business in Society.
Comments
comments