By Professor Glauco De Vita, Centre for Business in Society
In early 2014, the early stages of the UK exploitation of shale gas – natural gas extracted from the impermeable shale through a process known as hydraulic fracturing or fracking – prompted a heated national debate. With a bunch of other colleagues (25 in total, including Oliver Linton at the University of Cambridge, Patrick Minford of Cardiff Business School, and David Bell of the University of Stirling), I co-signed a letter to the Financial Times urging Westminster to back fracking.
The early fracking debate and 2019 High Court ruling
Fracking had attracted increasing attention since licences were awarded for UK onshore shale gas exploration in 2008. Opposers' view of fracking (a process involving injecting a mix of water and chemicals underground at high pressure to create fractures into the rock and release the natural gas trapped inside) was primarily driven by environmental considerations, specifically, the risks connected to polluting groundwater and triggering earthquakes. Yet, the then Prime Minister, David Cameron, was undeterred in supporting shale gas, to give a boost to the British economy and "make the nation less reliant on unpredictable foreign sources of oil and gas"; ominous words that today, nearly 10 years later – in the midst of the energy crisis caused by the war in Ukraine – assume prophetic significance.
Nevertheless, in 2019, a High Court ruling ultimately banned fracking, after several tremors and a small earthquake just below magnitude 3 were recorded near the UK's only fracking site at Preston New Road (in the parish of Westby-with-Plumptons, Lancashire). The Government decision based its scientific rationale on a report published the same year by the Oil and Gas Authority (OGA), which following an analysis of data collected during Cuadrilla's operations at Preston New Road, found that it was not possible to accurately predict the probability or magnitude of earthquakes linked to fracking operations (report available at: https://www.nstauthority.co.uk/exploration-production/onshore/onshore-reports-and-data/preston-new-road-pnr-1z-hydraulic-fracturing-operations-data/). The carbon emissions 'net zero' goal by 2050 also saw fracking fall down the agenda in recent years.
My 2014 Financial Times interview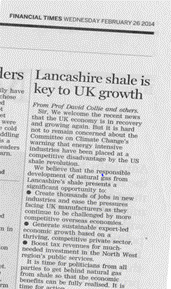 When interviewed by the Financial Times on 25 February 2014 (see https://ft.com/content/0fada05a-9e29-11e3-95fe-00144feab7de), I made my position on the subject clear: I wanted to see Britain exploit the opportunities to produce more gas domestically in order to be less reliant on foreign energy supply, but I also wanted to see "more research into the risks associated with fracking technology" (ibid). From a strictly economic point of view, I considered the pro-fracking arguments compelling: fracking could create thousands of jobs, boost tax revenues and aid economic growth. I still stand by the views I held then.
But while the economic benefits of fracking are obvious, including the promise of fuelling UK energy consumption by up to 20 percent over the next few decades, what is still very much unclear is what has changed since then in terms of available scientific evidence on how UK geological activity responds to fracking operations.
My déjà vu
Over the past couple of months, I experienced a strange feeling of déjà vu as the short-lived Truss' administration made lifting the fracking ban an emblematic element of the new government energy strategy. On 22 September 2022 the UK Government confirmed the end of the fracking moratorium in England, on grounds of helping boost the country's energy security, and on 19 October 2022, just a day before Truss' resignations, MPs rejected a Labour motion that would guarantee parliamentary time for a bill to ban fracking for good.
In 2019 the Conservatives had pledged not to lift England's moratorium unless fracking was scientifically proven to be safe. This is what makes the recent U-turn on the fracking ban rather puzzling. The need to increase domestic energy supply following the shortages caused by the Russian war in Ukraine notwithstanding, the fracking ban was originally justified by the Government on environmental, safety grounds. But where is the new evidence? Moreover, shale gas exploitation remains technically very challenging and public opinion is still heavily divided over the desirability of this form of energy extraction.
At a political time marked by 'revolving door' Prime Ministers and incessant policy U-Turns, it is difficult to predict what will come next. What is clearly needed is more data on UK geology and onshore shale resources as well as a serious, scientifically based review of the actual risks of shale gas extraction, including induced seismicity, methane migration into aquifers, fugitive methane emissions into the atmosphere, and impact on rural local communities. Until then, we will remain stuck in this 'Groundhog Day-like', rigmarole of the risks vs. rewards debate on fracking.
Reference
Financial Times (25 February 2014), 'Economists back development of UK shale gas industry', by Jim Pickard.
Through understanding the impact of organisations' activities, behaviours and policies, the Centre for Business in Society at Coventry University seeks to promote responsibility, to change behaviours, and to achieve better outcomes for economies, societies and the individual.
Comments
comments