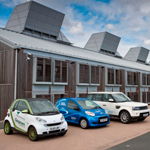 Guest Blog by Professor Nigel Berkeley – Director of the Research Centre in Sustainable Regeneration (SURGE).
Whilst it is vital that the government acts to encourage take-up of low carbon vehicles so as to help the market take off, attempts so far have failed to have any significant real impact. Government policy to date has strongly supported the UK automotive industry to develop and roll-out the necessary technology and supporting infrastructure, but has not done enough to stimulate consumer demand. So, will the announcement in February 2013 of £37 million of funding for the installation of thousands more electric vehicle charging points across the UK make any difference? 'Probably not' is the answer. Yes, rolling-out infrastructure is important – we saw for example an EU announcement in January committing to the roll-out of 500,000 standardised charging points across the continent by 2020 – but infrastructure is part of the solution… not the only solution.
The reason that people are not buying electric cars (EVs) is not just about the availability of charging stations. There are a multitude of inter-related factors of which the upfront purchase price is the big issue. EVs average well over £20,000 (including the plug-in grant of £5,000) for cars that are predominantly in the 'supermini' class and are at least twice the price of their petrol/diesel equivalents. This means that the market for electric vehicles amongst private consumers is currently restricted to the very wealthy and the very green (i.e. environmentally conscious). This is reflected in the latest data from the plug-in grant scheme showing that just over 3,000 electric vehicles have been registered to date; a market share of just 0.1%.  At the same time the Department for Transport website declares that around 3,000 charging points have been installed through the 'Plugged-in-Places' scheme with perhaps 5,000 more being installed by providers operating outside this scheme. This suggest two things: that the supply of charging points is happening anyway, and that there are currently many more charging points than there are electric cars.
Other factors hindering the take-up of electric vehicles include: a lack of confidence in electric vehicle technology and performance; uncertainty over the lifespan of batteries which currently account for about half of the upfront purchase cost; a lack of awareness of the incentives available that make electric vehicles comparatively cheap to run; and a relative lack of model choice, linked to a perception that electric vehicles are not very stylish. Having said that, it will be interesting to see how German producers fare in the EV market this year when they launch new models like the BMW i3 and the Golf e-motion to the UK.
Critically though, the Government missed a trick to stimulate demand with the Plug-in Car Grant.  A well intentioned policy initiative, it has failed to have any significant impact. It was launched at a time when the choice of EVs on the market was extremely limited, when there was little intelligence on what EVs could and couldn't do, and when the climate of austerity helped to place EVs out of reach for most of the population. Moreover, compared to the very successful scrappage scheme, the Plug-in Car Grant has largely gone unnoticed due to poor advertising and promotion. The policy of targeting the private consumer first was perhaps then doomed to fail from the start and never likely to achieve the required impact relative to the cost to the Treasury in subsidies and incentives. It misfired, to use an appropriate turn of phrase.
Instead government policy – in the short-term at least when upfront purchase costs remain prohibitive – could and should look beyond private mass market purchases. And in two ways. Firstly, it could use subsidies to encourage the deployment of EVs in clubs/schemes that operate on a car share, pay-as-you-drive hire basis. Car2go is a good example. Currently operating in London, drivers can hire vehicles by the minute with fuel, insurance, road tax, and maintenance included in the price, whilst exemption from the congestion charge and free parking is also included.  Secondly, and perhaps offering the biggest bang for the buck, is to use subsidies to promote the replacement of public and private sector fleets with EVs.  Some local micro-level initiatives from Coventry and Warwickshire are worth highlighting here: first, a scheme that has introduced electric buses on park-and-ride routes in Coventry; and second, a scheme to test the economic viability of deploying EVs in rural GP surgeries. This latter is an interesting example given that most of the focus to date has been on the practicality of EVs in rural locations where range anxiety becomes a big perception issue.
Finally it is critical that intelligence on EVs in terms of their performance, practicality and suitability is effectively disseminated. It is especially disappointing for example that there has been very little if any dissemination of the findings of the Technology Strategy Board funded low carbon vehicle demonstrator projects.  That doesn't help consumers make informed choices.
For further information contact Professor Nigel Berkeley at SURGE: 024 77 655758
Comments
comments