Guest post by Buernorkie M. Puplampu, Centre for Business in Society
A two-week 2017 CARNiVAL Doctoral School was held at Baylor University (BU) in Waco, Texas and North Carolina State University (NCSU) in Raleigh, North Carolina from 23rd September through to 8th October 2017. In this CARNiVAL blog series we share some of the reminiscences from five of the Coventry University PhD students who attended.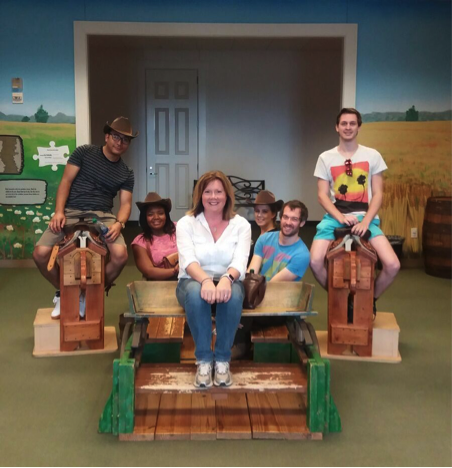 During the first week of the school at BU, I had the opportunity to present my research in a supportive setting and the seasoned academic staff present including Drs Eva Kipnis and Ian Brittain (Coventry University-CU) mentored and gave me constructive feedback. Personally, my presentation on 'Mechanisms Guiding the Use of Individual Performance-Related Pay' (IPRP) sparked a lot of interest and I will do well to incorporate the feedback into my work. Specific feedback was such that, to increase the generalisability of my research, I should look at it from broader psychological, economic, social and even gender perspectives.
Amongst other educative sessions, the 'neuroscience meets consumer behaviour and marketing', 'writing up qualitative research', 'writing introductions: creating a space for research in sport, leisure and business journals', and survey design sessions at NCSU proved particularly useful. These were delivered by experienced academics and the collaborative approach they employed during delivery facilitated my understanding of the content. The opportunity to also sit in and observe BU PhD students during lectures, as well as attending seminars in a setting completely different to CU was eye-opening. We took our eyes off academic work to relax with campus tours both at BU and NCSU. Leisure visits to the Baylor Museum and the Baylor Research and Innovation Collaborative (BRIC), surprise visit by the Baylor Bear Mascot and the opportunity to taste Texan food almost every day of the week was also thrilling.
Striking, both Universities were dedicated to ensuring their students and staff lived healthy and active lives outside of academic life as they both had football (soccer) teams around where a lot of camaraderie and passion was evident. At NCSU, we had the opportunity to watch the NCSU team play against Louisville. They won- Go WOLF PACK!! Though the CU Gym and Lanchester libraries are unique and have been renovated with state-of-the art facilities, I noticed how different those of the NCSU were. Yet, these were both very conducive for study.
Senior academic staff across both hosting Universities and supporting administrative staff and students on duty were very welcoming and supportive throughout our stay. We had been forewarned about creepy-crawlies at Texas, but for the crickets which almost engulfed our rooms, our accommodation at BU was to a large extent comfy.
Noteworthy, the doctoral study framework and tenure system for academic staff at BU and NCSU (i.e. the USA) are completely different from that of CU (i.e. the UK). These were eye opening and should I ever consider taking up any job offer in the US, this first-hand information will come in handy. The opportunity to network with other international PhD students and other senior academic staff who showed interest in my work will also go a long way to help build and advance my career.
Other blogs in this series:
The CARNiVAL Doctoral School – An opportunity to work, learn and socialise
Two weeks, two cities and two completely different experiences.
International Networking at its finest – the CARNiVAL Doctoral Training School
Modern Research Methods at the CARNiVAL Doctoral Training School
Comments
comments