This week saw the reveal of The Prince's Trust #TogetherWeCan video campaign. It is their largest awareness campaign in nearly 10 years and was launched by one of our top graduates: Jack Lowman.
In 2006, Jack graduated from Business Management at Coventry University. He went on to carve out a lustrous career in marketing, and is now in the prestigious position of Senior Head of Marketing for the UK's leading youth charity, The Prince's Trust.

The Prince's Trust gives vulnerable young people the skills and confidence to stabilise their lives. We help them overcome barriers such as homelessness, poverty, offending and mental health problems.

Together we can help young people towards the future they deserve – not the one they ended up with.

Together we can save young lives."
Although the awareness campaign actually launched late last year, the TV advert was only released this week. The overall campaign urges employers to reconsider young people from troubled backgrounds; highlighting their attributes and encouraging employers to give them a chance to get their lives back on track, rather then holding it against them indefinitely.
"The TV advert allows glimpses into the hardships some young people experience, from a teenage boy caring for his siblings and alcoholic mother, to a girl forced into homelessness and other young people suffering abuse. The script is written in the form of a personal statement from a CV, off-setting the harsh realities of these young people's backgrounds against the attributes they have picked up along the way – from self-motivation and communication skills to the desire and determination to succeed."
I have just watched the new campaign, and am sat at my desk shivering from the chills it has given me. The idea is so simple, yet so hair-raising; the intimate footage of struggling young adults genuinely makes you stop, think and be thankful for all that you have.
Put aside what ever you are doing today, and make time to watch this inspirational video:
Powerful isn't it? You can support the campaign by following #togetherwecan on Twitter.
Back to Jack:
In 2014, Jack became a Marketing Academy Scholar, graduating from the voluntary organisation 'The Marketing Academy', run by 'Marketing Hall of Legends' (UK). Their scholarship program is awarded to 30 of the best emerging leaders in the UK. The programme is highly selective. Candidates must first be nominated, then all nominees are put through a rigorous selection process including a psychometric evaluation and interviews with a selection panel. Tough stuff!
Only thirty candidates are accepted, but wow – is it worth it!! They are each offered a years worth of invaluable mentorship and training by over 100 CEOs, CMOs, Marketing directors, Agency heads and Executive coaches.
"The Marketing Academy Scholarship was launched in 2010 to develop high potential young marketers with 4 to 12 years work experience and give them an opportunity to learn from the very best business leaders, CEO's and CMO's the UK has to offer"
Coventry University are extremely proud that the academy chose Jack to receive one of their competitive scholarships. He treasures his experience with the Academy:
The Marketing Academy Scholarship is without doubt the ultimate accelerator for marketers. The access to knowledge, experience, networks and best practice is second to none. In the coming years I'm convinced I'll look back and see the year with the Academy as a pivotal point in my career. Jack Lowman, The Prince's Trust, 2014 Scholar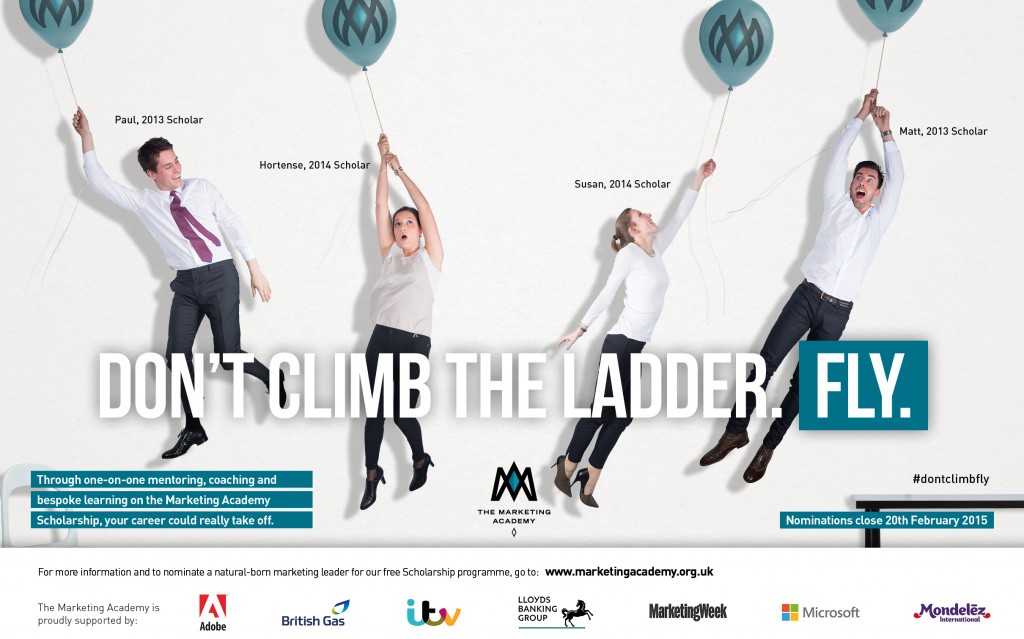 To nominate somebody you know for the 2015 Marketing Academy scholarships, visit their nomination page. For more information about Jack you can follow his Twitter account. Jack is running the London marathon to raise money for The Prince's Trust, you can sponsor him here. Finally, find out how you can support, or work with, The Prince's Trust by visiting their Website, joining their Facebook page or following their Twitter account.
Comments
comments