Illustrator and Animator Yen Quach is selling 'dates' in her sketchbook diary to raise money for the Coventry University Degree Show 2015. We caught up with her to learn more about this innovative fundraising idea and find out how we can get a date or two.. without a Cupid in sight!
Introducing Yen:

"Hi I'm Yen! I'm a third year Illustration & Animation student. I joined the course because I wanted to learn how to make a living from my passion for drawing. I was also interested in learning about animation, so this course seemed perfect for me.
During my time at Coventry University I've solidified my illustrative techniques in terms of materials and processes, when working with both traditional and digital media. Having the opportunity to learn new techniques such as screen-printing and 3DStudio Max, through workshops and projects has been an invaluable experience. It's definitely increased my confidence in my own work, as well as encouraged me to keep trying out new techniques."
What have you enjoyed most about your time as a Coventry University student?
"Finding and building up a network of friends who can push and motivate each other has been one of the most beneficial parts of being at Coventry. I set up the Illustration Society with my arty friends last year. Previously there wasn't a society that offered an informal space to draw, study and experiment with anything arty and fun. The society is open to all students, regardless of the course they are on."

What do you plan to do after graduating?
"During my course I completed a live project with Glenn Howells Architects. As a result of this I was offered employment! I'm actually set to start working 2 days a week with GHA after the Easter Break, to get more experience, before starting full time once I graduate. At weekends I'm a freelance illustrator, and I'm planning big projects for the future!"
Tell me about your #draweveryday project?
"The #draweveryday project was inspired by Alex Deligiannis, a US based cartoonist, who works in animation and comic books, and his progress on Instagram with his 'Sketch a Day' project.
Seeing his progress was so inspiring, I wanted to see if I could take up his challenge and draw every day for at least a year. It's now become a habit; I'm actually on my third year of this project! You can follow my progress through my instagram: YenDraws."
Where does the inspiration come from for each image?
"Inspiration for each image can come from anywhere and everywhere. Most of my sketches can be linked to something I've thought about, learnt, read, seen or experienced and so they will have stories behind them. Others are more random, but it is all what I want to draw, rather than following someone else's direction. I use a Moleskine extra small daily diary. It has a dated blank page for each day. It's tiny, People are always surprised the first time they see it!"
How will the 'diary' raise funds for the Degree Show?
"Recently have I been offering dates in the diary for people to 'book' a commission, as a way to help raise funds for the Illustration Animation and Illustration Graphics Final Degree Show. Dates are £10 each and I will email the sponsor with a high quality scan of the drawing once it is done."
How many dates are still available and how do people book them?
"There are lots of dates available, they can be booked if you e-mail me at yen.h.quach@gmail.com.
I just need to know what date(s) you are interested in, what you would like drawn and in what style, (if there is a particular technique I've used in a previous #draweveryday page that you liked. Also let me know if you'd like a message included when I share it on my various social media platforms: Instagram, Tumblr, Twitter and Facebook.
For the integrity of the project, I can't start the drawing until the date itself, although payment has to be made when you book it."
What will happen to the notebook after it's completed?
"I have the 2013 and 2014 #draweveryday books on my bookshelf at the moment. I'm planning on scanning and compiling the drawn pages, and future ones, into Zine's like this:

I'm in the process of compiling a list of people who also do the #draweveryday project. Who knows, if there is a big enough group of us, maybe there could be an exhibition in the future? It's pretty exciting to imagine, meanwhile watching other people's progress in this challenge is fantastic and very inspirational."
Are you involved in any other fund-raising events for the Degree Show?
"My friends and I held an Art Auction at Draper's at the end of February, and have been doing craft and bake sales since November last year. We've also done other things like collect donations whilst walking around in onesies.
For upcoming events, we will have two tables at Fargo Village on the 4th April (Saturday 10am~6pm). One table will be selling art and crafts goods, whilst the other will be hosted by myself and other art students offering caricatures. There are also events planned in the Kasbah nightclub as well as outside of Coventry.
Updates can be found on our Facebook page and through our Twitter."
How much money are you hoping to raise? What will the money be used for?
"We are hoping to raise at least £1000 to help with the printing costs for our boards (which will display our final work at the end of year show), catalogues and to cover the other expenses that crop up when setting up an exhibition. These will also all be taken down to London, when we exhibit at New Designers in July."
What type of work are you displaying in the degree show?
"There will be mix of commissions and competition entries. The main project I'm working on is an animated trailer of Neil Gaiman's 'The Ocean at the End of the Lane'. I'll show the development work for it, which I've created as if it were to be turned into an animated feature. I have a blog that updates on the project here, though at the moment I am in the process of animating (by hand!) and so haven't had the time to update recently!"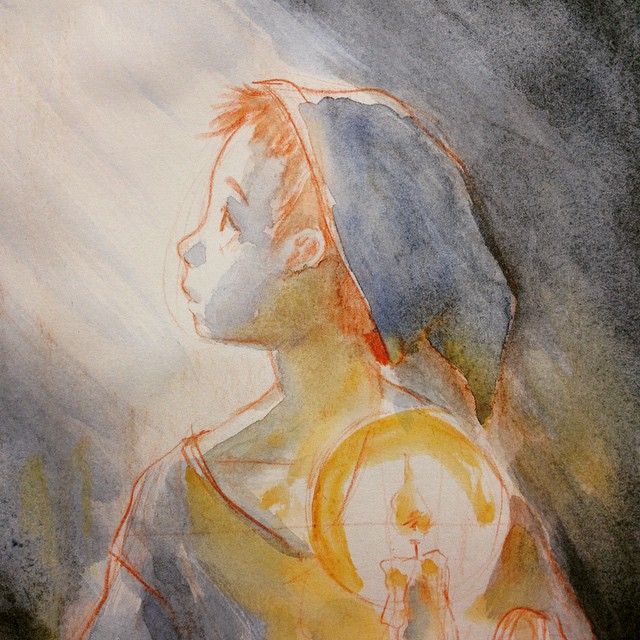 Finally, why should our readers buy a date from you?
"I can give you three reasons!

1- This will honestly help so much with raising funds for the Final Degree Show
2- The possibility of fame through the daily shares on various social media platforms
3- Well, don't you wanna challenge me? ;)"
This gallery shows just a small selection of Yen's #draweveryday project, view her full portfolio here.
[rev_slider rememberslider1]
Comments
comments