Trying saying that 5 times fast! Whether you can master our tongue twister or not, these 6 simple, effective, and often bargain ideas will provide you with some much needed comfort food to get you through the cold winter nights (and looming deadlines).
Even if you're a complete novice in and around the kitchen – why not break the ice and give one of these a try!
Gourmet Hot Chocolate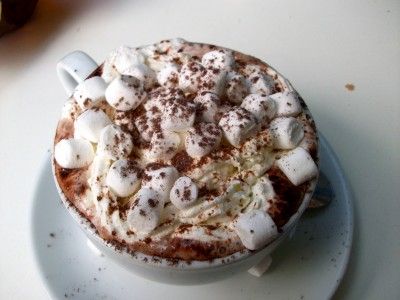 The classic hot chocolate must surely be one of the go to treats when you just want to snuggle up on the sofa and watch some TV. However, you don't need to visit your favourite well-known-coffee-shop-chain-that-we-can-not-mention-for-legal-reasons to enjoy a luxurious cup of cocoa. No no! Rather than the sugary, watery version you may usually end up with, a gourmet hot chocolate is just a couple of steps away.
Firstly, make your hot choc with warm milk and a drop of boiling water, rather than hot water and a drop of milk. You can then be as adventurous as you like with your toppings. Squirty cream and marshmallows is obviously a highly popular choice – but why not add a chocolate flake in there as your stirrer, maybe crumble some gingerbread over the top, or even break up chunks of brownie for ultimate chocolate meltdown!
Don't forget that a vast array of delicious flavoured syrups are not exclusive to the high street coffee shops, you can also buy them yourself, completing your transformation from novice-ta to barista! (Shameful effort at rhyming I know)
---
DIY Soup.

We might not think of soup as a particularly exciting food form but there is such an abundance of soup recipes out there, and they are SO simple to create, that you'll soon be kicking the can and pledging your allegiance to homemade!
Just one option we have chosen to share is a delicious sweet potato and butternut squash recipe. Simply fry some coriander and a finely diced onion in a large saucepan. After 4/5 minutes, add in 2 peeled and chunky chopped sweet potatoes and 1 peeled, chunky chopped butternut squash. A couple of minutes later, pour 1.7 litres of vegetable stock (stock cubes and boiled water), bring to the boil, and then simmer for around 20 minutes. Ensure it is well seasoned (add some chilli if you wish), and then blend it all together. Simples 🙂
---
Sausage Casserole.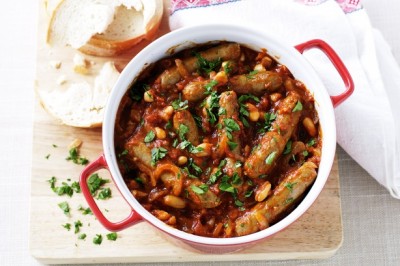 Quite possibly one of the easiest dinner ideas out there to warm you up this winter! The cheat option is the best option here, as all major supermarkets stock a sausage casserole sauce – and then the choice is yours to style it out however you wish. Cook or fry your chosen bangers first off all, slice them up (or leave whole), and add to a pot along with the sauce; cover, and cook for about 20 minutes at 190ºC.
If you want to go for a little extra and show off, you could add chopped chorizo, white beans, and fried, sliced red onion into the casserole before cooking. For all out comfort, serve with creamy mash and carrots.
---
Toasties!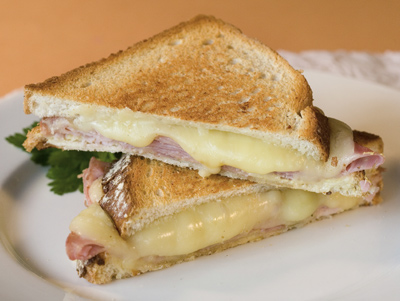 Now we're talking! The humble toastie is a winner at any time of day or year, but is especially satisfying when you're craving a quick, hot snack. Upgrade to panini status if you fancy some Italian flavour, and let your imagination run wild with fillings of your desire. Cheese is of course an ever present ingredient (along with bread, or the whole thing would be rather pointless), with ham and cheese a popular filling option. But why be boring? Here are just a few alernative toastie/panini options for you to create:
* Cheese and Sundried Tomatoes.
* Chicken Club (Chicken, Bacon, Cheese, Sliced Tomato, Side Salad).
* Tuna, Salsa and Mature Cheddar.
* Salami, Mozzarella and Mixed Peppers.
* Roasted Veg, Spinach and Goats Cheese.
* Feta, Peppered Ham, Tomatoes and Olives.
* Nutella and Banana (it really works, honest!)
---
Chicken Pasta Bake.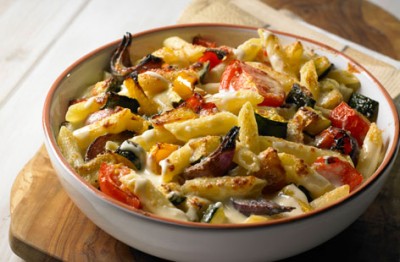 This is a great way to bling up the bog standard pasta dishes that probably play a large part of your University eating life. First, cook fresh chicken breasts and chop into cubes – or buy already cooked pieces if you're feeling lazy! Rather than boil the pasta in water, this is done in chicken stock. When the pasta is 'al dente', pour just under half of the stock away, and keep the rest still in the saucepan. Add in your chicken, along with roughly chopped vegetables (I recommend cherry tomatoes, peppers, and courgettes), season well, including mixed herbs, and then transfer the contents into a baking dish. You can then be generous with your topping of grated cheese, and (my little trick) smashed up ready salted crisps – it's a revelation! Cook in the oven at 200°C for 20-25mins, and enjoy.
---
Cherry Bakewell Sponge Pudding.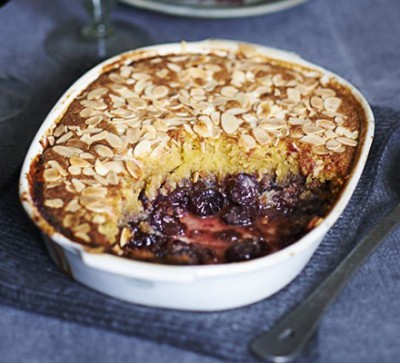 A classic cake given a fresh twist as a piping hot pudding! If you're not a fan of cherries, you can always substitute for strawberries or blackberries – and the almonds on top are optional too. However, for the set recipe you will need to…
* Pour 6 tablespoons of cherry jam into a saucepan, along with the syrup from a tin of pitted black cherries. (A splash of booze can be added to this if the mood requires it)
* Boil and simmer this mixture for up to 15 minutes, until the liquid is thick and smooth. Add in the cherries, and pour into a baking dish, leaving to cool.
* For the sponge: In a large mixing bowl, mix 200g of softened butter, 200g golden caster sugar, 50g of self raising flour, 3 large eggs, 130g of ground almonds, and a pinch of salt, then whisk until combined, yet not too thick.
* Spoon this mixture over the cherries, trying not to nudge them too much, and gently smooth over.
* Scatter flaked almonds over the top (if required) and bake at 180°C for around 45 minutes.
* Help yourself to as much as you want, and make a proper pud of it with some custard, melted chocolate, or ice cream to accompany – or all of them… Diet starts Monday right?
We would love to hear about your very own comfort food inventions, so why not leave us a comment here or via our social media channels with your scrummy suggestions for staying warm this winter!
Comments
comments