Final year Sports Marketing student James Jackson has recently completed a sandwich-year placement with The Football Foundation in London.
The foundation offered James the unique opportunity to attend the 2015 Beyond Sport summit in October – proving that Coventry University supported placements really can get you places!
Hi James, you currently study sport marketing at CU. Who would you recommend your course to?
I'd recommend the Sports Marketing and Sports Management courses at Coventry University to students who enjoy both sport and business and want to combine the two. The courses give a solid business foundation with sport-focused examples and allow you to choose optional modules to focus on your sports business interests. 
What have you enjoyed most during your course?
The international opportunities on offer within the Sports and Events Management (SEM) department have been incredible. The past three years I've been to Russia, Holland, China and am off to France in 2016. Being given the chance to experience different cultures, meet new people and travel the world has been the most enjoyable aspect of the course. 
'Guest lecture week' is another really enjoyable part of my course. The lecturers bring industry experts into the university to talk about their experience and knowledge. It gives you a brilliant insight into the thinking behind leading professionals. 
What has been the most surprising aspect of your course?
The employability support and opportunities for volunteering and work have been really surprising. Every week new opportunities are being offered and these all help to improve your employability and increase your chance of getting a placement year and job as soon as you graduate. The university helped me to get my CV in shape before I started applying for placement roles and was always on hand to offer help and support should I have needed it."
How many placements have you undertaken during your time at Coventry?
I've taken part in a number of volunteering opportunities such as working for Coventry Blaze, Coventry City FC, London Irish RFC and the Ricoh Arena. Through doing all this work experience I improved my employability and was therefore able to get a placement year with the Football Foundation. The Football Foundation is the UK's biggest sporting charity, funded by the Premier League, the FA and Sport England. 
How do you believe your placement will help you in your future career?
My placement at the Football Foundation gave me some fantastic work experience, which makes me more employable when applying to graduate roles. I met some incredible people during my year that I could now contact in my future working life should I need to. My placement also taught me some new skills, which I have been able to use since I finished and which I'll be able to apply to my final year of university and in a graduate role. 
What benefits do students gain from the fact that Coventry University offer placements years?
Coventry University provides help and advice both before and during the placement, including support phone calls, CV advice and site visits. This means they are more likely to get a good placement as they'll have a better quality CV and fuller application. 
How did you feel when your placement employers asked you to attend the Beyond Sport summit?
I was really excited! I had learnt during my placement year how prestigious this conference was and the number of high profile individuals who would be in attendance so I was really looking forward to it.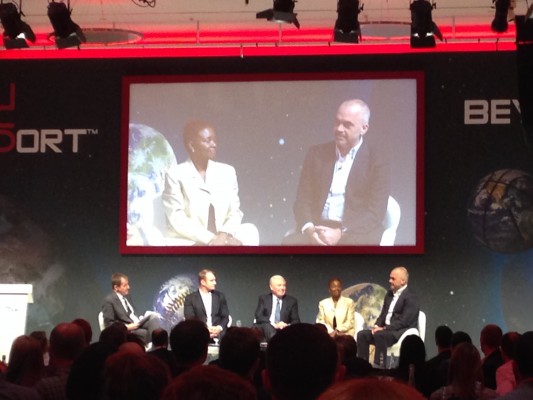 What is Beyond Sport?
Beyond Sport is an organisation which brings together national governing bodies, charities, corporate organisations, NGOs and third sector organisations to discuss and share best practices on the role that sport has to play in improving our world. It achieves this through a variety of different events throughout the year, culminating in the Beyond Sport summit.
The summit's theme is '#BeyondTheDivide' – can you explain more about this?
The theme is all about reducing the economic and social divide between people around the world, whether that is by teaching management vital financial skills or by giving young people the skills they need to apply for a job. Beyond the Divide aimed to show how sport can be the solution to such problems, by teaching how the sports sector can unite people in the face of adversity and how sport can be used to address conflict by bridging religious, economic and ethnic divides. The summit taught me that sport can be a real hook by which to capture people's interest. Sport is a really powerful vehicle to teach people vital life skills.  

The main stage at the Beyond Sport summit
What did the summit mean to you, how did it relate to your course and your career plans?
The Beyond Sport summit was a learning experience; it gave me the chance to gain an understanding about what was going on in Corporate Social Responsibility (CSR) programmes within corporate organisations. I learned how charities were tackling social issues around the world and explored the biggest issues and challenges facing CSR in the future.
Having studied a Corporate Social Responsibility and Sustainability module during my second year of university, working for a leading sporting charity during my placement year and now writing a CSR related dissertation, the conference really related to my course and career. 
Attending the summit enabled me to learn from industry experts within community investment and sport, and allowed me to network with leading business and sports people. I would like to thank the Sports and Events Management department, the Business School and the Sports Active team at Coventry University for giving me the opportunity to attend this conference. 
Comments
comments