Coventry University students have been selected to have their written dramas performed on BBC Radio Coventry & Warwickshire from the 23rd of May.
The English & Creative writing students will be exhibiting their written drama plays on Brody Swain's afternoon show. The final year students have scripted their own plays to be re-enacted by either themselves, theatre students or friends. Scripts were written as part of their final year project with the top 5 shows being selected to be aired on radio.
Be sure to tune in and have a listen to what our students have been up to and get involved in the discussion by using the hashtag #CoventryDramasBBC but first, here's a little more information:
Fool me once – Sarah Ssebandeke (SS):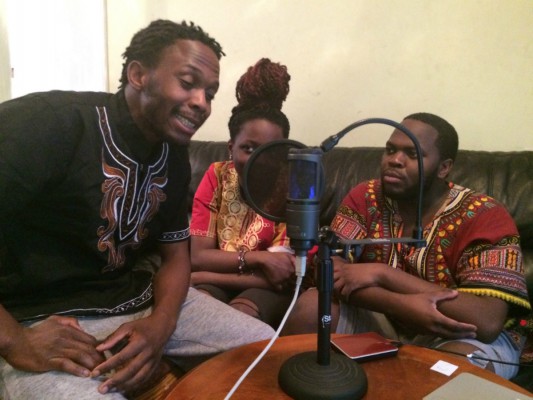 Inspired by a relative who held her own funeral so she could watch relatives mourn her this story follows a grandmother who fakes her own death, her grandchildren are attending the funeral but does the Vicar know more than he's letting on?
Sarah who chose to study English & Creative Writing as the modules were very appealing to her, said she was very proud and excited that her show was selected to be aired on the BBC.
Fool me once will be aired on Monday 23rd May at 2:10 PM on BBC Coventry & Warwickshire radio.
Jake and Marley – April Brown (AP):
Inspired by her friends and families lives, Jake and Marley follows the tale of two long term best friends, with Jake ready to make the step up and propose to his girlfriend Charlotte will he first break his friendship by asking Marley to move out of their apartment?
April was thrilled her drama was picked by the BBC stating she was very lucky. Her favourite memory of CU came in the form of the university experience and the friends she has made.
April wanted to develop her writing skills whilst doing different creative pieces, which is her reasoning for choosing English & Creative Writing. Before the course she wrote stories for magazines, theatre film and Radio.
Jake and Marley will be aired on Tuesday 24th May at 2:10PM on BBC Coventry & Warwickshire.
The Gold Man – Erica Hunt (EH):
Erica created a drama to convey how clinginess and jealousy can make you crazy and put a strain on relationships. The plot follows the story of two best friends who discuss the hardships of love and divorce whist partaking in a kidnapping. Divorced Brian is on a mission to take back what's his by kidnapping the family pet he and his ex wife used to own.
Erica who like Joe found it surprising her script was chosen but was no doubt thrilled as this is such an excellent opportunity for her stating it will be a surreal experience, said her highlight of studying at CU came when her theatre script was chosen to be performed at the Shop Front Theatre by the performing arts students.
Erica stated she chose English & Creative writing as she always loved writing stories and studying English allowed her to maintain her creativity as a writer as well as learn about the process and construction of different writing forms.
The Gold Man will air on Wednesday 25th May at 2:10PM on BBC Coventry & Warwickshire radio.
The Golden Gateway – Alisha Solanki (AS):
Inspired by Karma and based on the concept of a game show. Located in purgatory each contestant has a chance to play for spot in heaven however they all have their flaws that make them unworthy.
Alisha whose favourite memory of CU was creating the Coventry Words magazine in her first year, said she was very excited and honoured that her radio drama was chosen by the BBC as she knew how tough competition for a place was.
Alisha enjoys the process of old ideas in new and interesting ways and creating new visions of old perceptions, the course at Coventry offers a wide range of modules that allow her to do so which helped her to become a more interesting writer.
The Golden Gateway will be aired on Thursday 26th May on BBC Coventry & Warwickshire radio.
Hitmen – Joseph Griffin (JG):

Inspired by Black comedy films such 'Seven Psychopaths' and 'In Bruges', the plot follows two hitmen one incompetent and unintelligent and the other reserved and cynical, who were hired to take out a target only to discover the person they were supposed to kill is firstly very much alive and actually the wrong person!
Joseph who said he was proud and surprised his script was chosen as he didn't expect it, said his favourite memory of his course came in his first year when he wrote a 'science fiction comedy' as a short story called 'The Sordid adventures of Buck Fandango' which was read to his class and actually made it into the 'Cov words' magazine.
Joseph had always wanted to write and improve his skills further whilst building his confidence of sharing his work with others which is why the English & Creative writing course was a good fit for him.
Hitmen will air on Friday 27th May at 2:10PM on BBC Coventry & Warwickshire be sure to tune in!
We asked some of our finalists to sum up their experience at Coventry University in 5 words:
a. EH – Challenging, supportive, stressful, fun, unforgettable
b. SS – Amazing, informative, life-changing, crazy, rewarding
c. AS – Exciting, innovative, fun, interesting, inspiring
d. AB – I Would do it again.
Schedule of Radio Airings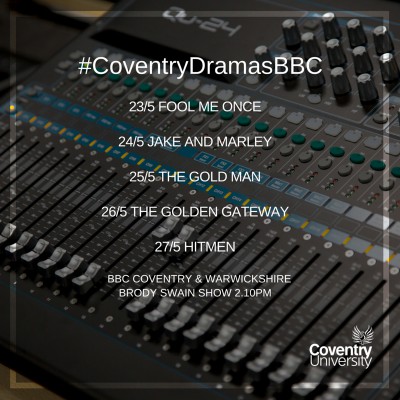 Comments
comments