IN MARCH AND JUNE 20 STUDENTS ACCOMPANIED BY STAFF WENT TO SEFROU IN MOROCCO TO PARTICIPATE IN THE COVENTRY UNIVERSITY CHANGING LIVES PROGRAMME. UNCOVERED CAUGHT UP WITH PROGRAMME PARTICIPANTS STEPHANIE & TEMILOLUWA TO FIND OUT ALL ABOUT IT.
Thanks Stephanie & Temiloluwa for taking to time to talk about your experience on the CU Changing Lives Programme in Morocco.
What was the application process like to be accepted onto the programme? What tips would you give for future applicants?
Stephanie: The application process was smooth yet challenging. Challenging in the sense that it forced you to think critically and outside the box, through its various creative and critical questions. My advice to future applicants is to be yourself and let your personality and passion show through. The application form is set in a way that there is no right or wrong answer, enabling you to be yourself.
Temiloluwa: The application process was fairly straight forward. I filled out an application form and sent it to the alumni email. All the questions were very interesting and self reflective, an example of this is the question where I was asked to describe myself as an animal and why. I would advise future applicants to be as honest as possible when answering all the question and to not leave it until the last minute to complete it.
What were your expectations before arriving in Morocco?
Stephanie: I tried to have an open mind, but I had a few expectations such as the weather being hot, and also to be cautious about my dressing, as we were travelling to a religious country.
Temiloluwa: 
Before arriving in Morocco I expected a highly intense and rousing few days ahead of me. I anticipated an opportunity to understand the historical background of Sefrou and life as a member of the local community. I was eager to learn about the culture and language, because I had previously taken a Beginners Arabic Module through
Linguae Mundi
.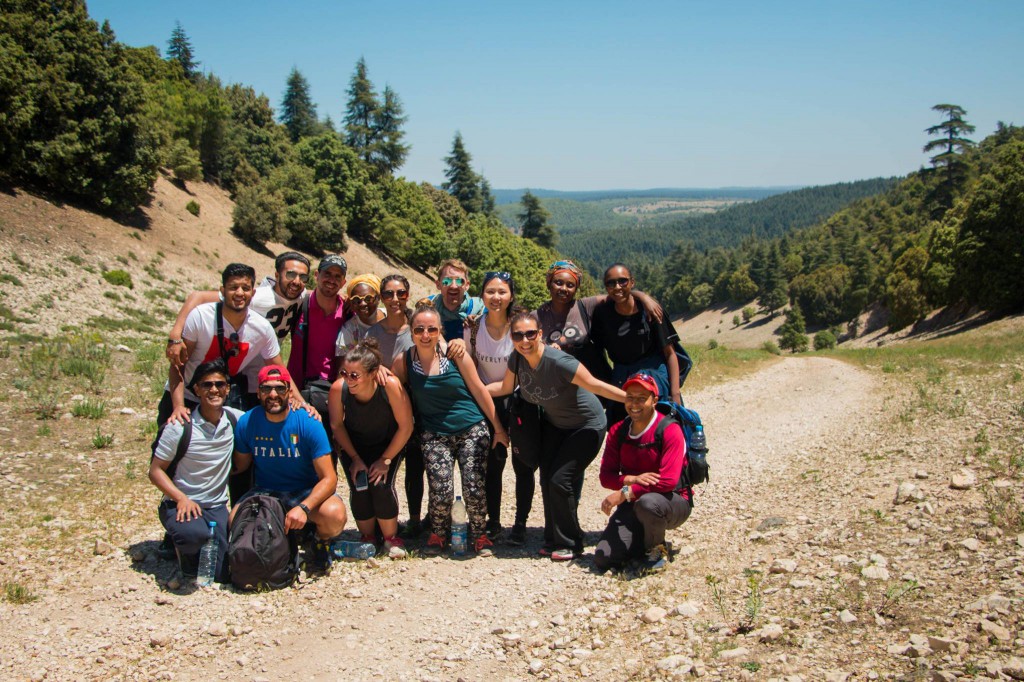 What was the reality when you did arrive in Morocco?
Stephanie: It was so hot! The people were better than I imagined, they had such warmth about them. They were very welcoming and hospitable, and I was overwhelmed by the love we received there. In terms of dressing, I wore jeans and tops so I didn't feel uncomfortable. However, the dressing sense for the women was not as strict as I imagined.
Temiloluwa: Sefrou was beautiful! It reminded me so much of my own home (Nigeria). I was delighted to meet various members of the community from very different walks of life, who were passionate and dedicated to what they did. I learnt and was given more than I had imagined. I also found out that Moroccan arabic and classical arabic (which I had learnt previously) are quite different.
What did you get up to & do on a day to day basis?
Stephanie: Every day was a new adventure, we had a range of activities from visiting and arranging activities with the elderly home and the widows association to having conversations with African Migrants, Artisans, and women in Sefrou about various issues affecting Sefrou. We also had the chance to harness our creative side, by making origami for the children's department in Sefrou Hospital and organising an exhibition about the history of Sefrou for the locals.
Temiloluwa: On an average day, we would have breakfast roughly around 9am and be on our way to Culture Vultures about 9:45am. At Culture Vultures, we would be briefed on our morning activity for the day (trash picking, white washing and gardening to name a few), and after that we would have street food for lunch at about 2pm. After lunch we had our discussion group and headed out once again to meet with associations within the community (elderly home & widows association). Sometimes we had dinner at these associations and other times we had it back at the guesthouse, after which we would have 'sharing time' where we discussed our experiences with one another.
What was it like meeting and working with the locals?
Stephanie: The journey has taught me a lot about myself and if I can describe my experience in one sentence it would be this: The experience has taught me a lot about womanhood, the strength in speaking out, voicing my opinion, and the peace and serenity in knowing that change doesn't always require a massive campaign, but can start with the actions and decisions I make today.
Temiloluwa: Meeting the locals, I always felt like I was on the receiving end. They always had something to give and or teach; namely experience and compassion. In many instances they had shown great zeal and responsibility for their own community and environment which made it necessary for us to respect it equally. I felt greatly appreciated by the members of the community for supporting the development.
What key things have you taken away from the experience?
Stephanie: Meeting and working with the locals was an extremely insightful experience. The discussions enabled me to gain a different perspective on education, feminism, and the effects of globalisation. Working with the youths to improve the sunshine square – which is a place in Sefrou the youth can call their own – and seeing their passion, this challenged me to reflect on my journey and in ways I can help my community and immediate surroundings.
Temiloluwa: Perseverance. The ability to hold on, stand firm, and continue in the face of adversity. This was a trait that I saw in the people of the local community as well as my other changing lives colleagues and our team leader. It was perhaps the most inspiring thing to recognise that everyone I had encountered is filled with living and its experiences and is still toiling for more, not because its comfortable but because they are keen to learn.
What advice would you give to anyone reading this who is considering applying next year?
Stephanie: Go for it, you have nothing to lose and so much to gain and also be ready to not only change lives but to have yours changed as well.
Temiloluwa: If you are considering applying for the Changing Lives Programme please make room for your own life to change.
Feeling inspired? If you're interested in taking part in the Changing Lives Programme in 2016/17, then keep an eye on the Changing Lives section of the CU website for further information.
Comments
comments