"I got the fries that'll cross your eyes. I got the shakes that'll make you quake. I got the burger that… I just got burgers"
Cheeseburger Eddy, 2005
When choosing a restaurant with friends, an argument can ensue. Disagreements follow. But there should be one suggestion that settles the ensuing fuss. Lets just get burgers. All praise to Louie's Lunch and then Lionel Sternberger for your innovative ways! (By the way, a 16 year-old Lionel, the legend, thought to add cheese to the already invented burger in 1926 – ten years after the burger was already in existence! So the burger part of his surname is just a coincidence… It was meant to be!)
On this blessed day, National Burger Day, we bring to you some of our favourite burgers for you to indulge into. #TreatYoSelf
The Don – Gourmet Burger Kitchen, Nationwide
The Don is the don. An awesome concoction of flavours, it is fulfilling to the palette and incredibly juicy. Wash down with GBK's signature milkshakes for the win.
Arancini Burger (V) – Arancini Brothers, London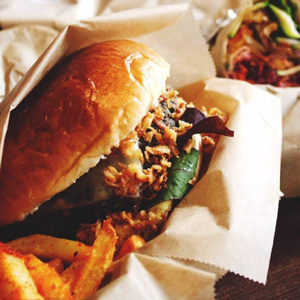 Stuffed with a risotto burger, cheese, crispy onions and all-around goodness, this is a burger for the herbivores and carnivores to devour.
Smokin' Shroom (V) – Crafty St. Martins, Leicester 
For the veggies, a Portobello mushroom with smoked applewood in a panko crumb, celeriac and apple slaw, smoked chilli ketch up and aioli. We give this a solid 10 patties.
Double Rodeo Burger – Burger King, Nationwide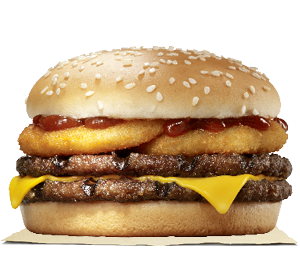 We're not snobs around here. Pass the cardboard crown over… Fast food vendor BK know how to do a good burger. The Double Rodeo; two burgers, two onion rings, BBQ sauce and a pickle… So simple, yet so "yes!"
Hero Burger – Cosy Club, Nationwide
It doesn't wear a cape but it could take down the Hulk. It's mighty and meaty and with chipotle mayo in a brioche bun, it's a must try burger. 
D.B. Cheese & Bacon – Handmade Burger, Nationwide
No, D.B. doesn't stand for 'Da Best', but it could. Handmade Burger Co. know how to craft a good burger and their Dirty Burger's are 'dirty, messy and full of flavour'. They never let you down.
Any burger from… – Blas Burger, Cornwall
Your ordinary burger menu but extraordinary flavours. It would be 'Blas'phemy to suggest these burgers aren't something special. Locally sourced meat, they take great pride in what they produce.
The Royale with Cheese, Meatcure, Nationwide
Simple, but classic. Meatcure can be found a few places including Leamington Spa and Leicester – a great place to go before, during or after drinks. And ordering this burger – well, you'll just feel great doing it…
Comments
comments