Back for its 9th year, the Royal Leamington Spa Food and Drink Festival is right on your doorstep, if you're a Coventry University student. And if you missed it this year, the ever-hungry UnCOVered team have all the highlights for you, so you can decide if you're definitely putting it in your calendar for next year. With over 25,000 people in attendance, it's a guaranteed belly-bustin' day out of food, drink, music, and friends, with a late-summer festival vibe lasting all weekend.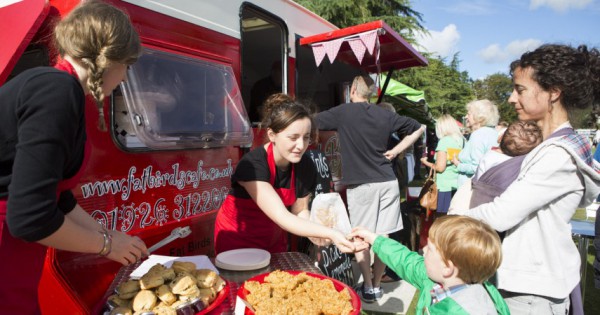 When I say this festival is on your doorstep, I really mean it. It's a 20 minute drive up the A46 door-to-door, or a 12-minute train journey, with a train leaving every hour! One quick zip down the road and you'll be surrounded by the stunning sights, smells, and stalls of leafy Leamington. Perfect for when you fancy a weekend away from the hustle and bustle of the big city.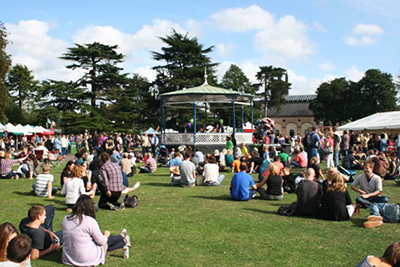 Each year, the Leamington Food Festival becomes more of a treat for the senses. The food smells and tastes better year on year, and there's usually a surprise new stall waiting around every corner.
Get ready to pen it in your student calendar for next year, once you've seen some of these tasty highlights: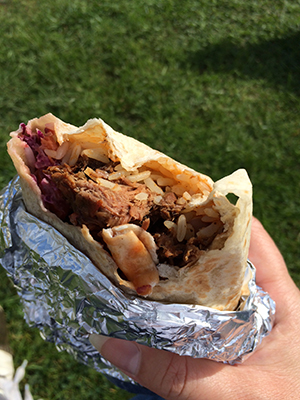 Habaneros give you loads of delicious Mexican street food choices, and the best thing is that once you've chosen your dish, you can customise your fillings to suit you. Or in my case, you get them all. There's a choice of sauces too, which really broadens your burrito horizons…
2. Whole lotta hog roast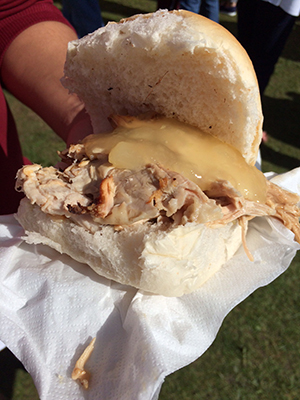 So much hog roast. Tasty, tasty hog roast. There's perhaps an argument that there was too much hog roast on offer this year. But wait, what are we saying? Can there ever really be too much hog?
If you're strapped for cash you can't go with wrong with a pork bap. Stuffing, crackling, apple sauce; you get all the extras without the fancy pants price tag. And all served in a floury white bun that'll keep you full 'til dinner time. It's THE student food fest staple.
3. Shake that ting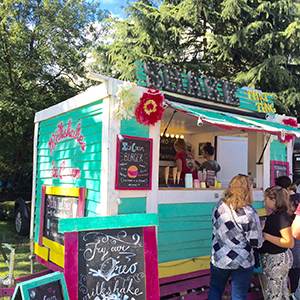 So many Sean Paul lyrics, so little time. Shake That Ting are bringing milkshake innovations, rainbow colours, and something known as the 'Ice Cream Burger' to your lucky hungry belly. If your mind can fathom it, they can make it a milkshake reality! Their Caribbean-themed trailer makes you feel so full of sunshine, you could just spend the day sitting next to it… or is that the calorie-high?!
 4. There is so much garlic
Have you ever noticed how when you write a certain word too many times it starts to seem like it shouldn't really be a word? Please see the below review of the festival's garlic stand as a prime example:
Not for the faint-hearted, or the reflection-less, just feast your eyes on all that garlic! When I look at this photo, I immediately feel like I can smell garlic. This stand has got all the garlic you could garner. Smoked garlic, French garlic, garlic oil, big garlic, normal garlic…
(Please help me, I am finding it so hard not to put a k on the end of garlic!)
5. Music to soothe your hungry soul
Each year, Leamington Food Festival's music selection is more eardrum-ticklin' good. This year's festival favourites 'Behind the Settee' played twice, and the ethereal bell-like pipes of singer Jo Litten could be heard across the site. Pure musical magic. And there are so many other talented musicians too. Even if your wallet is empty, and you're living on beans, it's worth getting to the festival for the music and entertainment.
6. Food festivals are gelato fun
It's not just bad-pun-inspiring gelato on offer at Leamington Food Festival. There's pretty much any type of sweet treat you could want. The Churros and Chocolate guys seem to have their own cult following. I heard "we can't leave without chocolate and churros" at least twice. And can you spot another hog roast van?!
The salted caramel gelato from 'Swirls' is unnecessarily amazing. Honestly, it's almost too good.
So now that everyone is starving, hopefully we've done enough to convince you to give it a go next year. Keep an eye out for our reviews of all the adventures you could be having in and around Coventry, but might not know about yet!
**Head's up! This review is of 2016's food festival, but anyone reading now is in luck! Because 2017's festival is merely a few months away and takes place on September 9th. We'll see ya there!
Comments
comments