Looking for somewhere to different to study? The ideal spot to relax? Somewhere to catch up with friends? Or just somewhere new to grab a coffee? Well we've got guest blogger Akshitha to give you the low down on the top coffee shops to get your caffeine fix in Coventry.
One almond milk flat white with a biscuit on the side. For here, please. Can't go wrong with those pastel eco-friendly ceramic cups. Better for the environment, and better to Instagram. I search for a power outlet that's within reach and a table that's preferably against a wall by the windows.
When I lived in Vancouver, I spent a lot of my time, far more than I intended, in coffee shops. It might've been the aroma of coffee beans or simply watching an older couple sipping their tea and engaging in conversation sans interruptions by technology – the world slows down a little and a range of personalities emerge. There are readers and writers, passionate conversationalists and the not-so-passionate ones, heated arguments between partners and romantic deliberations on the side, there's the kid playing candy crush on his iPad and by his side, his little sister peers in impatiently as she waits her turn. In a matter of a few minutes, the scene changes and there's a group of uni students working on their team project, an old man by the window reading the morning paper and a rather nervous chap suited up for a job interview that ensued. Every observation gives a hint into someone's personality, just enough to tickle our curiosity and serve as a snapshot into sondering, but it's never really enough to tell their whole story.
Sure that morning kick of caffeine can get us through most 9AM's, but there's more to a cup of coffee than just that.  Here are five coffee shops- all within a 10 minute walk from campus- that are definitely worth checking out; weather it's for a quick date, a bite in mid- lectures or simply a place to get your paper done that is not the library!
#1. The Pod Café
Newly opened up on Far Gosford Street, The Pod is a community cafe specialising in freshly cooked, delicious Vegan food. If you think vegan food is all lettuce & chickpeas, then you're in for a tasty treat! Their "Pod Bows" make eating healthy easy and super affordable, with fresh locally sourced ingredients prepared with care and packed with flavour. Their menu isn't extensive but it changes every week so there's always something new to try! In addition to there being a great place to study *free Wi-Fi*, the staff are lovely and their service comes with a smile. If feeling for a quick nibble with your coffee, I highly recommend their Earl Grey lemon cake, or take a pick from a selection of their homemade baked vegan treats.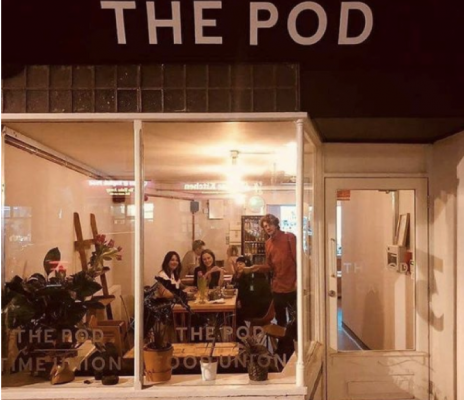 Source: Instagram @the_pod_cafe
The café is not only a place to eat but it's also hub for social activism. The Pod is a part of the Council that supports people in their mental health recovery. It's also a great facilitator of the arts, with events that incorporate local culture and community engagement. To learn more click here.
#2. Finney's
If the library is too quiet and home is too distracting, trust Finney's to provide the right balance. Located a minute from the train station, it has a slick, modern look with warm lighting and Edison bulb décor. The atmosphere is relaxing and it's a great place to read a book or type away thanks to the comfy couches, ample charging points and clean uncluttered wooden tables.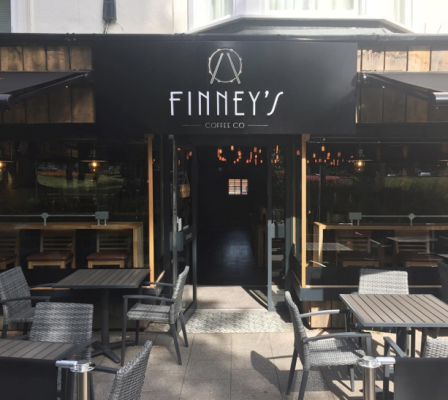 Source: https://www.facebook.com/Finneyscoffeeco/
On a bright sunny day, the big front windows allow natural light (and people-watching) so I sit by the front bar and enjoy my coconut milk flat white, which is a rarity in a city where dietary restrictions can be hard to accommodate. The staff are big on attention to detail, from clean toilets to polite service, they go the extra mile and make sure the coffee not only tastes great but looks aesthetically pleasing too.
Tip: Arrive early on the weekend. Seats fill up quickly!
#3. Bean and Leaf Coffee house
Newly opened on Hertford Street, this independent coffee shop is here to stay! They roasts their own beans and offer in-house speciality with blends from around the world.
Cosy up and find "hygge" here.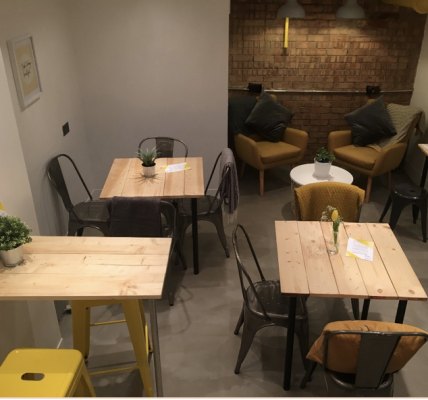 This local favourite is all about simplicity—in their concept, drinks and in the ambience. They're passionate about "Hygge" and cultivating it through the cafe. Their walls are decorated with quirky pieces that reflect great design sense through bright colours and rustic décor.
Finding a spot here is not hassle; they have additional seating in the basement away from the world above! I ordered the Wote Konga filter coffee, which is a type of Ethiopian coffee from the Konga region of Yirgacheffe. The baristas are really warm and friendly and if you're curious, they patiently explain the process of making their speciality coffee.
To complement their drinks, they offer cakes, croissants, and over 7 different varieties of marshmallows (bonus points)!
Comments
comments