Today is World Mental Health Day. We thought it would be a good time to remind you that last year, Coventry psychology graduate Laura Nuttall won a blogging award – with a difference. The award was given by mental health charity MIND, and was presented to Laura for her brave vlogging account of her own mental health struggles.
The Mind Media Awards celebrate the best examples of reporting and portrayal of mental health in print, broadcast and digital media. Mind organises these awards to reward media professionals, organisations and students who report responsibly and sensitively on mental health issues." Source
Laura began her blog back in 2012, in a bid to make mental health easier to talk about:
The main reason I created my YouTube channel to talk about mental health was to challenge stigma and show that mental illness is nothing to be ashamed of. For this reason, I wanted to 'put myself out there' as much as possible. Whilst it may have been easier to use a written format to get my message across, I didn't want to appear to be hiding behind a screen. Also, being able to see somebody's face also helps to prove that anybody can suffer from mental illness; you cannot always tell just by looking at someone."
Laura is very frank about her mental health on her blog, and has recently talked about sharing the recovery diary she kept during her last hospital visit. My first question was if she was ever concerned about being so honest?
When you put yourself online, you are leaving yourself open to nasty comments and I have experienced these. Also, I was concerned in the beginning about people I knew finding out about my channel. What I soon realised is that I am making these videos to show that mental illness is nothing to be ashamed of, so why should I be ashamed?!
This is the reason I try to be so honest and go into so much detail – shame stops so many people from talking openly about such topics, so the information isn't out there. I feel that this adds to the isolation that so many mental health sufferers feel.
What about the reactions to your blog posts, how have they helped your progress?
99% of the reactions I get are positive. I get many private messages from people thanking me, or who are wanting advice/information. I think this has helped my progress somewhat because, when explaining my situation to others, it helps me to gather my own thoughts and think about my situation in an almost objective way.
Also, I am one of those people who is not good at taking my own advice; I encourage others to treat themselves with kindness but often fail to do this myself. Making videos for so long has definitely helped me with this and I sometimes watch them back to see what "objective Laura" would say.
When you post videos online, you will almost always receive negativity, either from people who disagree with what you are saying or from people who simply aim to be hurtful. Whilst this can be upsetting, you have to remain focussed on the positive feedback. The negative comments and 'trolls' have definitely helped me to develop a thicker skin! Ultimately, I could ignore 99 nasty comments if I also had just one saying that I had helped them in some way.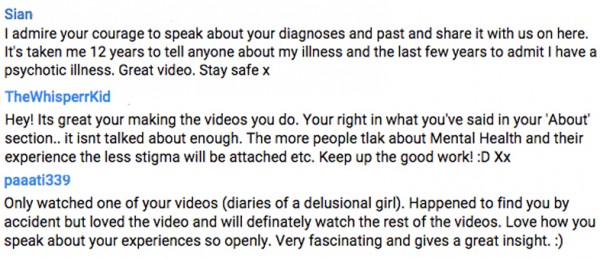 How has having the YouTube account helped your situation, maybe by the 'release' of telling your story or through the support you've received since?
My diagnosis, Schizoaffective Disorder, is relatively uncommon and before joining YouTube, I didn't know anyone who also suffered from this. Making my channel has resulted in me connecting with hundreds of people who are going through a similar thing, providing mutual support and information.
I was initially quite private and embarrassed about my channel before realising that I was contradicting the message I was trying to put across – to not be ashamed about mental illness. Challenging my own self-stigmatisation has helped me massively."
How did Coventry University help you with your mental health while you were here?
I received amazing support during my studies. When I first arrived, I introduced and familiarised myself to the Health and Wellbeing Department, knowing that it would make seeking support much easier if I were to become unwell. I recommend this to anyone who struggles with mental illness.
I did get unwell a couple of times during my studies and the University's Mental Health Advisor, GPs and lecturers were all fantastic. They helped me with everything and anything, from referrals to finding a local Psychiatrist to organising extensions for deadlines.
Furthermore, When I became unwell and had to take a year out, the University made it as stress-free as possible, meaning I could recover and then return without any issues."
You can read UnCOVered's blog with more info about Health and Wellbeing here.
It's hard to think about the future when you're challenging depression every day, but if it's possible to answer, what do you hope for your future?
My goal is, and always has been, contentment. Whilst I would like to be in a great job, living in a nice home and achieving as much as I can, I realise that happiness is what matters most in life. One thing I would really love to be doing is helping others who are experiencing mental illness."
Your last hospital stay was far from where you live, because of the lack of beds in local hospitals. Can you explain how this affected your progress and what difference having a local bed would've made?
I was fortunate to have received amazing care in the facility I have recently been discharged from. It was, however, hundreds of miles from home, meaning my parents had to drive a long way (6.5 hour round trip) to visit me. I have always found support from family and friends to be a massive factor in recovery from mental illness so I feel that this may have hindered my progress a little.
Luckily, my family circumstances meant that my parents could visit a couple of times, but there were people in there whose families were simply unable to visit; this is unacceptable. Having a hospital bed closer to home would have meant that family and friends could have visited more frequently and attended important meetings with the doctors, both of which I feel would have benefited me tremendously."
How did you feel when you heard you had been nominated for the Mind blogger award?
I had no idea that I had been nominated; my first knowledge of any of this was an email to say that I had been short-listed, along with an invitation to the ceremony. I emailed my main contact at MIND saying there must have been a mistake! When it was confirmed that I had indeed been nominated and shortlisted, my first emotion was shock. After looking at the other people in my category, I also felt quite embarrassed because I did not feel as though I belonged in a category alongside such amazing people!"
…and how did you feel when you won?!
Disbelief doesn't quite cover it! I assumed that I had heard wrongly until my friend started shrieking next to me. I was on my first night leave from hospital so going from a locked ward straight to winning an award and hugging Jo Brand on stage just felt totally unreal."
I'm so glad you were able to accept the award in person, what was the event like?
The event was amazing. It was held at The Troxy in London and it was absolutely packed. I met so many lovely, inspirational people including vloggers Jonny Benjamin and Laura Lejeune. It was so lovely to be in a room filled with so many people who all share the same goal – to make sure nobody has to face mental illness alone."
Why do you think you won the prize?
In all honesty, I still can't completely comprehend that I actually did win it! A couple of the judges explained why I was chosen and the main reason was that my channel is so honest and raw. I was also told that I speak to the camera as though I were speaking to a close friend and that it was evident that the only reason I made my videos was to try and help other people.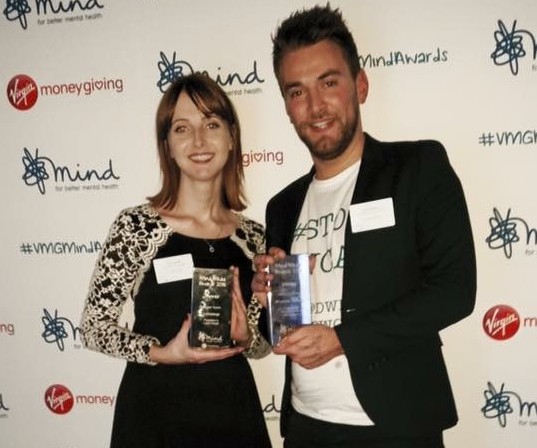 Finally, what advice would you give to anyone considering blogging about their experiences, either with mental health or another sensitive subject?
Make sure that you are definitely ready to do it and to face what doing it might bring! I debated about starting my channel for about a year before posting my first video because I simply didn't feel ready to open up as much as I do. If you do feel ready, I say go for it!
The only way we can reduce stigma around mental illness and other sensitive subjects is to talk about them and make them no longer a taboo. After all, why should mental illness even be classified a 'sensitive subject'?! Having a broken leg, heart condition or asthma is nothing to be ashamed about… neither is having a mental illness."
Comments
comments