There's one thing the whole UnCOVered team has in common… food!
We all have different tastes and preferences, but at the end of the day we enjoy regularly discussing food, sharing ideas and recipes, and going to Nandos every now and again for lunch! Last Friday (30th September) we decided to take a trip somewhere different, and headed over to Birmingham for the Digbeth Dining Club!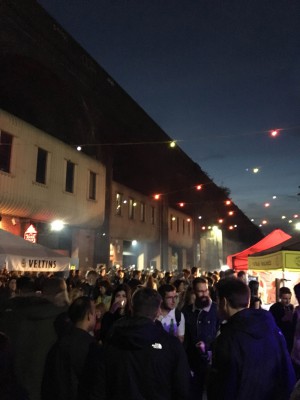 Now, if you're a fan of street food, Friday nights with friends, good ale and cocktails, and even more food, we couldn't recommend the DDC enough! The event took place every Friday during September and is set to do the same this month. Each week, loads of food vans and stalls are set up, eagerly awaiting hungry punters! There are always different vans present too… So you need to go as often as possible and sample everything!
As mentioned before, our team has a variety of favourite foods, so it seemed like this was the perfect evening for all of us because there was so much to choose from. But in the end most of us ate the same things… mainly because we didn't want food envy to cause problems!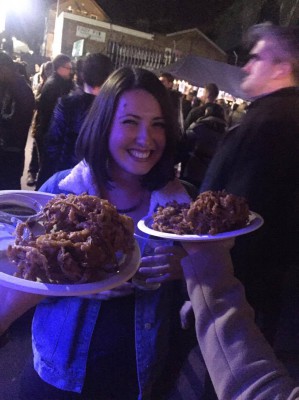 We started off with some incredible onion Bhajis from Beckys Bhajis, which were cooked fresh directly in front of us in a small van. Per portion you got 3 bhajis and two dips, some of us chose to share, others were happy to enjoy a plate to themselves! Overall, we were big fans of these tasty treats and it set us up nicely for a main meal.
For the majority of the week leading up to Friday, I had been pining for one of my favourite dishes – Poutine! (Mainly because I had done my research, and saw that Caribou Poutine were going to be at DDC). Some of the team had never heard of this perfect combination of ingredients, and if you haven't either, it's a traditional Canadian dish made up of chips, cheese curds and gravy.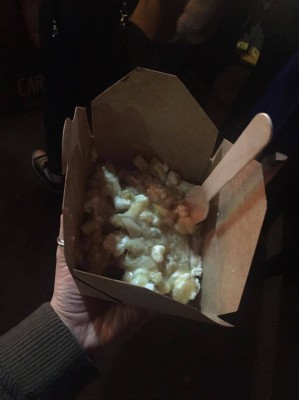 On the menu was a variety of toppings to join the base ingredients, such as steak, 'tex mex', bacon, and a combo of gruyere and blue cheese. Being the only veggie of the group, I was ready to get my cheese on, whereas the others had their hearts set on the meaty options! The fact that this stall was one of the busiest filled me with confidence for the end goal, however, as we queued for longer and longer, they began to sell out of the meat dishes. After 45 minutes of queueing we reached the counter, where the remaining options were 'tex mex', 'original' and 'say cheese'. We ordered a range of the three and they were all very tasty, even though there was a slight feeling of sadness after missing out on steak – I guess it just means we'll have to go back!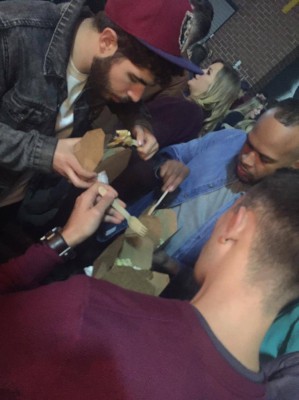 So the lesson we learned here is that it might be better to split up and go and sample other dishes, rather than just waiting at one! But hey ho, we all got to eat in the end!
A couple of the team weren't fully full when it was time to leave, so they swung by the Creamed Pops stall on the way out. Here, they take an ice cream (similar to the ever so popular mini milk lollies we all know and love), dip it into melted chocolate, and then roll it around in your choice of toppings! The perfect dessert to end a night with, even if it was freezing cold, these were still thoroughly enjoyed.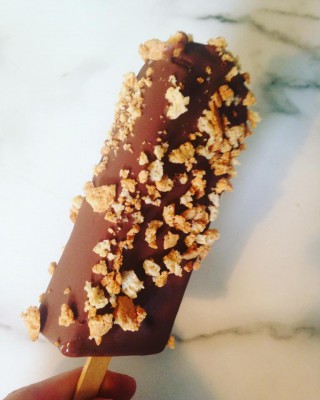 If that's got your mouth watering and you fancy an evening out in Birmingham, please see more details for this month at DDC below. The first 3 are free entry and the last one of the month is £1.50, as it has the most stalls available and even a street closure! Previously, DDC has also held events in Coventry, and a little birdie told us that they will be returning around Spring or Summer next year, so keep your eyes peeled for the dates.
If you know of any other food related festivals and want to give us a guest review, get in touch, we'd love to hear from you. 🙂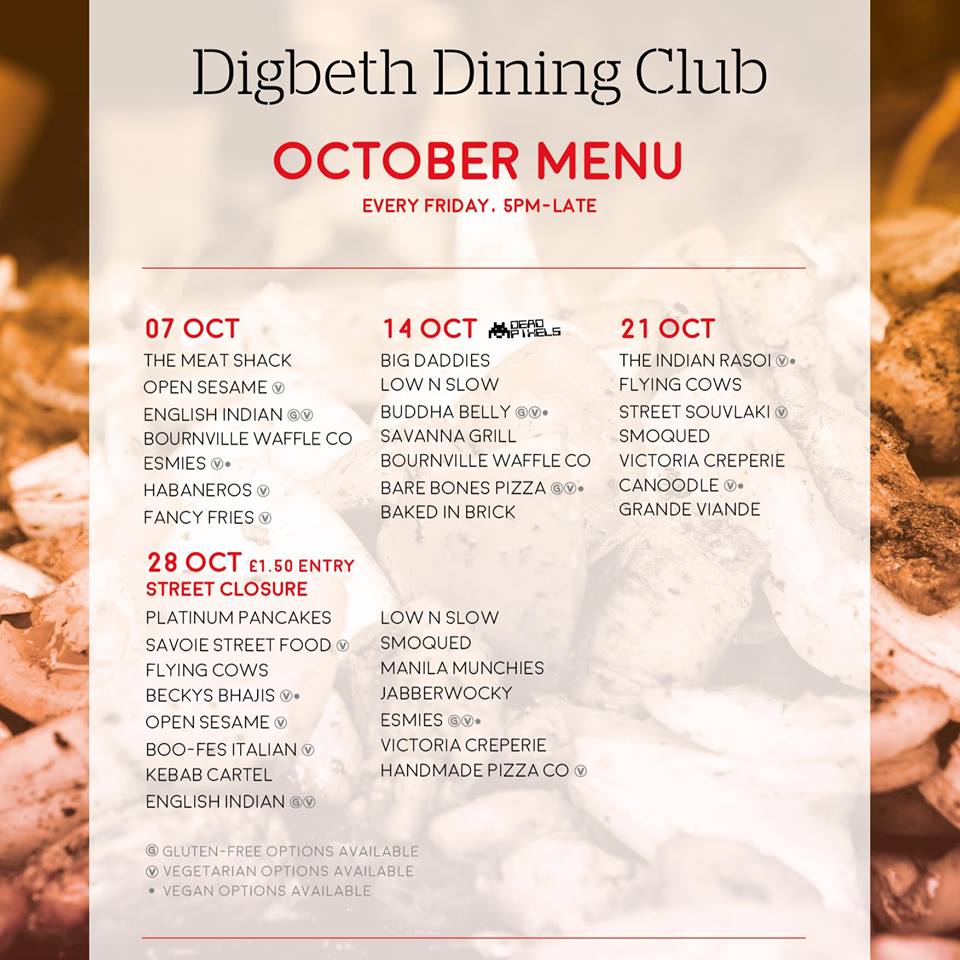 Comments
comments