We're all well aware of the classic carrot cake and that beetroot is often used in velvet cakes. But have you ever baked a cake with courgette in?! Well, brownies in fact. No? We gave it a go and the results were amazing.
You may remember our previous blog, where we made a healthier version of the British classic – The Bakewell Tart? Well on the same day, we also baked some Courgette Brownies – a healthier version of everyone's favourite chocolate treat! I've actually baked with courgette a few times before, but this recipe is different to any I've used before. It's called 'Vegan Zucchini Brownies With A Chocolate Date Icing', sounds good right? And for those of you who don't speak Australian, zucchini is courgette.
Baking bad good stuff
If you're a big fan of chocolate brownies, but not courgette, don't let it put you off! It's simply used to make the bake healthier, while binding the ingredients together. It doesn't really affect the taste, but makes the brownies super moist. Brownies, the one place where that word is OK.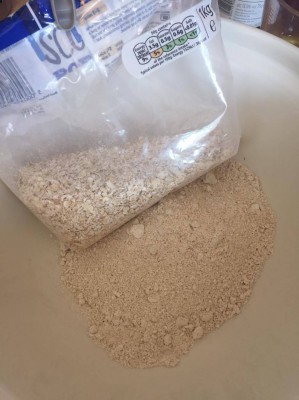 The first job was to whizz up some oats to make oat flour, something I'd never thought to do before, but it's a pretty good alternative to plain flour, as oats are full of fibre and protein. I used supermarket branded oats, which are nice and cheap.
​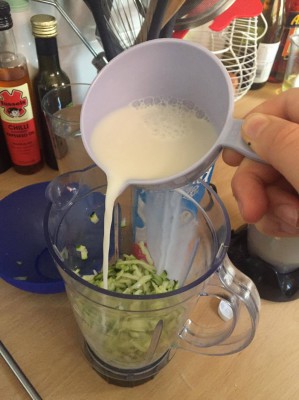 We then grated the courgette and added it to a food processor (we actually used a blender as we didn't have a food processor handy), with apple sauce, vanilla extract, dates, almond milk, cacao powder, maple syrup, cinnamon, bicarbonate of soda and almond flour. Blend it all together and mix with the ground oats and there you have your brownie mix!
The next step is to pour this tasty mix into a brownie tin, which we lined with greaseproof paper for ease of removal. (Cue concentration face…)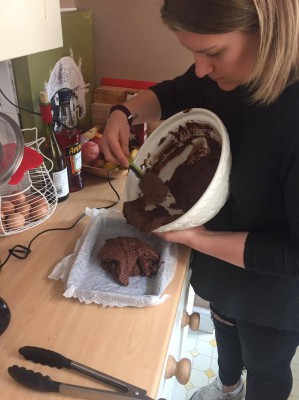 This then goes into the oven for 40/45 minutes, which is when we got to work on the date icing. You then let the brownies cool slightly before drizzling it over!
For the icing we added (more) dates, cacao powder, water and vanilla extract to our blender and whizzed it all up. You get a really nice, shiny, chocolatey icing that smells divine! Once the brownies had some time to cool off, we poured it over and added some decorations. These weren't part of the recipe and probably made them a bit unhealthier, but we wanted add something to it and get decorative!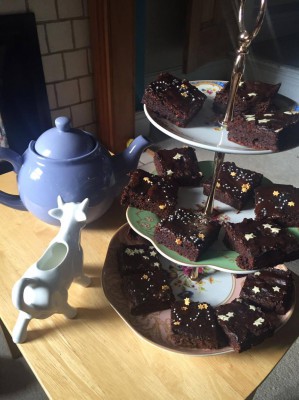 For a healthy alternative to chocolate brownies, this recipe is a massive winner! Everyone that got to try some thought they were really tasty, and couldn't believe they contained courgette and so many dates. But if you're dairy all the way and horrified by our 'out there' experiments, you can read our recipe for delicious, traditional brownies here!
If you've been baking up some tasty treats, let us know in the comments below or via social media!
Comments
comments