'Deadline' is a scary word. Add 'UCAS' and it becomes even scarier. But we're here to take away some of the nerves! In the run up to January 15th 2017, here's your guide of what to do if you're worrying about the UCAS Deadline.
The likelihood is you're further ahead with your university application than you think and you're going to make it with time to spare. But us saying that isn't just going to make you believe it. So how about following these ideas instead?
1. Chase your referee
You know they're busy and it's always important to be respectful and never a good idea to turn up at their house screaming… BUT. Rather than tearing your hair out, it's important to politely chase your referee if they haven't given you your reference, or given you a date it will be ready.
If you're not sure who to ask to be your referee, check the UCAS website.
2. Double check your school/college has sent off your application
Teachers are there for you and work incredibly hard to ensure your applications are turned in when they should be. However, there's always room for human error and if you're worrying that your tutor hasn't sent in your application, don't panic. Just check online.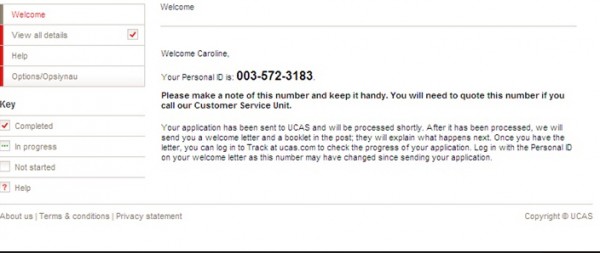 Log on to the UCAS website and check your application status. It'll put your mind at rest and if your teacher has forgotten, you can gently remind them to send it off!
3. Don't let your personal statement slow you down
It's important to have a great personal statement. However, if you can't get out of the loop of reading then re-reading and editing it, then it's time to step away. Give your statement to someone else and let them read over it, they are more likely to pick up on things you need to add or edit than you are, especially if you've been looking at it over and over and over and over again.
They are likely to come up with lots of things you can add or small edits that you can make that will make your statement stand out from the rest. Plus, it's always handy to go find other people's statements and see what they have written, that way you can see what has been successful before and what you should include to get an offer.
4. Use Coventry's Guide to UCAS Applications page
Sometimes it's impossible to find all the information you need that day in one place. So we've put together a UCAS guide, so you can check you're on the right track, no matter where you are in the UCAS process.

You can even pick how you're feeling today and it'll bring up useful blog content to help you out, inspire or even entertain!
5. Double check your courses
You've probably already examined each of your course choices with a fine toothed comb but it's always good just to double check. You want to make sure that the things you are applying for are actually the right courses for you!
Go through each of the course pages and make sure to check the modules that are involved in each course. The modules are important because those are the things that you're actually going to be taught. They should align with the things you want to learn and what you feel is important. Also if you've got the time and the dates line up, go to another Open Day! They are super useful and can really help you make some important decisions.
6. RELAX!!!
It's easy to get super stressed out around the UCAS deadline but it's really important to take some time to chill. Find something else to do: watch a movie, see some friends, go play video games, whatever the best way for you is.
Or if you're looking for some way to de-stress while you do your application try out some of these handy websites:
Thought room: A website where you can vent all of your frustrations
NeonFlames: Create your own nebula of colour
Casanova: A seriously cute game about making giraffes kiss
BlahTherapy: A site full of people you can talk to if you're feeling stressed or depressed
BREATHE. STEP BACK. YOU GOT THIS.
Comments
comments