We've been working on an extraordinary project this year. You may have noticed our social media channels putting out some canine inspired clues recently?! Or some paw prints popping up on our Instagram? Well now we can announce that this has all been in aid of a very special staff member. She's called Jacky, she's got a beautiful shiny coat, the friendliest handshake you'll ever receive and four legs. Oh, did we forget to mention, she's a guide dog?!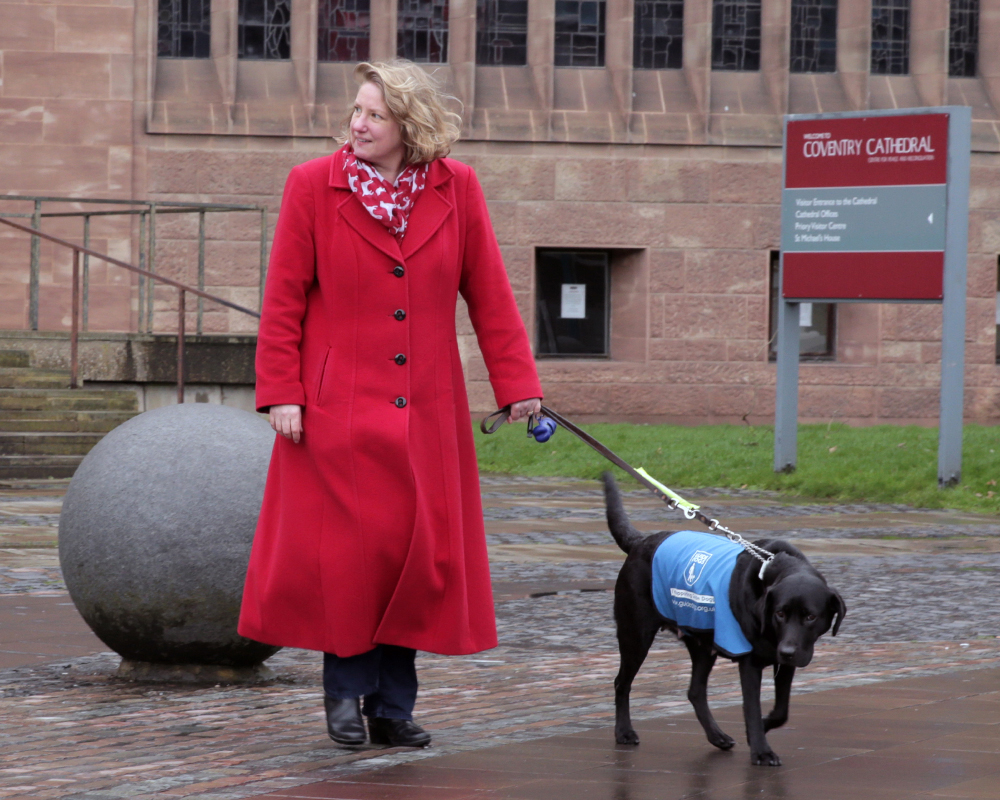 To learn more about Jacky's life, her work at the University and how it affects our students, we interviewed Lizzie Miles, who initiated the relationship between Coventry University and The Guide Dogs for the Blind Association back in 2014:
My name's Lizzie Miles, I am a lecturer in Humanitarian Engineering at Coventry University and this is my 'brood bitch' or guide dog mum Jacky, who is now coming up to 5 years old. She's had three litters of puppies. We had 6 in our first litter, 7 in our second and 6 in the third (who were only born a month ago!). The first litter – we've just had news that two have gone on to become working and we're waiting on news for all the rest of them. Just recently in October 2016 we had our second litter go to the training centre.
Question: How long does it take to train the puppies?
Lizzie: It takes them approximately two years. So they do six weeks with us, Jacky does 2 weeks of the work and I do 4 weeks of the work… [Lizzie looks at Jacky] Looking after your babies, don't we?!
And then they will go to the test centre in Leamington, where they'll be then placed with a puppy walker and that could be anywhere in the country. So you'll see guide dog puppies being trained all over the UK and they're trained in basic commands. They sit, they wait, they lie down, they go to the toilet on command… Then after a year to 18 months they come back to the centre, where they're assessed and they look at their personalities to match up the personalities of the dog, with the personality of the visually impaired person. They look at lots of things, not just the dog's personality but also the speed that they walk at. It's no good you having a guide dog that's guiding somebody and the dog walks particularly quickly and the person's struggling to keep up and vice versa. So every little detail is looked at and assessed before they're partnered up with their visually impaired person.
Q: What does Jacky do at Coventry University?
L: She comes to all my lectures*, she's part of the University's strand in Corporate Social Responsibility. We do fundraising for 'Guide Dogs' (For the Blind), we have lots of links with the Coventry branch of 'Guide Dogs'. So they come in and do puppy stress relief sessions for the students at the start of the semester. We have lots of puppies in the students' union, which the students can pet, we have a Guide Dogs Society. She's part of our Open Days, where we talk to parents about the fact that the University is dedicated to access for all. She's involved in course works – we have modules in the city of technology and our students actually walk the campus and assess it for disability access so she will go with the students and show them what it's like to have a guide dog, walking around campus. And she's used to raise awareness.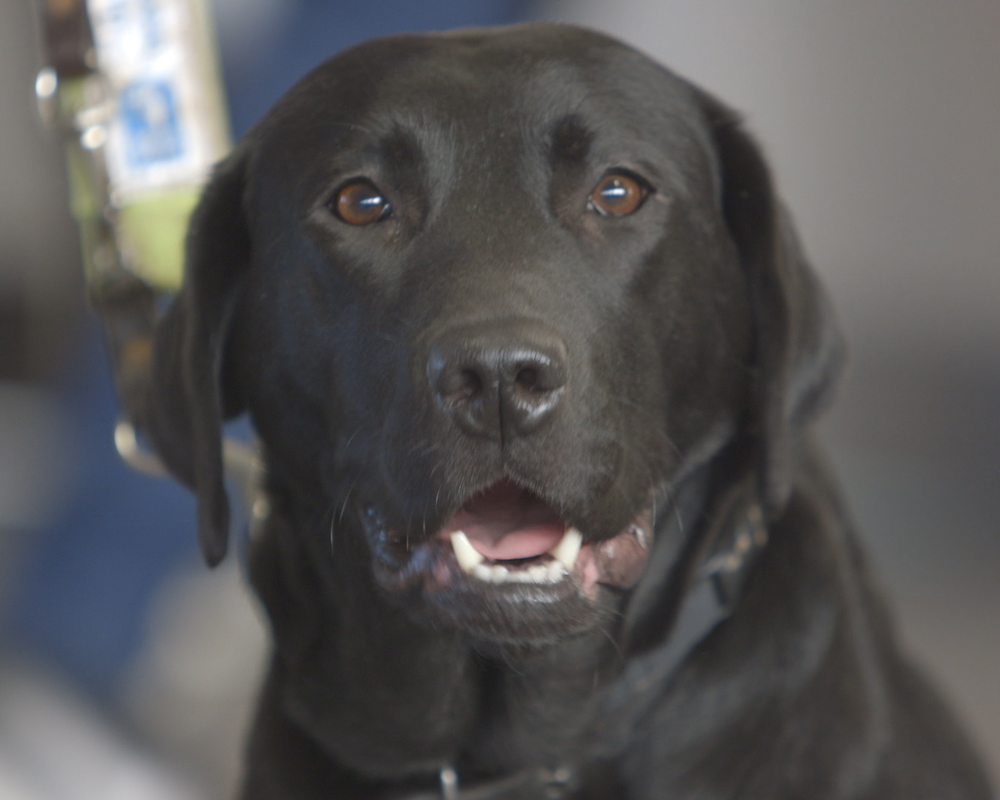 Q: Where can people find you around the University? Do you take Jacky into lectures?
L: Yes, I lecture in the new Engineering and Computing Building and also do some lecturing in John Laing. I spend a lot of time in TheHub and the Alma Building. We do quite a lot of walks around the campus because she doesn't sit still for very long. So once she's managed an hour and a half of me rambling on she does like to go and stretch her legs!
Q: How involved is Jacky in the wider Coventry community?
We are working with the city council on several projects. One of them is around access for all with taxis. One of the big issues that people who have guide dogs have is that, quite often, quite sadly, they're turned down for a taxi because the taxi driver perhaps has little understanding of how a guide dog's trained to go into a cab. So we're working with the London Taxi Company and Coventry City Council, putting a project together around working with our local taxi drivers. We're also working with the council on projects to do with the 'shared space' in the centre of Coventry. We're looking at digital and technological solutions for the challenges that visually impaired people come across using such a space.
Q: How can people support the Guide Dogs?
L: There's the name a puppy scheme, where you raise – for a school it's £2500, for a business it's £5000 – and you can pick the name of your school mascot and have your puppy named. You get 'pupdates' and stories of what's going on. If people want the stress relieving puppy sessions we can arrange that for people, we go into schools and talk about visual impairment and talk about guide dogs and the different things that do. So if anybody's interested in any one those, if they contact their local society, or us at Coventry University we're more than happy to help.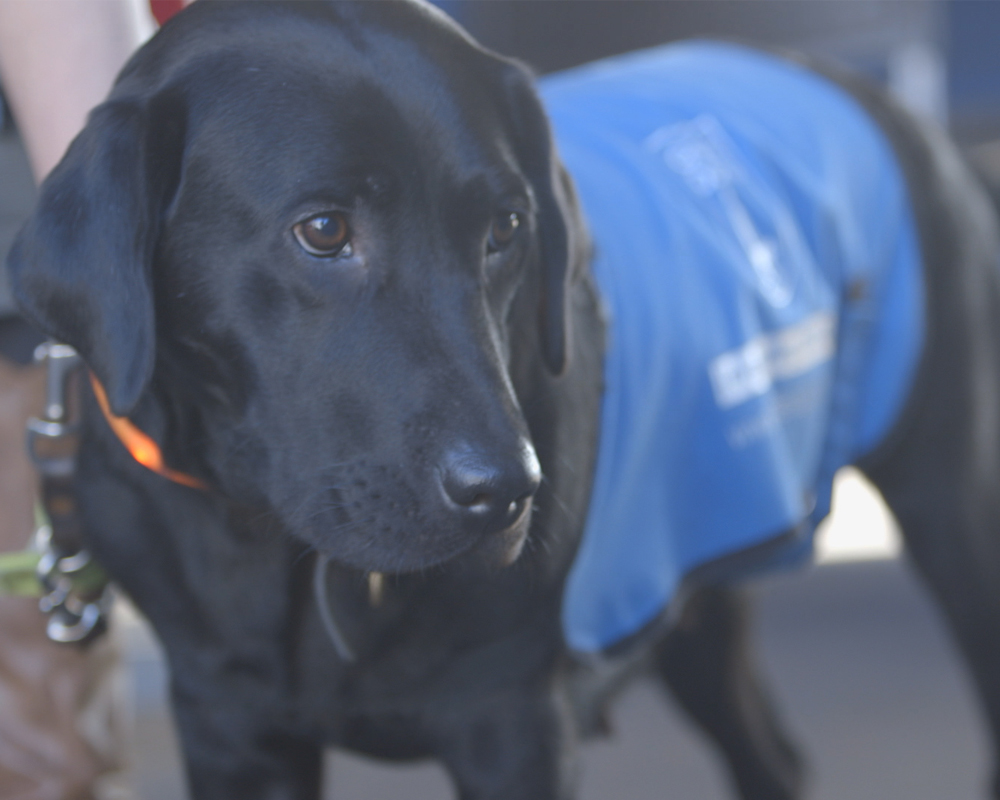 Q: How do you find people react to you and Jacky when they see you around the University?
L: It's unbelievable actually! As the mother of a child who has literally just this year gone to university, it's really distressing when students come up and say "I miss my dog more than I miss my Mum!" And actually students leave home and they come away to university and they miss everything. They miss mum, they miss the washing machine, they miss dad – probably in that order! And they miss their dog.
I get so many students who stop me and come over and want to stroke her** and when we do the stress relief sessions in the TheHub, we get loads of students that just want to go and spend ten minutes petting the puppies. Actually, we've found it's been really good for cultural awareness. Because we're such a diverse university, we have a lot of people whose perception of dogs differs across the board. So being able to work with those students and get them to understand that the guide dog is an assistive dog, is part of that person's need to get to and from lectures, means students have been a lot more open and welcoming of that.
She's always very positively received from everybody.
Q: Do you ever struggle with people trying to pet Jacky?
L: Usually people stop me and ask me. They know if she's in her blue coat, she's working and not to stroke her. But I don't stop anybody unless I'm in a real rush. I do have to add on several minutes to get to and from lectures, because she does get stopped. With a lot of students, I have to finish my lecture just a few minutes early because they have to have their weekly photograph with Jacky!
*Jacky only attends lectures if all students have confirmed they are comfortable in the presence of dogs!
**It's really important to add here, that working dogs assisting people with visual impairment should not be stopped or stroked. Jacky is sometimes an exception because of her ambassador role, and Lizzie does not have issues with her sight. However, as Lizzie states, when her blue coat is on she is like any other working dog.
Always speak to a blind or visually impaired person before touching their dog.
Look out for more updates, interviews, blogs and more about Jacky and her work over the coming months, and if you see Jacky and Lizzie around Coventry give them a wave! If you have any questions, get in touch via the comments below or our social media channels, or give Jacky's Facebook page a like!
Comments
comments