It's nearly Freshers' Week and the beginning of a new and exciting adventure! Your first week will mainly consist of socialising and partying as well as unpacking and generally settling in! So you don't want to waste time spending hours on end cooking. Check out some mouth-watering, affordable and yet easy student meals that you can cook in your first week!
Cauli-kale sausage bake
Who doesn't like a good old sausage dinner?! Great for if you're having friends over or want to make food that will keep for a few days.
| | |
| --- | --- |
| Prep time | 10 mins |
| Cooking time | 40 mins |
| Serves | 4-6 |
| Ingredients | 180g sliced kale, 680g cauliflower florets, 400g sausages – meat squeezed out, 1 tbs olive oil, 100g grated cheddar, 700g cheese sauce, mixed leaves to serve (optional) |
| Nutrition | 544 calories, 41g fat, 17g saturates, 18g carbs, 5g sugars, 6g fibre, 23g protein, 3.5g salt |
Bring a large pan of salted water to boil and add the cauliflower – cook for 6 minutes adding the kale in at the last minute. Drain well.
In the meantime, heat the oil in a non-stick frying pan and add the sausage meat, breaking it up with a spoon. Heat for 4-5 mins until brown all over.
Heat oven to 200C/180C fan/ gas 6 and insert the cauliflower and kale into a large baking dish. Pour the cheese sauce over, season and mix to coat well. Scatter over the sausage meat and cheddar and bake for 30 minutes until the top is golden and bubbling. Serve with mixed leaves if you'd like!
Kidney bean curry with rice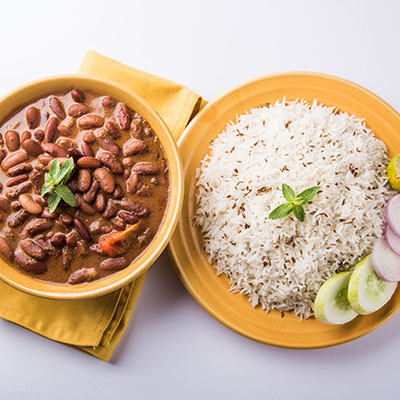 This is healthy if you replace the oil with a 1 calorie cooking spray and it's delicious too!
| | |
| --- | --- |
| Prep time | 10 mins |
| Cooking time | 30 mins |
| Serves | 1-2 |
| Ingredients | 1 400g tin of kidney bins, 1 finely chopped onion, 1 tbs vegetable oil, thumb size piece of ginger finely cut, 1 400g can of chopped tomatoes, 1 tbs turmeric powder, 1 tbs cumin seeds, 2 tbs garam masala, 1 tbs chilli powder (if you enjoy hot food), finely chopped coriander leaves, cooked rice to serve |
| Nutrition | 282 calories, 8g fat, 1g saturates, 33g carbs, 13g sugars, 14g fibre, 13g protein, 0.1g salt |
Add the onion and ginger to a pan of vegetable oil with the turmeric powder, cumin seeds, garam masala and chilli powder – add the tomatoes after 5 minutes and cook until onions are light brown.
Add the kidney beans in with their water and bring to a boil.
Turn the heat down and let them simmer for 15 minutes, put a lid on (if you have one)
Sprinkle the coriander leaves on top of your curry and serve with rice
Chicken biryani pilau
Fancy some flavoursome Indian food? Then this is the meal for you!
| | |
| --- | --- |
| Prep time | 15-20 mins |
| Cooking time | 50 mins- 1 hour |
| Serves | 6 |
| Ingredients | 2 tbs vegetable oil, 6 large chicken thighs (skin on), 1 large onion finely chopped, 2 tbs chicken biryani powder, 1 tbs turmeric powder, 1tbs chilli powder (if you like chilli food), 350g easy-cook long grain rice, thumb size amount of ginger, half a tin of tomatoes, 1 tbs salt |
| Nutrition | 445 calories, 12g fat, 3g saturates, 57g carbs, 0g sugars, 2g fibre, 32g protein, 0.5g salt |
Put the oil, onions, ginger, turmeric powder, salt and biriyani powder in a pan and heat for 5 minutes. Add the tomatoes and heat until onions are light brown.
In the meantime cut the chicken thighs and fry for 8-10 minutes until skin is golden and crispy.
Add the chicken and rice in, cover the pan and bake for 30 minutes until all water has been absorbed. Then enjoy!
Scrambled omelette toast topper
Excellent for when you're really hungry and need a quick food fix!
| | |
| --- | --- |
| Prep time | 5 mins |
| Cooking time | 5 mins |
| Serves | 1 |
| Ingredients | 1 tbs oil, 2-4 cherry tomatoes halved, 2 slices crusty bread toasted, 2 eggs, 1 tbs crème fraiche, 25g grated cheddar, small bunch of chives snipped, 1 spring onion, 2 slices crusty bread toasted |
| Nutrition | 571 calories, 33g fat, 13g saturates, 42g carbs, 0g sugars, 0g fibre, 30g protein, 1.98g salt |
 Beat together eggs, crème fraîche, cheese and chives with a little seasoning. Heat oil in a pan, then soften the spring onion for a few minutes. Add tomatoes then pour in egg mixture. Cook over a low heat, stirring, until eggs are just set. Pile over toast.
What's your favourite student recipe? Feel free to share with us and introduce newbies to the world of uni!
There's lots of student support available for you here at Coventry University whether you require help with getting to know Coventry, accommodation, academic support, or anything else.
---
Reference: BBC Good Food
Comments
comments