If you're travelling to the UK from another country, then most likely you will be asking yourself many questions such as how you can apply, how you can make a payment, airport pick up information etc.
Whatever your query, we've got in covered! Check out this frequently asked questions and answers guide.
How do I apply to study at Coventry University?
You have still got time to apply to study at Coventry University for September 2018 entry. All you need to do is find a course and apply either via the online application form, the downloadable application form or, you can even apply through your local office.
If you've changed your mind about the course you'd like to study or the grades you'll receive.
How do I make a payment to the University for my undergraduate degree?
As an international student, we may have asked you to pay a deposit. And there are many ways you can make a payment.
We will need this deposit before we send you the confirmation of Acceptance to Study (CAS) letter. Once you have paid the deposit, we will apply this to your tuition fees. To avoid delays, we recommend you pay your deposit at least three months before your course starts.
Pay online from your bank

The quickest and easiest way to pay your deposit for your tuition fees is by using a secure bank payment through WU Business Solutions. You will be able to see how much you pay in your own currency and track your payment every step of the way. Pay now.
Pay online by credit or debit card
Another fast way to pay is online by credit or debit card. Paying this way means you also have the option to create an account for other payments such as accommodation, library services and tuition fees. Once you have made a payment, you will be able to track it online.
Pay offline by bank transfer
Not a fan of internet banking? Then you can pay your deposit directly to the University's account by bank transfer. Ensure you include your (the student's) full name along with the student ID number so we can ensure funds are correctly transferred to the tuition fee account.
Account Name: Coventry University
Bank Name: Barclays Bank
Bank Address: High Street, Coventry, CV1 1ZZ
Sort Code: 20-23-78
Account Number: 20786675
IBAN Number: GB56 BARC 202378 20786675
Swift Code: BARCGB22
Keeping you safe and secure
We cannot take cash payment due to complying with strict government regulations designed to stop money laundering.
Can you give me advice about the IELTS exams?
Yes, actually some of our students who went through this process have given tips on their experience of taking the IELTS exam – check them out!
What accommodation options are there?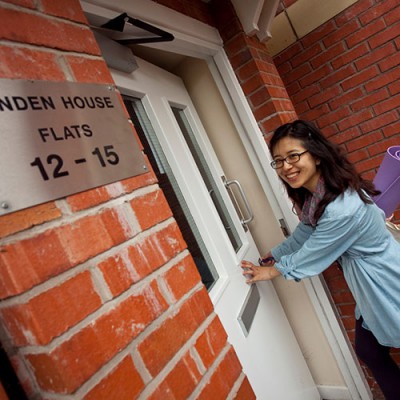 There are many accommodation options depending on your requirements. Whether you want a shared kitchen, your own bathroom – you'll be spoilt for choice. Book now. 
I'm worried about travelling from the airport to the University, how will I get to campus?
At Coventry University, we like to take care of our students right from the very beginning. So, we offer as free meet and greet service at Birmingham International and London Heathrow airports which you need to book prior to arrival. We also offer a premium meet and greet service. Find out more here.
What is my course start date?
You will receive your personal timetable depending on the course you choose when you arrive at Coventry University. It's nothing for you to worry about right now. You'll get everything you need in September 2018 and the teaching start date is 24 September 2018.
Can you give me more details about top up courses?
Sure! You can top up your existing qualifications if you have already undertaken an undergraduate level certificate, diploma or equivalent. Our Course Finder can help you find the right course for you.
Comments
comments