At Coventry University we are committed to promoting environmental and sustainability, this includes managing our carbon, waste, utilities and space. Sustainability weaves across the University; through operational impacts, the benefits our research brings to local and global challenges, the volunteering activities are students undertake, our place within the local community, the knowledge and skills shared on and off campus and the partnerships and collaborations we bring.
As the festive season approaches, our Sustainability team have put together 12 useful tips for having a sustainable Christmas that's good for both you and the environment.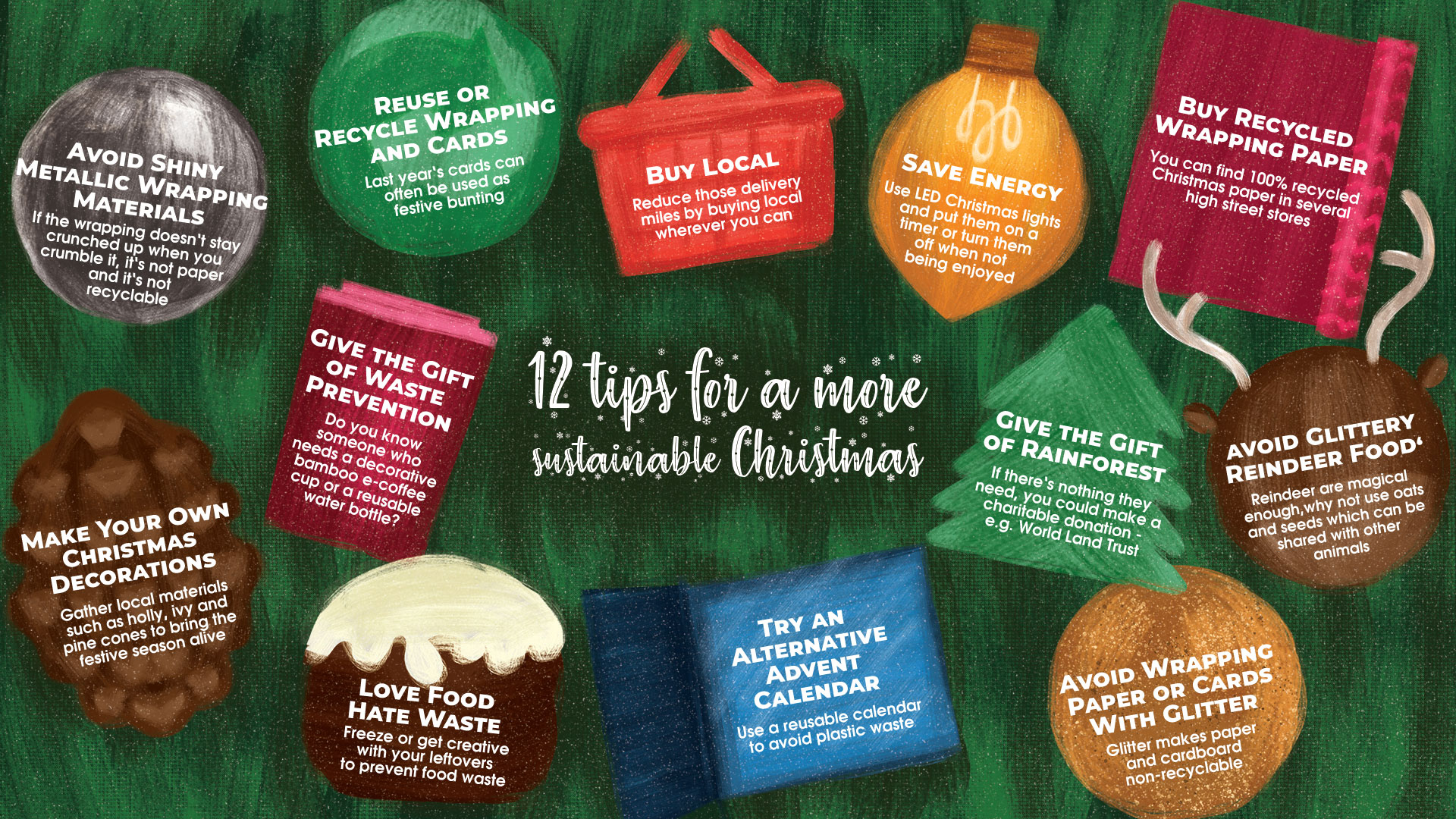 Buy Local
Reduce those delivery miles by buying local wherever you can.
Buy Recycled Wrapping Paper
You can find 100% recycled Christmas paper in several high street stores.
Avoid Glittery 'Reindeer Food'
Reindeer are magical enough, why not use oats and seeds which can be shared with other animals.
Save Energy
Use LED Christmas lights and put them on a timer or turn them off when not being enjoyed.
Make Your Own Christmas Decorations
Gather local materials such as holly, ivy and pine cones to bring the festive season alive.
Avoid Wrapping Paper or Cards with Glitter
Glitter makes paper and cardboard non-recyclable.
Try An Alternative Advent Calendar
Use a reusable calendar to avoid plastic waste.
Love Food Hate Waste
Freeze or get creative with your leftovers to prevent food waste.
Give the Gift of Waste Prevention
Do you know someone who needs a decorative bamboo e-coffee cup or a reusable water bottle?
Avoid Shiny Metallic Wrapping Materials
If the wrapping doesn't stay crunched up when you crumple it, it's not recyclable.
Reuse or Recycle Wrapping and Cards
Last year's cards can often be used as festive bunting.
Give the Gift of Rainforest
If there's nothing they need, you could make a charitable donation – e.g. World Land Trust.
Comments
comments