Final year Event Management student Beth Allcock tells us what she got up to, and what skills she learnt, when volunteering at the Spice Girls and Bon Jovi concerts earlier this year!
After finishing my 2nd year of Event Management at Coventry University I have realised just how important it is to volunteer alongside my degree. I really do believe that volunteering at as many events as you can means you get invaluable, hands on, event experience that you can put on your CV. Volunteering is definitely one of the best things you can do to get noticed by an employer and secure that interview – during my time on my degree, I've volunteered at events including BBC Sports Personality of the Year 2018 and Coventry Business School's 50 Year Gala Dinner, as well as organising a Silent Disco through the Students' Union, which I managed from concept to delivery.
I'm always looking for my next volunteering opportunity, and I recently came across a couple of great opportunities through Coventry University's Sport and Event Management Facebook group. The group is updated daily with a wide range of volunteering opportunities that students can get involved in! I came across two volunteering opportunities that I was very interested in – the first being The Spice Girls Spice World Tour at The Ricoh Arena and the second at Bon Jovi's This House Is Not For Sale European Tour, again at The Ricoh Arena.
Volunteering at The Spice Girls was crazy but worth it! On the first day, my job was to wristband people who had standing tickets when entering The Ricoh Arena, checking tickets to make sure they were correct and marking tickets. Despite this being challenging at times, I developed my interpersonal and communication skills and it taught me to remain calm during pressurised situations otherwise nothing gets done and mistakes will be made.
On the second night, I worked in a different area. Still doing ticketing but this time at Gate 25A, I worked in a team, scanning the VIP event attendees' tickets and sending them to the next person. I really did develop my teamwork, leadership and problem-solving skills. We were able to watch the Spice Girls perform again but this time in the Golden Circle! It was great to see how the performances differed each night.
When volunteering at the Bon Jovi concert, I was required to stand outside Gate 25A to make sure only tickets with 25A were in the queue, direct event attendees to the correct turnstiles where appropriate and help with any other queries. This was rewarding as you felt helpful being able to direct people to the right place. Again, I developed my communication skills as well as my organisational and time management skills to ensure event operations ran smoothly. I also got to see Bon Jovi perform which was incredible! I can now add these two volunteering experiences onto my CV to help in my search for future roles.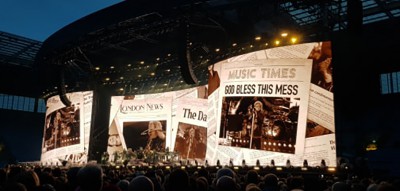 In my opinion, not only is volunteering vital from a career point of view, but it's also vital to developing yourself as a person as it  challenges you to go out of your comfort zone. Volunteering can be stressful and you do have to work hard but it is really rewarding!
So if you're still wondering about why volunteering is so important to Event Management students, see my top three points below:
It's a great addition to your CV
Volunteering allows you to gain and develop new skills
It helps you find out more about the career you want to go into
Go and volunteer because you never know what might come from it – new friends, new skills, event contacts or even a Golden Circle view of The Spice Girls like I had!
If you're interested in studying a degree that focuses on developing your employability skills through hands-on experience, find out more about our Event Management BA.
Comments
comments