Experts from Coventry University visited Jakarta recently to look at ways they could help ease the city's crippling traffic congestion.
According to a recent survey based on satellite navigation data, Indonesia's capital city suffers from the 'worst traffic in the world' with one traffic jam earlier this year lasting 35 hours and the average driver starting and stopping 33,000 times a year. The sweltering temperatures in the country only serve to exacerbate the problem and The East Brebes road that links Jakarta to neighbouring Tegal claimed 18 lives, mainly due to the toxic combination of heavy congestion and extreme weather. It's little wonder that the road has been dubbed 'The Highway to Hell'.
Factor in the environmental impact – 70% of Jakarta's air pollution comes from motor vehicles – and it's clear the city has a traffic management problem. .
Some observers have blamed the toll process on the road as well as other inefficiencies in the system for the issues that Jakarta is now facing. But the main consideration is its growing population, which is expected to increase from around 30 million today to more than 40 million by 2040.
Officials in Jakarta have tried many schemes to tackle traffic congestion in the past with varying degrees of success.  An odds and even – where cars with odd numbered licence plates can drive on odd days and vice versa for those with even plates cars – has proved a logistical challenge and difficult to police.
A three-in-one car-pooling rule where drivers were required to have at least two passengers or face a fine was found to have little impact, mainly due to locals playing the role of passenger for a fee. Moreover, many were children who were putting themselves at risk for financial gain.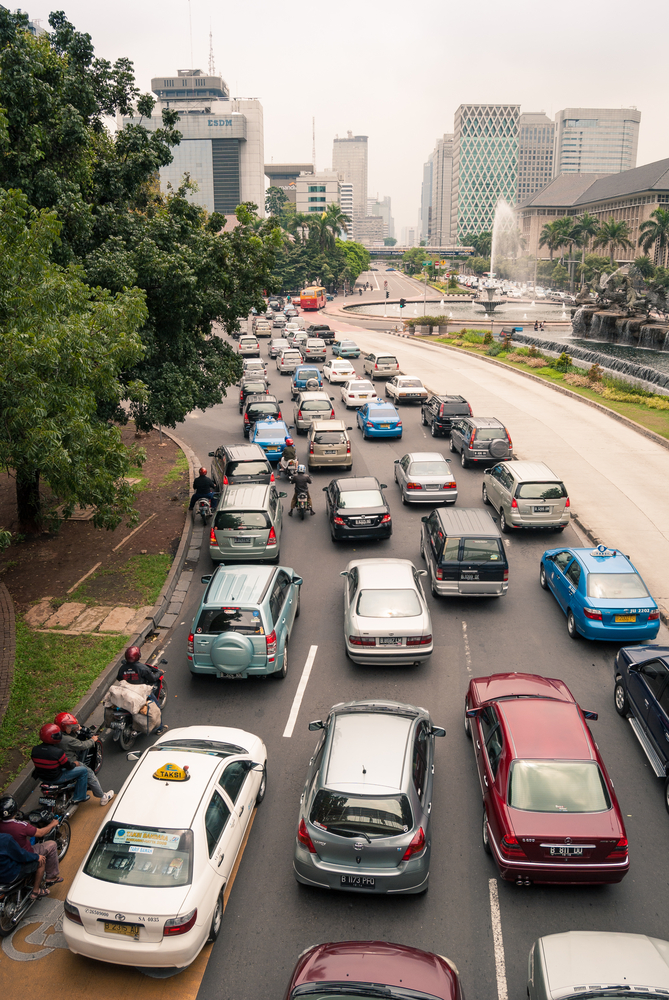 Car-free days where, as the name suggests, no cars at all are allowed on the road have proved popular. But currently this only in effect on Sundays, not during peak time weekday periods, and is not thought to be a long-term, sustainable solution.
Aware of the issues and having established links with the Governor's Office in Jakarta, a team of specialists from the University paid visited city official sto discuss how  their expertise could be utilised. .
Amongst the delegation was Dr Rahat Iqbal , Reader in Human-Centred Technology in the School of Computing, Electronics and Mathematics.  Rhat is an expert in big data analytics –  the process of examining large samples of information to uncover hidden patterns, trends and correlations, and therefore directly applicable to Jakarta's traffic management problem.
Rahat presented state-of-the-art technology that studies and predicts congestion levels and the knock-on effect it can have on surrounding roads. Designed accordingly. to react very quickly to changes in traffic behaviour in order to keep vehicles moving and prevent jams, the system has already been deployed successfully in London and it piqued the interest of Jakarta's transport leaders.
They are keen to find out more about this system and other expert advice and guidance the University can provide as they strive to find an answer to the congestion that's crippling their city.
Further updates will follow as the project progresses.