If you have OCD, don't glance up at the electricity pylons. The thick mass of tangled wires is a good analogy for the animated streets of Ho Chi Minh. Vietnam's largest city throbs with life from the 7 million souls who live there and the marginally smaller number of mopeds on the roads. Crossing the road is also a unique experience in which you hold your heart in your hands and take slow, "confident" steps to the other side. Even skilled bikers clip you.
After three stifling days of Chinese New Year celebrations in Ho Chi Minh, a cooling bike ride through the luscious paddy fields of Hoi An was more than welcome. The peaceful rice fields are serene in contrast to the din of relentless beeping from chaotic roads that crawl with mopeds. Our group pedalled along in single file down a narrow track through the green expanse. One clumsy twist of the handlebars would have caused a domino effect into the watery garden. The air smelt fresh and ripe. Crops were blooming. Slender men and women in conical bamboo hats could be spotted amongst the harvest of rice, their trousers rolled up high as they waded through with skill.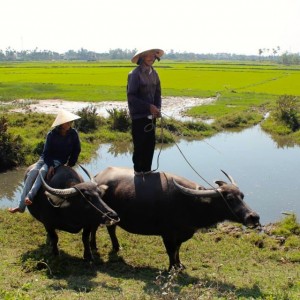 An hour into the excursion, we dismounted at the side of a small lake for a water buffalo ride. Two tiny farmers offered their thighs (each the size of my arm) to use as a stool to mount the beast. Donning a bamboo hat to look the part, we were off around the lake with toes tightly gripping onto our flip-flops. This experience was a first for all of us, and excited chatter ensued as we cycled back to town.
The enchanting streets of Hoi An are a photographer's dream. Ancient houses are strung together with vibrant lanterns. Alleys brim with charm and colour. An impressive 30-foot paper dragon rests in a schoolyard.
Chalky buildings line the path down to a jade river, which was once a heavily used trading port. These days, it boasts small wooden boats powered by yet more slender men wearing bamboo hats, taking tourists on leisurely trips. The bank is also dotted with fishermen at work. It is no secret that Hoi An has a lot of history, but looking out over the calm water it's difficult to envisage the hundreds of ships from all over the world that used to dock here.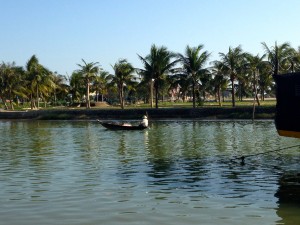 At the edge of the water, market stalls attract crowds of European backpackers who barter for cheap elephant pendants and varnished wooden chopsticks. Opposite, a row of shops and restaurants look out over the river. Vietnam is well known for its delicious food: the Vietnamese pho, colourful stir-fries and its many rice dishes make it very popular. Tourists may opt to take a cookery class in an open fronted building.  We sampled one of these classes and made Vietnamese Clay Pot. This sweet, ginger-laced stir-fry dish in itself is reason enough to ensure my return to this pretty town.
Hoi An is also famous for tailor made clothing, and the rest of the backpackers can be found inside these stores, giving their measurements for dresses and suits. The price tags on these hand made items are less than we would shell out for underwear back home. The shop walls are neatly packed with reams of material stacked tidily in long narrow shelves. Vietnamese women work hard through the night, expertly crafting the garments for us tourists to collect the next day, ready to stuff into our already over-filled rucksacks. A family of four whizzed by on a moped.