Christmas day as described by Friends
Jingle those bells, Christmas day is finally here! Cue getting dragged out of bed by your mum/sibling/dog to be (forcefully) merry all day.
First stop: presents!
What we've all been waiting for, Santa hopefully should have checked your wish lists (or circled Argos catalogue if you're old school).
But no matter what, you'll still be pretending like your new pen holder, cartoon jumper or even rock polisher from your Great Aunt Doris is the greatest most interesting present of the day.
Reuniting with your favourite cousin
Of course, Christmas is a time for family. So that means seeing all your uncles/aunties/long-lost second cousins twice removed which can be wonderful and awful all at the same time (there is probably a reason why you don't see Uncle Mick that often). But the minute your favourite cousin arrives you know you're in for a funny time.
Getting Christmas dinner ready
Elastic waistbands at the ready, it's time for man vs food – Christmas day edition.
Classic Christmas TV
Most families tend to spend the afternoon/evening slumped on the sofa watching the Christmas TV specials. Some would say this brings the family together, others would know it's simply because no one can physically move after the mammoth Christmas dinner that was just scoffed.
Realisation that one family member may have had one (bottle) too many
When all the festivities start to die down and the tidying up begins, there's always one empty bottle too many and you wonder where it's come from. Turns out, Aunty Sandra has been sipping sherry since 8am and is now sound asleep on the sofa. There's always one, and if you don't know who it is in your family, it's probably you.
It really is the most wonderful day of the year – happy Christmas everybody!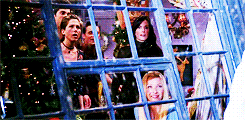 Comments
comments