Eat Me Café Scarborough Review
Eat Me Café is one of the jewels of the growing foodie scene in Scarborough and has been picking up local awards for some time now. We couldn't resist popping in for lunch and tasting their tantalising food for ourselves.
Their menu is unusual; you could probably describe it as a gastro café. It is multicultural and fuses flavours from around the world to give you plenty of options, but the focus on clean eating, bold choices and quality hold it together. You can grab a variety of different breakfasts, from a full English to Sriracha breakfast burritos.
Classic café fare like sandwiches and salads are bundled with ramen and thai curries. We were intrigued by the drinks list, cocktails and dessert shooters like the Chocolate Orange Trifle, so will try to pay a visit to one of their social evenings between Thursday and Saturday.
The atmosphere was stripped back and simple, but errs more on the side of restaurant than café/diner, making it a smart place for any occasion. The staff at Eat Me Café are warm and friendly as well, drawn from the younger crowd in the town.
Here are some of the dishes we sampled:
Ciaran – Chicken Thai Green Curry
Feeling a little unhealthy after a few indulgences, I went for a cleaner option and this fit the bill perfectly. It punched above its weight in terms of flavor with a Thai green sauce served thoughtfully on the side and nutty brown rice. Unusually, it was served with a side of coleslaw, which I would never have imagined, but it worked surprisingly well, adding a crunch and creaminess.
Steve – Fish Finger Sandwich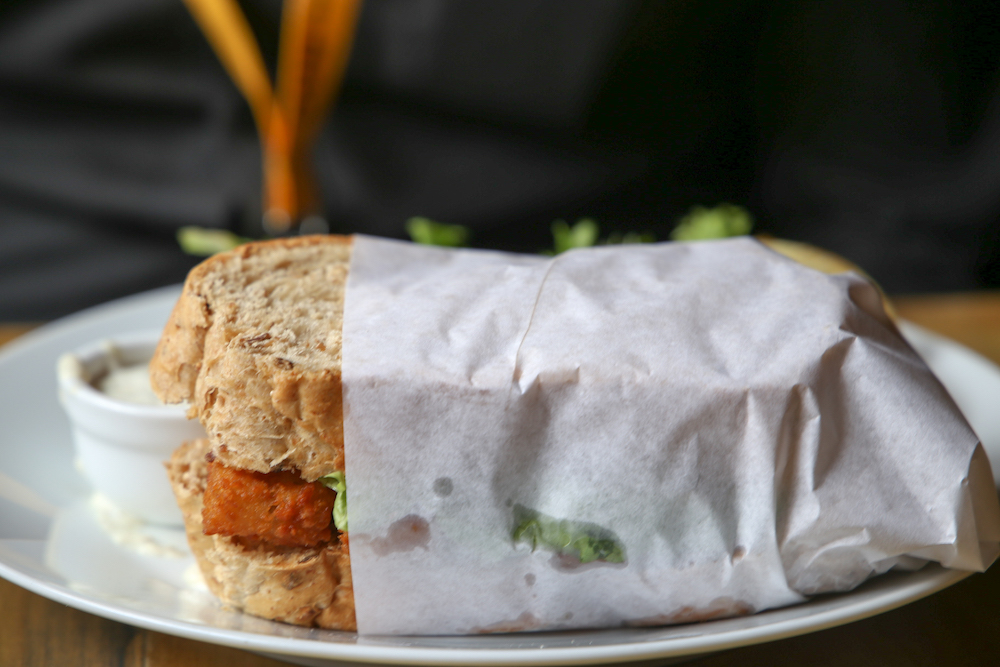 A childhood classic reinvented for nostalgia-hungry millennials, this was a mighty portion. It was nestled in paper and served on a handcut doorstop of bread with side salad and kettle chips. The homemade tartar sauce was spiked with flavour and really helped bring to life a potentially bland and heavy dish.
Adam – Tomato, Mozzarella and Pesto Grilled Ciabatta
The vegetarian options were plentiful at Eat Me Café, with the option of swapping out meat for tofu on many of their mains. Gluten and dairy free diets are also well catered for. This toasted sandwich was fresh and flavoursome, evoking a bright and sunny day with a springy burst of pesto. The sides made it even more impressive though, with a side salad, potato salad and beautiful homeslaw with carrot and nigella seeds.
You can see Eat Me Café featured in our Student Life at CU Scarborough video. Watch out for it between 1:07 and 1:19.
Overall, we would recommend Eat Me Café both for its food and ambience. If you enjoyed this review and want more picks in Scarborough, read our review of The Cowshed for delicious burgers.
Comments
comments