Experts from academia, government and industry came together in January 2014 to discuss the future of UK railway safety. The event was hosted by Coventry University's KEEP SAFE project, which is taking a closer look at how the UK Rail sector uses data for design and operational safety.
The selective event brought together senior and technical safety engineers from Network Rail, Transport for London, London Underground, Yeltech Ltd., Office of Rail Regulation, Rail Safety and Standards Board, TRE Rail, and TIBCO.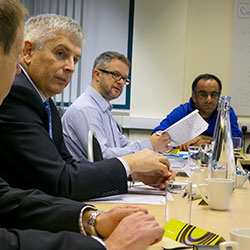 Dr Garcia-Perez said: "These rail safety experts came together to provide a unique insight for input into a data model for the future UK railway safety. They informed our efforts with real world experience, which is of vital importance to the success of the KEEP SAFE project."
In an industry where the interdependence between physical and digital environments is set to grow exponentially over the next few years, the KEEP SAFE project (aka "A Knowledge Elicitation Approach to Understanding Railway Safety") will focus on assessing how the data available can help in designing and putting in place mechanisms to assure the safety and security of customers, staff and communities.
Led by Dr. Alexeis Garcia-Perez, and supported by Dr. Siraj Ahmed Shaikh, KEEP SAFE will create a high-level information architecture for the railway, ultimately developing a metadata-driven, safety-focused model of railway operation and performance. The project will also develop a prototype software tool that predicts safety-related faults.
Dr. Shaikh said: "The findings of the KEEP SAFE project promise to support decision-making for the UK's railways in a number of areas. The team's effort will also have an impact on practice and theory in a number of additional areas, including infrastructure reliability, security of railway-related information systems, prognostics, predictive maintenance and human factors."
The KEEP SAFE project is funded by the Rail Safety and Standards Board.
To find out more about this project please contact Principal Investigator Alexeis Garcia-Perez or Siraj Shaikh.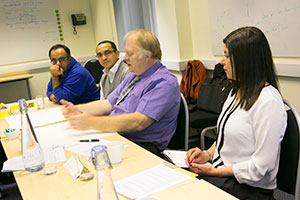 Comments
comments