The Coventry International Prize of Peace and Reconciliation honours initiatives, organisations, individuals or projects that have made an exemplary contribution to working for peace. The 2014 winner is Thérèse Mema Mapenzi.
The prize, known locally as The Coventry Peace Prize, was first awarded in 2000. It rewards creative and courageous peace builders from around the world. Following a process of nomination and selection overseen by a steering committee, the Bishop, the Vice Chancellor of Coventry University, the Vice-Chancellor of the University of Warwick, the Dean of Coventry and the Lord Mayor were given the challenging task of deciding the recipient…
By presenting the Coventry International Prize for Peace and Reconciliation, Coventry is acknowledging and thanking the hard work people do all around the world that promotes peace and reconciliation.

Councillor Hazel Noonan – Lord Mayor of the City of Coventry
The 2014 winner is Thérèse Mema Mapenzi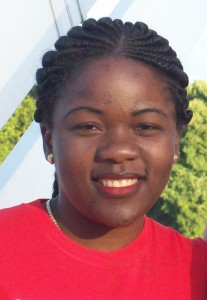 Thérèse Mema Mapenzi is the Sexual Violence Programme Leader for the Justice and Peace Commission in the Democratic Republic of the Congo. She works with rape victims in the city of Bukavu, in South Kivu, which is in the east of the country.
Thérèse runs 16 listening centres in different villages in South Kivu. These centres help women to tell their stories in a safe place, and come to terms with their ordeals through counselling, listening and support.
Thérèse says:
"It is very important that the voices of women affected by sexual violence are heard. Rape has become a weapon of war and we must not let it be forgotten because it has become commonplace. Every assault against a woman or girl is a terrifying and devastating experience, especially when it is often followed by stigmatisation by family and friends."

"The Listening Rooms offer a safe place for women to talk and make friends with other women who have been raped. When many have been disowned by their families and communities after their attacks, the Listening Room becomes their family and offers a crucial lifeline in very hard times."
Thérèse is currently visiting Coventry to collect her award, you can follow her story on Twitter and Facebook
The Centre for Trust, Peace and Social Relations: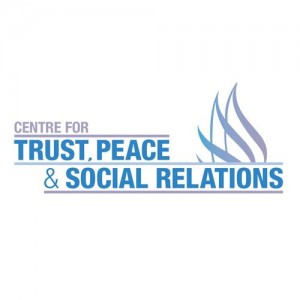 Trust is central to overcoming some of the greatest challenges faced by society today.  It is a key component of peace building and for reconciliation, and of the creation, maintenance and repair of relationships within local communities and across nations.  Building on Coventry's strong heritage in peace and reconciliation and its work for social cohesion, the Centre for Trust, Peace and Social Relations brings together expertise from across the social sciences and humanities to drive progressive change and strengthen human security and resilience.
Through its focus on relationships, reconciliation, and trust, this Centre champions creative thinking and innovative research which tackles the key issues surrounding peace building, trust and the contemporary challenges facing a diverse and connected world.
Research themes:
Integrated peace building – working with conflict affected communities to address their challenges of peace building and reconstruction
Trust – enabling trust building and restoration within both communities and organisations to create more effective and resilient individuals, and better performing, more sustainable organisations
Living side by side – working with communities challenged by disparity, diversity and disconnection – developing and supporting policy and practice which promotes social cohesion and wellbeing
For further information visit their Facebook or Twitter for further updates..
Comments
comments