In light of the fact that most UK beaches don't allow barbecues, we have put together a list of some of the tastiest and easiest oven-friendly 'barbecue style' treats.
From simple shrimp to bite-size burgers, we've got all the BBQ favourites you can get under the grill. Let's just hope you can enjoy that beach BBQ taste without having to deal with hungry seagulls!
These tasty little shrimp not only look delicious but they're also extremely easy to make! There're only a few ingredients to this dish and that's the way we like it. The tricky bit is cooking the shrimp right, as long as you do that you're on to a winner here.
Ingredients:
Shrimp (or Prawns)
Lemon juice
Fresh Garlic
Olive oil
Pinch of salt
Preparation: 
As for cooking techniques, this one's pretty easy. All you have to do is crush the fresh garlic and add it to the lemon juice and oil to make a sauce. Add your prawns to the sauce, make sure they are well covered and pop the bowl into the fridge for 30 mins. Next, thread the prawns onto the skewers, piercing by the tail and the head. Now chuck those beauties on the barbecue (or the grill) and let them cook to perfection. Just make sure you don't let them burn! Once they're done (they should look opaque, takes about 2/3 mins) sprinkle with salt and serve!
2. Bite-size Buffalo (chicken) Burgers
You can't have a BBQ without burgers, even chicken ones!  These gorgeously spicy little numbers will have your taste buds tingling and only take minutes to make
Ingredients:
Large frozen chicken nuggets (or you could make your own)
Buffalo sauce (replace with hot sauce, bbq sauce, peri peri…)
Lettuce
Cheese
Mini burger buns
Preparation: 
This one's pretty simple. First, check what temperature and how long the chicken nuggets have to cook for and pop them in your oven on a preheated baking tray. Half way through cooking, carefully take them out and smother them in buffalo sauce (the more sauce the hotter they are), then pop them back in the oven. All you have to do then is assemble your burgers and enjoy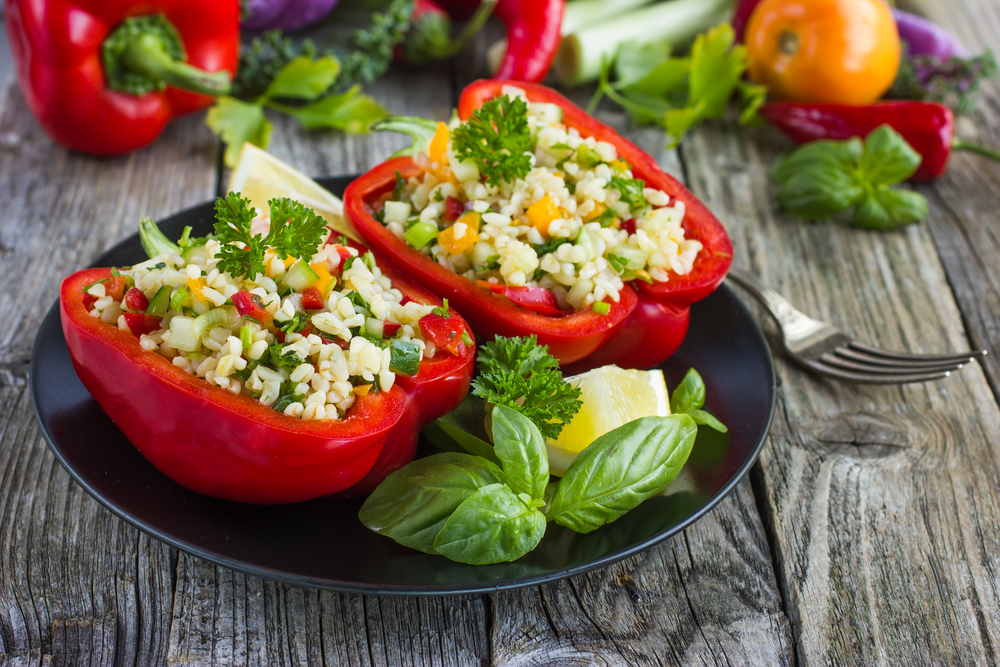 Now although you may instantly think 'meat, meat, meat' when it comes to BBQ's, let's not forget about our lovely vegetarian friends and the delicious options we can share with them. These stuffed peppers, for example, are a great way to combine your veg, carbs and protein, all in one quick easy to make dish.
Ingredients:
Largish Peppers
Cous-Cous (Regular or flavoured, it's up to you!)
Cheese (Feta goes really well in this!)
Preparation:
Now seeing as there's no meat (unless you really can't go without) in these, they're super easy to cook. Simply slice the top of your pepper off, scoop out the core and wash in cold water to remove any lingering seeds. Brush them with a small amount of olive oil and pop in the oven for twenty minutes at 200C.
Prepare the couscous in boiling water for the required amount of time (usually around 5 minutes). Whilst the couscous is cooking you can slice up some feta cheese into cubes. Then, once the couscous is done, crumble in half of the cubes and mix gently.
Remove the peppers from the oven and lower the temperature to 160C. Stuff the peppers with the couscous and cheese mix and then top with the rest of the feta. Return the stuffed peppers to the oven for a further twenty minutes, or until the couscous is golden brown and the cheese has melted 🙂
4. Chocolate & Marshmallow S'mores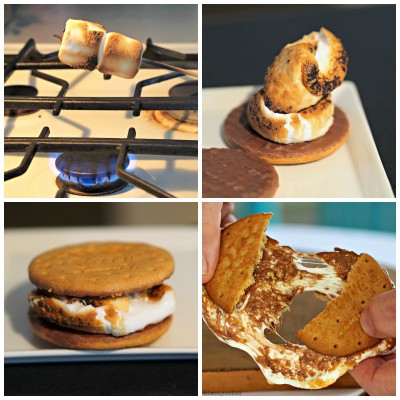 Say what you will about the American culture, but there's no denying that they know their treats. S'mores (as in, 'give us some more') have been a popular camping and BBQ indulgence for many generations. A sandwich of biscuit, melted chocolate and a toasted marshmallow is, let's be honest, a stroke of genius. It's probably time we caught up…
Ingredients:
1 big bar of chocolate (170g roughly)
1 bag of jumbo marshmallows
1 pack of digestive biscuits (although rich tea work well too)
You also have the option of extras such as chopped nuts, banana, Smarties, etc.
Preparation:
Preheat your grill to a medium level; we recommend around 160°C. Then again, if you are out in the wild, you can build a nice campfire (very carefully) to make these treats.
Break a digestive in half, or get two whole ones if you're really going for it, and sandwich a piece of chocolate in between.
Slide marshmallows along a few good-sized skewers, leaving enough room that they won't melt together, and place them on the medium grill or fire. Make sure you rotate them to get a nice, even finish. Once they're golden-brown, carefully remove a marshmallow from the skewer and place it in the chocolate and biscuit sandwich. Squish down the concoction, allowing the marshmallow to melt the chocolate, and enjoy the perfect s'more. Now just repeat as many times as necessary!
Comments
comments