In light of our new Scarborough campus we've put together a school of dishes to suit every taste…even if you don't really like fish we've got you COVered!
Yes they do smell, and they're normally quite slimy, but our fishy friends from under the sea do make for fantastic feeding, you just have to know what to do with them!
"A healthy diet should include at least two portions of fish a week, including one of oily fish. That's because fish and shellfish are good sources of many vitamins and minerals."
If you're one of the lucky ones who'll be studying at our Scarborough campus in September then it only makes sense to introduce some fish into your diet, and if you already love the little swimmers then you'll definitely enjoy these delicious dishes!
1. Salmon & moroccan vegetables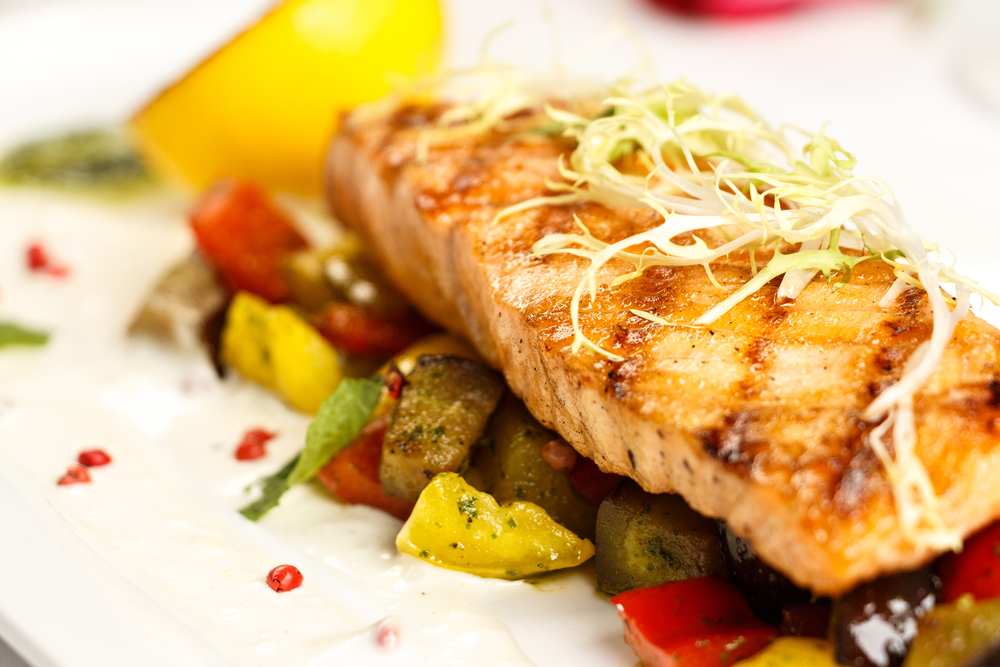 Ingredients
1 tablespoon of extra virgin olive oil
2 garlic cloves, crushed
2 tablespoons of tomato paste
1 cup fish/chicken stock
2 x sweet potato peeled & halved
1 x squash cut into sticks
1 x small head of cauliflower
1 x can of chickpeas
2 x salmon steaks
Recipe
This tasty little number is a super easy one-pot recipe, which is exactly what you want as a student… as little washing up as possible! Start off by heating your olive oil and garlic in a pan on a medium heat for around 30 seconds, then add your tomato puree and continue stirring/heating until the mixture is combined. Now it's time for the sweet potato, cauliflower and squash to be added, along with a pinch of salt, cook for 10-15 minutes until they're soft but still have a bit of crunch! Throw in your chickpeas, then season your salmon steaks with a pinch of salt and some paprika. Now all you have to do is lay them on top of the veg and steam for a further 8-10minutes. Once that's done you're ready to dive in!
2. Fancy fish finger sandwich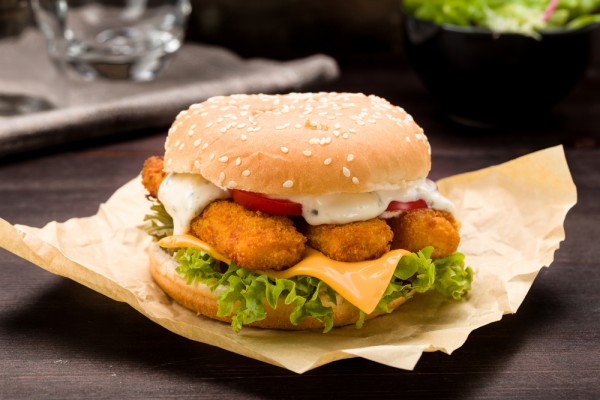 Ingredients
Half lettuce
1 x tomato
2 x burger buns
4 slices american cheese
Ranch dressing (0r dressing of your choice)
8-10 fish fingers
Recipe
These little beauties are extremely easy to make but delicious nonetheless, and they take you back to an easier time in your childhood. Simply cook your fish fingers at the required temperature/time (Recommended 210℃ for 13-16 minutes BUT check the packaging) Once there's about 8 minutes cooking time left on you fish fingers  you can begin toasting your buns on the grill, but before you put them in add two slices of cheese to each bun (One on each piece of bread…we like cheese). Whilst that's melting you can cut your lettuce and slice your tomatoes to fit your bun, then it's simply a case of assembling your simple….don't forget the sauce though!
3.Tempting tuna bake
Ingredients
White/wholemeal pasta
1 x tin sweetcorn
1 x tin tomato soup
300g grated cheese
2 x tins of tuna
Recipe
Easy as it gets: bring a pot of water to the boil and begin cooking your pasta, roughly 1 1/2 cups per serving. Whilst the pasta's on the boil, mix your tomato soup, tinned tuna and sweetcorn together in a mixing bowl. Once the pasta's cooked simply combine with your tuna, sweetcorn, soup mix and place in an oven proof dish. Now this is the key moment in the preparation stage – ADD CHEESE TO TOP OF THE PASTA BAKE – Do not forget this stage (We like cheese) Once prepped it's time to slide in to the preheated oven, cooking time should take around 20-25 minutes at 200℃.
"This tuna pasta bake's great for non-fish lovers as it doesn't really taste fishy at all – Tuna steak is renowned for it's meaty texture and goes great in tomato dishes where chicken can substituted." – James @ unCOVered
Comments
comments