Fashion graduate Sophie Ward tells unCOVered about her new fashion venture –
Underlined
I studied Fashion at Coventry University which covers all sorts of areas such as design, making & production, research and marketing. I graduated in 2012 (Studied a foundation course at the uni the year before). I gained a First Class Honours from my degree.
Whilst being on the course I discovered many new things that were unfamiliar to me prior to the degree. A lot of the course involved carrying out the correct research in order to gain inspiration. Much of my work related to structure and architecture, as I always found this inspiring when adding shape to the body. The equipment at Coventry is amazing so I could really experiment and create things I couldn't have in a normal environment.
What type of work did you display in your final year degree show? 
I created a 10 outfit collection to showcase on the fashion catwalk as part of the degree show. My collection was based around the theme 'lights'. I produced my own sublimation printed clothing, and then ventured into adding structure.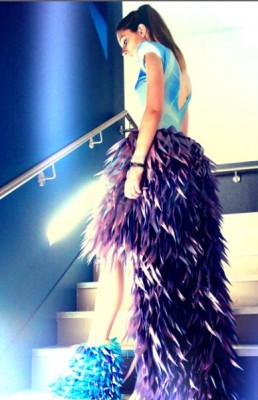 Where did the inspiration come from to launch your own fashion business?
I've always wanted to be involved in the fashion world so I decided to build my own company! I research future trends to see what is going to be popular in the future, so I often work in advance. I then look at various designers from all kinds of areas, from fashion to automotive and architecture. Anything that catches my eye on a daily basis can be my inspiration!
What is the meaning behind the name 'Underlined'?
I wanted a name that is unusual and not the same everyday 'Boutique' brands you hear of. I looked into the definitions of words and Underlined means 'to create a statement' which is something I want my customers to feel, to stand out and feel good!
What is the difference between your 'seasonal collections' and your 'fast fashion' options?
The 'seasonal collections' are my handmade collections. Everything at Underlined is designed, pattern cut, fabric sourced, produced and marketed all by myself. I am often able to give the customer exactly what they want by changing the colour or style of an original handmade piece. Underlined's 'fast-fashion' options are items which are sourced from outside the company in order to offer the customer a 'fast-fashion' option i.e. a very quick trend. These items are often a lot cheaper than handmade garments, which also gives the customer an option as to how much they spend.
Because of these options I feel I can offer the customer a lot more choices than most fashion start-ups. I often have customers telling me how special they feel in a handmade piece because it isn't mass produced.
How did you go about starting the business?
I researched various areas to look for support in starting my own business, and I came across both The Prince's Trust and The SPEED Plus Programme.
SPEED Plus is a six month business start-up project part funded by the European Regional Development Fund (ERDF), who aim to help create new businesses in the West Midlands.  Twenty universities have previously worked with SPEED, today the project is led by the University of Wolverhampton, who work in partnership with Keele University, Birmingham City University, Staffordshire University and Coventry University.
I gained business qualifications through the programmes and had lots of support to produce crucial items such as business plans. After I completed the course The Princes Trust helped me with my business by issuing a loan to help me start up properly. I began the business in October 2014 and feel it has come very far in such a short amount of time.  It's a lot of work, but one day I hope to grow the business and have lots of employees to help me expand even further
What advice would you give to other students wishing to set up their own business?
You have to work so hard; it's not easy at all! The effort you put in is what becomes of the business, so you have to be prepared to work hard. Being self employed is very challenging at times, especially working by yourself and having to make all the decisions. But I am already seeing the benefits and the hard work is starting to pay off.
One day I decided that I had had enough of working in retail, which I've been doing for 7 long years. That day I walked out of my job and haven't looked back since. I now do something I love for my job and it's exciting to grow something from absolutely nothing.
What will students find at the 

Underlined

 stand at our Freshers Fair?
I will be bringing a large selection of fast-fashion options, which are all available on my website. Students will be able to pick up beautiful dresses for around £10! Perfect for all those fresher nights out! I will also be bringing  a small range of handmade products so I can show potential customers what my business is all about.
Even though I graduated in 2012 I still feel close to the uni, having just completing the SPEED plus course. So during Freshers' week I can offer advice to students about fashion and business, as well as having lots of lovely items for sale!
Comments
comments