"These children will have probably endured more in their childhood than most will in a lifetime." International Law student Rona Karimi shares her experience of the Changing Lives Programme…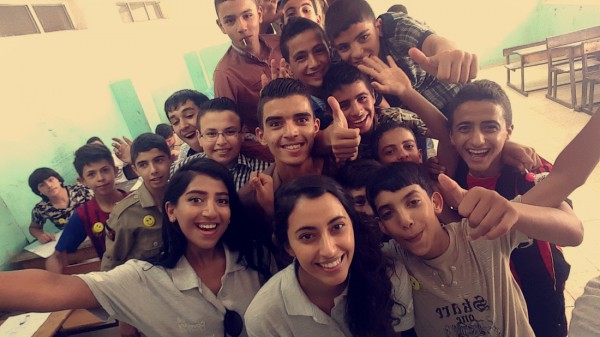 Visiting Jordan was extraordinary. I feel so privileged to have been giving the opportunity to be apart of this wonderful journey. The highlight of my time is Jordan was visiting the Madrasati Jaber bin Hayyan Boys School in Zarqa. Although these boys were studying in overcrowded classes, with three students sharing one desk, not even enough space to move their arms and the only thing they were learning from was a blackboard with a small piece of chalk, which had to be used carefully so that it could last longer. Yet, none of this really mattered and nothing was going to stop them from learning. I was so humbled and inspired to see their love for school and education.
During a small group discussion the boys gathered around to practice their English. One boy said to me that I was very lucky I was living in England. I told him: It doesn't matter where you live, study very hard, get your education and nothing will be impossible as education is your weapon to escape poverty and gain self-respect. I was fascinated by how intelligent some of these boys were and the big aspirations they had at such a young age.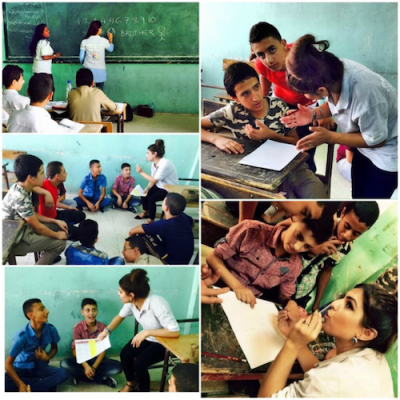 Another one of my memorable experiences in Jordan was visiting the Gaza Palestinian Refugee Camp in Jerash, where we got involved in providing fun and educational activities to the children. This experience was deeply humbling and I feel lucky to have met such high-spirited children and instantly fell in love with their energy and joy. Many of these children craved for the kind of school learning that most children take for granted back here in the UK. These children had probably endured more in their childhood than most will in a lifetime. I was so heartbroken to witness the poor dusty conditions of the rooms that these children were expected to play in.
However, I was encouraged to see them smiling despite their pain and troubles. Coming from a war zone background, I know how much war can have a damaging and negative impact on people and much more so on children, who suffer the most. This experience has been me realize how different my fate would have been if it wasn't for my parents selfless actions and sacrifices to move to England, for my education and social well being. I feel that, this visit has widened my perspective and has given me the opportunity to see a completely new way of life, through which I have learnt what really matters, and that I would never take for granted how easy life has been for me and more importantly it has changed the way I think about life as a whole.
You can find out more about the Changing Lives Programme here. 
Comments
comments