If you've never heard of Jimmy Doherty, he's one very famous farmer. And the likelihood is that now you've heard his name once, you'll hear it again soon. He's also part of Coventry University's alumni, and opened the mighty Hub building in 2011. In 2016, he invited a team of our Biomedical and Medical and Pharmacological Science undergrads to take part in work placements on his farm in Suffolk.
After researching a PhD in Entomology at Coventry Uni, Jimmy Doherty set up his own farm, and today, it's a major attraction and Jimmy is a respected TV personality. This year, he invited some of our own 2nd and 3rd year students to take part in work experience projects over the summer at his farm. And he didn't have to ask twice…
We spoke to the people involved in this summer's project to see what life was like down at the farm, what they were working on, and how this could benefit
you
in the future.
This idea was born of a friendship between Jimmy and the University's staff, and run in-part by Dr Chris Mee, who some of you may recognise! Chris, who was at the farm, told UnCOVered that what makes this placement special and more accessible to some students, is its concise timeframe. Lasting 4-8 weeks, this is a much shorter opportunity than others, which as it's voluntary, suits many students more.
Expenses are paid, so you're not expected to be out of pocket. And there's a real emphasis on independent work, making this opportunity invaluable to anyone wanting to build a career in science (and that's a lot of you reading this we imagine!).
This time around there were 2 projects running together, and we have the inside scoop that there are hopes to expand and continue in the future!
Meeting the students
Three second year
Health and Life Sciences
students were quick off the bat to snap up their places. Kelly, Albert and Kaveh (seen above) took part in two separate projects. And naturally as they're the experts, we turned to them to explain their work.
Interview with Kelly Burr

UnCOVered: Hi Kelly! We understand there was work on 2 projects going on at the farm. For us non-scientist types, please could you briefly explain what you were working on?
Kelly: The two projects running are based on biochemistry and microbiology. I'm working on the biochemistry project so I'll do my best to explain what it is I'm trying to do!
In theory it's believed ammonia could be stored and used as an energy source. When urea is in the presence of an enzyme called urease, ammonia is produced. Urease is produced by plants and bacteria. Certain bacteria found in urine produce urease. As Coventry University has an affiliation with Jimmy's Farm, we were able to visit and collect samples from their animals […]
I'm testing the urine samples I collected for […] urease. As some samples were pure and some were soil-contaminated, the idea is to try different techniques to see which is the most efficient. This could hopefully be used in future research as a viable, tried and tested method for detecting urease in urine samples.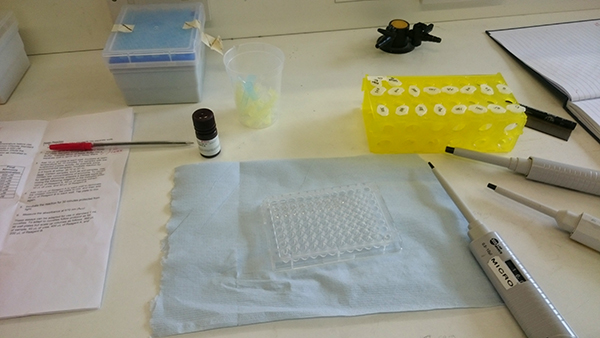 UnCOVered: The University are hoping this is a project which could lead to further collaboration in the years ahead. Would you recommend it to prospective or current students?
Kelly: I definitely would recommend getting involved in any research opportunities within the University.  They're a great way to gain experience and skills you may not be offered through your course. For example, for this research I've run out of certain reagents I require, so I've had to make my own. This is chemistry that isn't taught on my course, so something I wouldn't have learnt how to do had I not been working on this project.
Uncovered: Do you have any highlights from your experience?
Kelly: Obviously spending time at the farm was a brilliant experience […]. The staff were so helpful, we were given open access to all the pens and a private space to work, oh, and not to forget the lovely free lunch!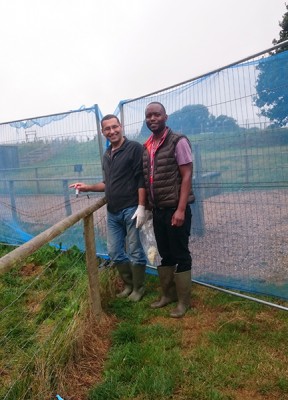 I had the opportunity to get to know new people, as the guys working on the microbiology project aren't doing the same degree as me […] I also had more time to have in-depth conversations with staff members.
Uncovered: Finally, as a woman in science, do you feel the gender gap is becoming less-pronounced in your field? Or from your experience, have you found there are as many women entering science courses now as men?
Kelly: […] I'll be honest, I wasn't aware there was a gender gap, but on my course I would actually say we have slightly more women than men, so something must be changing.
If you would like to know more about this type of project, then speaking to your lecturers or course leaders is a great way to find out more information about them. You can also stay tuned for our next Jimmy's Farm blog on UnCOVered, where we'll meet Albert and Kaveh!
Comments
comments