You can relax now, you did it, it's over! After years of hard work, you have officially graduated from Coventry University.
But if that doesn't apply to you, you weren't around for our week of graduation ceremonies or you have no idea what's going on. That's no bother, here's a bunch of lovely stuff, in case you missed it…
The Weather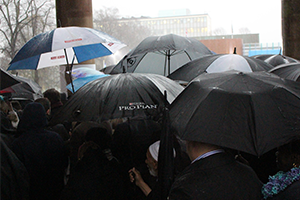 Ok this wasn't so lovely. Although things cleared up a bit at the tail end of the week, wow was that some seriously terrible weather at the start. We're hoping our great students who graduated at these ceremonies didn't see this as a sign of things to come. We're sure no matter if it was sunny, or if it looked like the world had slipped into the seventh circle of hell, you're going to move onto a fantastic next step in your life.
Family pride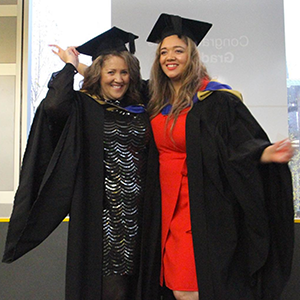 Graduation is always a week full of pride, whether it be pride for your friends and peers, or just for all you've accomplished. However, none were more proud of our amazing graduates last week than their families. We were lucky to see so many beaming faces. It's all been worth it guys!
Not only that, but this year's ceremonies also saw an amazing moment of family bonding, as mother and daughter, Diane and Azara, graduated from the same course together.
Honoured guests
It always feels great to be part of a community that gives back and shows respect. That's why we're always happy to see who has been given special honours at our graduation ceremonies.
This year lead singer of The Selecter and Queen of Ska, Pauline Black, was awarded an Honorary Doctorate of Arts for services to music in Coventry and race relations. It was great to see someone so cherished by our own city be commended.
Further away from home, Rector and Vice-Chancellor of Stellenbosch University in South Africa, Professor Wim de Villiers was also honoured. Due to his efforts in the world of science as a medical doctor and researcher across South Africa, America and the UK, Professor de Villiers was awarded an Honorary Doctorate of Science.
You can hear Professor de Villiers' thoughts above, along with some excellent advice for us all.
This cool band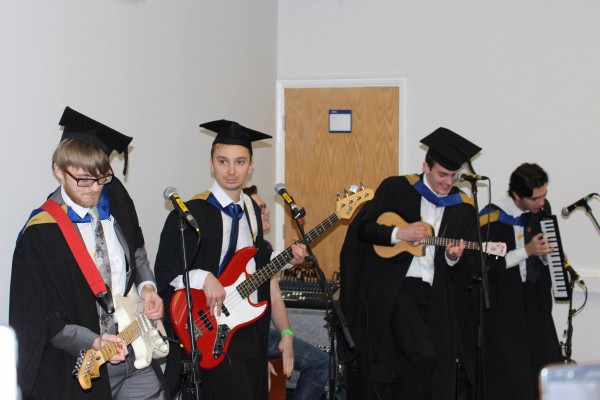 Our faculty of Arts and Humanities decided to throw a little get-together after the ceremonies, with a major highlight being the music. A fantastic group of funky folk players, The Upsiders, comprised of some of our Music grads, dazzled guests with a mix of upbeat cover tracks.
As you can see above, they were busting out the jams.
The Coventry spirit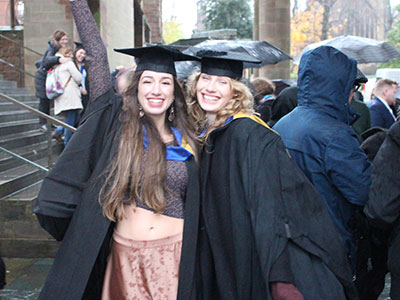 There was excitement, there was joy and success and there was a lot of shouting and smiling. We like to think these are all things that make up the famous Coventry spirit… Which is sort of like Christmas spirit but it lasts all year and makes us very proud to work at this university.
If you've got any top moments from graduation which we've missed or memories from your own graduation a few years back, let us know either in the comments below or on social media.
Comments
comments