For some, one of the most daunting aspects of going to university is living away from home. Don't worry if this is you, it affects a lot (if not the majority) of students at some stage. Luckily, we have some peeps who have been there, done it and can give you a first hand account of their experiences. Meet Maia, Kyle and Josh…
MAIA: 17-year old Cov local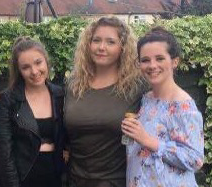 At the start of my first year of sixth form, I had no intention of going to university. I mean, after doing 7 years of revising and sitting exams, I just didn't think that it was for me. Then my school started organising trips to local universities where we got a taste of what it's like and a lot of valuable information about how to apply. After touring the campuses with current students, who can answer questions about uni life, courses, the societies and how good the food is, I left with a totally different view of university and for the first time I seriously considered it as my next step.
Because I was born in Coventry, I know the best places to shop, eat and explore. There are plenty of fun events going on too, like the annual Godiva Festival that's rich with music and culture.  Coventry is also well-known for its Christmas lights. This is another big event in the city and you would be surprised about some of the big names who have appeared to flip the switch. We've had people like Union J, Connor Maynard and Fleur East in the past.

While those events are once a year, there's still plenty to keep you occupied in Coventry all year round. There's the famous Transport Museum where you can take a step back in time and see what the city was like almost 100 years ago, or you could go to the local Belgrade Theatre and take in some culture with a variety of plays, musicals and pantos. If you're wanting something a bit more modern, you could head to Fargo Village, where you'll find a mixture of art, culture, independent and community businesses, great food, lots of markets and live music. It's a great place to go with you friends and browse through the different events that they hold regularly.
So, that's my pitch for you to come and enjoy Coventry. It's a great place to study and a fun place to live. Hopefully see you soon.
Maia.
KYLE: Living at Uni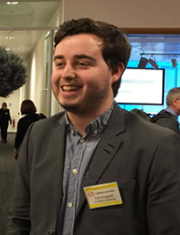 I studied Journalism and recently graduated with a First, YAY! But even though I loved my course, living at university was probably my favourite part of the whole uni experience. It's also probably the part that I'm missing most now that I'm back home. For me, living away from home meant one thing: In-de-pen-dence! I had my own space, my own schedule and my own rules. Once you get over the initial novelty, you realise you have so many opportunities to do things you wouldn't normally do, whether that's spending all night in the library with friends or going on impromptu, late-night McDonald's runs. I was lucky as all my friends were in the same area! We all lived nearby, either in the same building or within walking distance of each other. This meant that it was super easy to make plans.
As well as all of that, living at uni also means you get to reinvent yourself however you want. Everyone is new and has no expectations of you, so make the most of it and you can be who and what you want to be! It's not often you get such an opportunity to reinvent yourself. Take advantage.
Kyle.
JOSH: Living in Coventry, first year Adult Nursing student
I won't lie, when I was 18, Coventry definitely isn't where I imagined myself living now. But then again, I'm not sure where I did imagine myself living. Or what I actually imagined Coventry was. I grew up in Halesowen, a suburban town not far from Birmingham. I love the countryside, but having visited some more rural universities, I knew deep down it probably wasn't for me just yet. That said, Birmingham was almost off-putting, to me, in its size. It's great to visit, don't get me wrong, but I didn't want to live there.
The truth is, 18 year old me, clueless as I was, landed right on my feet in Coventry, because it's just right. Not too big and not too small. Enough parks to keep me happy and enough shops to keep my cupboards topped up. I love taking long bike rides or short strolls along the canals, where you can totally forget you're in a city in a matter of minutes. Equally, I love being able to walk into the city centre in less than 10 minutes from more or less anywhere I've ever lived here.
If pubs and clubs are more your thing, fear not, Coventry has plenty to offer in that department too. From cheap bars, to quirky pubs, and everyone's favourite student club nights, there's lots going on to keep you busy. If you find yourself hankering for more, Birmingham is a quick 20 minutes by train, and with buses running throughout the night you don't have to worry about getting home either.
If you're a shop-a-holic, the great news is Coventry's come a long way in recent years, and it really does have a lot to offer. The city centre is jam-packed with top high street names, and you'll find nearly everything you could hope for. But don't despair if you think we might be missing your favourite outlet store – there are dozens of retail parks scattered around the outskirts of the city centre, most in a comfortable walking distance with even more shopping treats waiting for you. And if you're looking for some more student-savvy-shopping why not check out the Coventry Indoor Market? Read more about the market in student Laura's blog.
Thanks to Maia, Kyle and Josh for sharing their stories of living at university and in Coventry. In Coventry, we're lucky to have a campus that's right in the heart of the city with student accommodation within easy access to both the university buildings and the other fun features of living in a city centre. For more information on living in Coventry and the student accommodation available at Coventry University, please visit our dedicated Accommodation webpages.
Comments
comments