When Phoebe first arrived in Texas it felt like Lewis Carroll's Alice in Wonderland. She had unknowingly drunk the magical potion and shrunk to the size of a white rabbit. Everything was huge.
Unlike my peers who were spending their teens discovering the wonders of alcohol, snogging and spreading rumours, I spent my time hidden in a soundproof room with my clarinet. Endless hours were spent practicing scales and arpeggios, breaking nails in the complicated parts of Palladio, and losing the feeling in my cheeks when I'd run out of breath. Promised by my school music department, was the opportunity of a lifetime, an exchange programme with a Concert Band in Texas. I worked my fingers quite literally to the bone, for the year running up to our flights to Dallas Fort Worth international airport.
Despite everything, all the band rehearsals and anticipation, when I first arrived, all I could think about was the unbearable heat scorching my skin. Unaccustomed to the high thirties (degree Celsius) temperatures, my body rejected the sunshine, sweat poured down my neck catching onto pieces of skin already peeling off my shoulders. I spent a greasy week smothered in factor 50. However, despite the blistering skin and permanent squinting-induced headache, Texas really was a wonderland.
The locals were as bright as the weather, their perfect pearlescent teeth constantly revealed in warm smiles printed across their faces, no matter whom you were or what you wanted, you got a smile. Quite unlike anything I've ever experienced in England before, strangers were welcoming. The school I visited, Carroll Senior High, was filled with students who held the door open for strangers and put the toilet seats down after use. Everyone just seemed to care.
The money our band raised from concerts enabled us a tour of Dallas Cowboy Stadium, the fourth largest in the NFL (National Football League). I may as well have been an ant on a double decker bus. The word ginormous was invented, just to describe this stadium. With a maximum capacity of 105,121 people, it is not difficult to imagine the volumes of noise that are inflicted on American Footballers as they chase balls and smash into each other.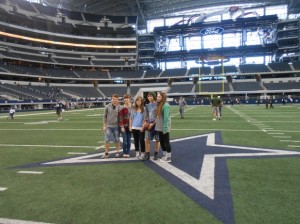 Supermarkets the size of football pitches sent me into a panicked frenzy, hours were spent running up and down the aisles dedicated just to cereal. Perhaps there was too much choice, but with so many versions of processed cheddar, you really can't go wrong. Resisting the temptation to try a 'glamburger' (which are as extraordinary as they sound) I found myself in 'The Cheesecake factory' for dinner. Made famous by the overplayed E4 series The Big Bang Theory, I was misled into thinking my only choice was cheesecake. Instead I was offered an extensive dinner menu. I chose Evelyn's favourite pasta, a mixture of campanelle pasta with broccoli, roasted eggplant (aubergine), peppers, oven-dried tomatoes, olives and pine nuts. I still cannot tell you who Evelyn is, or why it is her favourite pasta, but I certainly enjoyed it. The night after, determined to experience more of a Texan culture, as opposed to a general American one, I tried Tex-Mex, a fusion of cultural cuisine from Texas and Mexico. A delectable masterpiece, I devoured two spicy tortillas filled with beef, beans and stifled in shredded cheese.
For a traditional Texan experience I was directed to Fort Worth Stock Yards. Handing over $10 brought me 2 minutes sat on a giant Longhorn bull; however I instantly regretted my decision, being almost totally incapable of getting off the animal. For my friends watching however, the $10 was worth every penny, I've yet to live the experience down. The Stock Yard stables petting zoo is a far more tame option, despite the pungent smells which cling to your clothes hours after you leave, I didn't once embarrass myself, so it gets my vote.
Trying out line dancing at Billy Bob's country music club was as uproarious as it was rousing. Murky rooms filled with fading neon signs and cowboy memorabilia cheered me on while I slapped my knees and span my partner round. Burly bearded men looking as if they'd jumped straight out of Sergio Leone's Western movie The Good, The Bad and The Ugly skipped around me in aggressively perfect timing.
Even though by the end of my 14 days as an honorary Texan, I was the colour of a ripe tomato and carried an extra 5 pounds, the trip was one that has stayed with me way past my days as a socially awkward school girl. The sweet sound of the Southern American drawl and cartoon-like yellow school buses are impossible not to recall with a smile. Or perhaps, a Cheshire cat grin.

A guide to Texan Success
An adult return flight from Heathrow airport to Dallas Fort Worth international airport with British Airways currently costs £590. (http://www.britishairways.com) A self-guided tour of Dallas Cowboy Stadium costs $17.50, giving you access to the field, locker rooms, and the post-game interview room. (http://attstadium.com/) Billy Bob's dance lessons are $2 per person. Entry to the Stock Yard's Petting Zoo is exclusively weekends at $5 entry. (http://www.fortworthstockyards.org/Attractions.aspx) Photos taken during Phoebe's trip in 2013 are of NFL stadium and school buses at Carroll Senior High School.