MSc Design and Transport students were treated to a look at Travel De Courcey's battery electric powered Optare Versa buses on Monday morning this week. Travel company boss Mike De Courcey explained it had been his ambition to be the first UK operator to use the buses fitted with the fast charging technology at the War Memorial Park bus stop. The three buses are being exclusively used for the Park & Ride South to city-centre route. With a maximum range of approx 70 miles on a full charge, these first generation buses manage 9 or more round trips before needing a top-up charge from the fast charging points. The buses are recharged at the end of the day's operations at the bus depot at Rowley Drive, near Coventry Airport using a trickle charger on-board the vehicles from a 3-phase mains supply.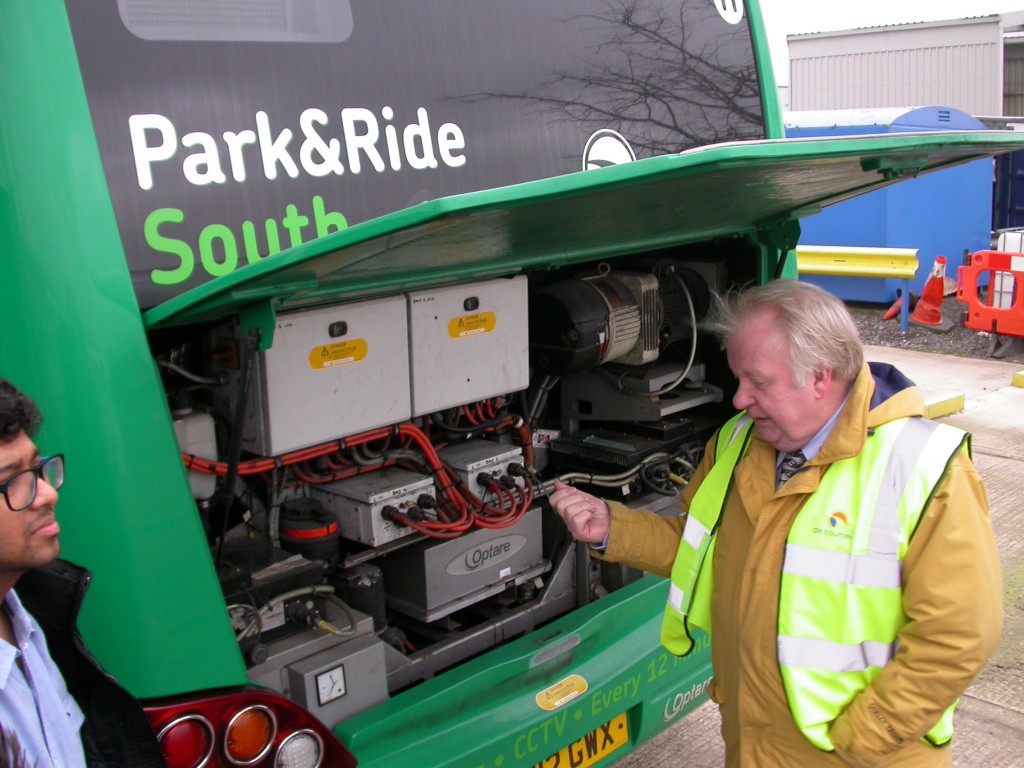 Mike De Courcey explains the technology to MSc Design and Transport students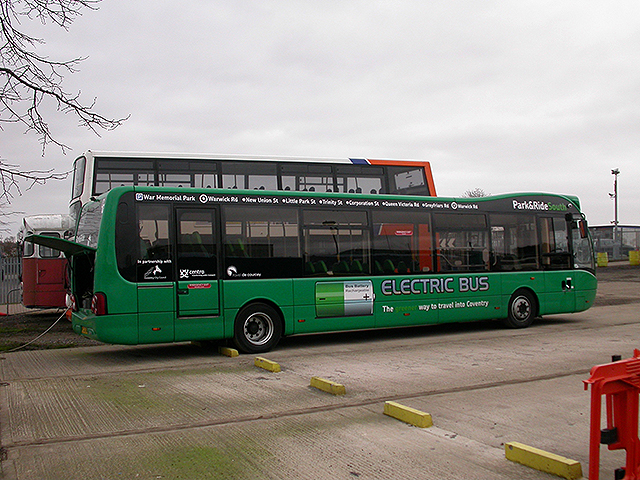 Three 11m long electric buses are trickle-charged overnight at Travel De Courcey's Rowley Rd. depot
Prior to its first trip of the day the bus is a little cold for our students!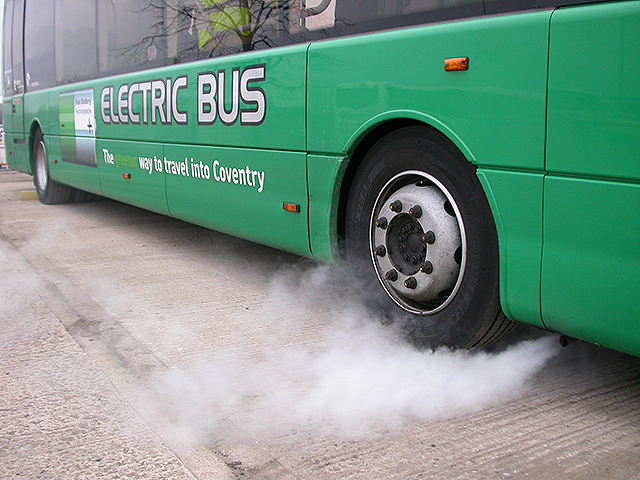 Not the kettle boiling, but the diesel fuelled Webasto heater warming up  and the smoke soon cleared up!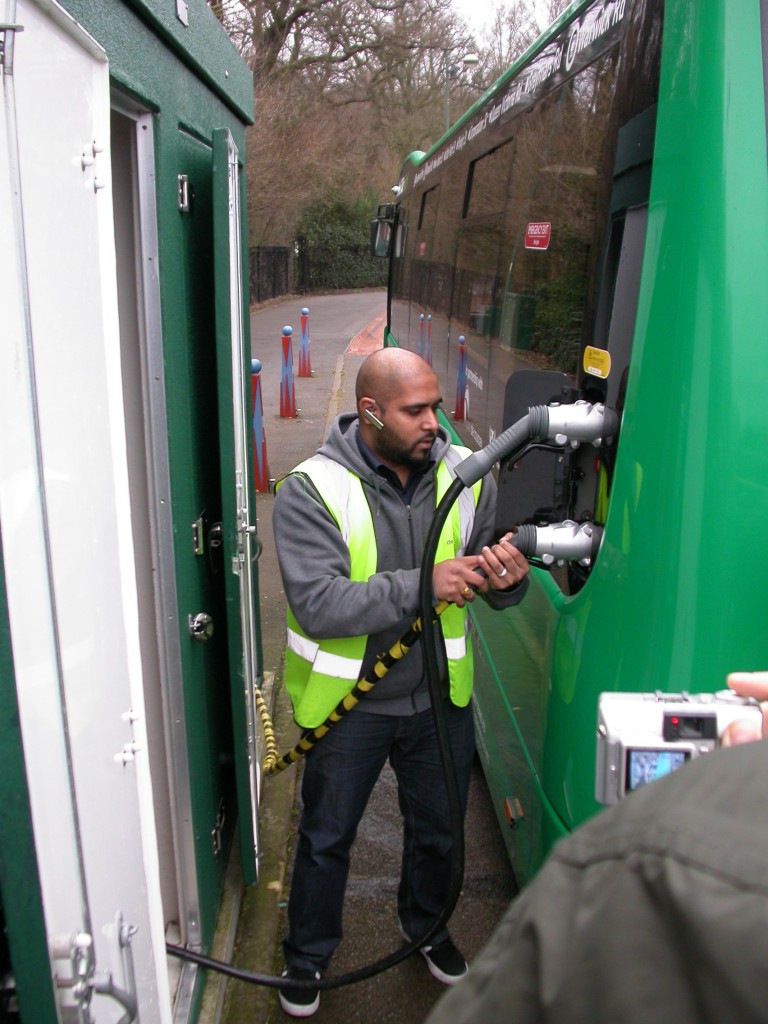 Fast charging at Memorial Park is via 2 x 25KW plug-in cables
Flight deck – where's the rev-counter then?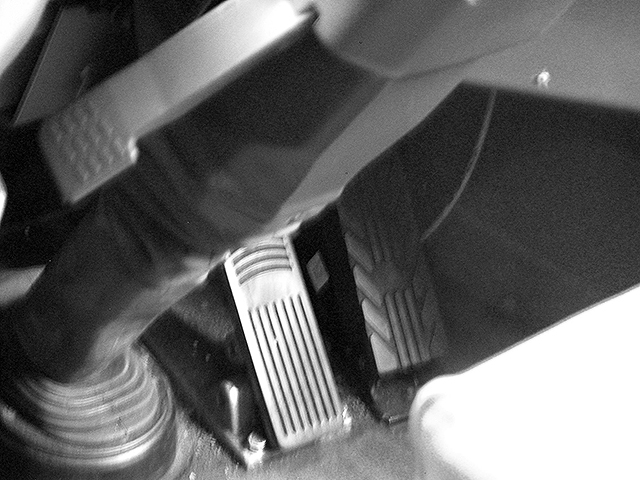 Electric driving is simple – stop and go pedals
With a 5 year warranty from the Leeds based manufacturers, Mike expects each vehicle to give up to 15 years service before needing replacement. Optare claim that the vehicles would repay their purchase cost after 4-5 years of revenue earning operation, however, almost all the currently operational electric buses in the UK have benefitted from support via the Green Bus Fund. The battery technology is upgradeable as are the electric motors which power the rear axle, rather like a conventional diesel powered bus. If it were necessary, the whole electric drive-train is on a dismountable cradle, which can be replaced by a conventional internal combustion power-train. Heating and windscreen de-mister blowers are heated by a Webasto diesel-fuelled heater unit, conserving the electric power for where it is most efficient – moving the vehicle and lighting.
Since these buses came to Coventry, electric buses are silently making an appearance in other UK cities with traditionally high bus ridership such as Nottingham & York, but also in more rural Dorset and the historic city of Durham. Further afield, operators in Switzerland and Australia are also enthusiastic customers for the electric vehicles from Optare.
Read more about the Optare Versa here >
PA