One of the things I always judge a town/city centre on is whether I can get a good cup of coffee and bite to eat, and not necessarily from a well-known chain.
With this in mind, I thought I might help you out with a few suggestions for great coffee shops in Coventry
Drinking in:
1)     Playwrights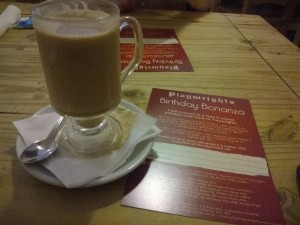 Where: Hay Lane, 2-5 minute walk from uni
Review: Playwrights is a lovely Café/Bistro where you can get a decent cup of coffee, great hospitality and some quality food. For a student lunch or snack, it may seem a bit more on the pricey side compared to some of the budget places in the area, but the 10% student discount helps. It has a nice atmosphere, and if you'd rather go there for a full meal, they do a great range of food from 'create-your-own omelette', with a choice of fillings, to an 8oz rump steak with chips, onion rings & peas. A lovely café with reasonable prices, where you could go with friends or even take someone out for a date!
Extras: As well as the 10% student discount, you can get a free birthday meal (as long as you go with someone else who is buying a meal)!
2)     Esquires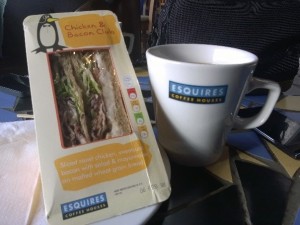 Where: Next to the Coventry Transport Museum, 5 minute walk from uni
Review: Esquires can be found just near the entrance to the Transport Museum. It has a nice atmosphere, with comfy seats, where you can watch the world go by. More importantly, the coffee is delicious and from what my friends told me, so is the hot chocolate (the honeycomb one being their favourite). Esquires have their own sandwiches, which can be taken away or eaten in. It's all nicely priced, and definitely worth going to.
Extras: 20% Student Discount.
3)     Druckers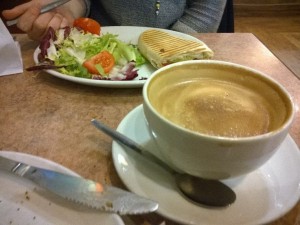 Where: Hertford Street, 5-10 minute walk from the Uni
Review: Druckers is definitely the place for those with a sweet tooth, with an awesome range of cakes you can gorge yourself on. Cakes aside, the coffee is also very tasty and better still, money friendly. If you don't fancy yourself a sweet treat, the range of sandwiches and toasted paninis make it a great place for a spot of lunch, all helped by the fact that you can get 20% off as a student!
Extras: 20% Student Discount
Grab and Go:
1)     The Deli
Where: Jordan Well – 1-2 minute walk from uni
Review: The Deli is quite well known among people in Coventry. Its great on-the-go food such as baguettes and its delicious fresh coffee make it the place to go if you want to grab something on the way to uni. The prices definitely won't break the bank. The coffee is also a very generous size.
Extras: Loyalty card scheme – buy so many coffees, get one free
2)     Ed's Coffee House
Where: Coventry Market – 5-10 minute walk from uni
Review: Ed's Coffee house is a great stall in the market, where they sell fresh tea and coffee. They have a whole range of flavours for a good price, and are great at catering to what you want. On top of this, you can get a cup of fresh coffee while on the go for a very cheap price. Each day, they have a different coffee to try and if you really like it, you can buy some to take home. A brilliant example of fresh coffee on the go for a great price!
Extras: You can buy some delicious fresh coffee to take home!
Enjoy!
– Alex
Comments
comments