I'm Calum and I've just finished my 2nd year studying Criminology. One of my university highlights so far is getting involved in American Football. I'd definitely recommend getting involved in some form of sport while you're here, even if you've never played before. It's a great way to make friends, mix with new people and you'll also learn from excellent coaches.
And don't think the sports clubs are just for pro's, anyone can join no matter what level you're at…
1. CUSU sports
My top tip for new students is to find something you enjoy at university – it's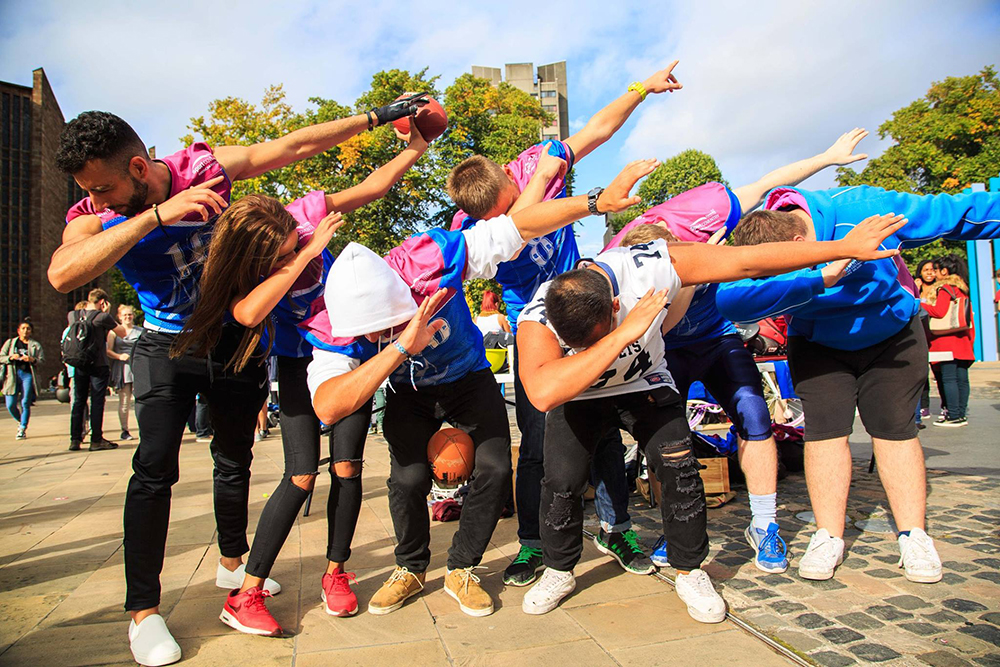 nice to get away from your studies sometimes. There are over 50 sports clubs, so lots of opportunities to develop in the sport you love or try out something totally different. I went for the option of trying something new, it was one of the best decisions I've made since coming to uni.
I have met a lot of the Students' Union (CUSU) staff during my time at uni, mainly through my committee position with the American Football Club. CUSU are really supportive and want to see students and sports teams succeed. There's a lot of help and encouragement with the admin side of things and students often overlook how valuable these skills are. It takes a lot to organise a sports team alongside your studies.
2. Team Phoenix
I was part of Team Phoenix during the 2016/17 academic year. This is a partnership between the university and Students' Union to fund sports clubs competing at the highest level. The commitment the programme looks for and the support offered will positively reflect in all aspects of your student life, both on and off the field. Because of this support, my fitness, understanding of sport and desire to better myself have all improved.
3. Varsity
Varsity is one of my favourite times of the year. Varsity sees teams from Coventry University taking on the University of Warwick, with thousands of students attending the various events. My personal favourite event is the Ice Hockey at Planet Ice. The atmosphere can only be described as electric. There is a real buzz around the arena and I always make sure I get my ticket early.
The 2016/17 Varsity concluded with the Men's Rugby Union at Ricoh Arena in what was a closely fought contest between the two teams. The match took place alongside the Premiership Wasps v Harlequins game, so you can imagine how excited we were! All in all, some great sport was on display from both unis across the week. Varsity is the event of the year and not to be missed!
4. The social side
Wednesday nights is sport night… teams go out regularly to socialise and meet other teams. I actually met one of my housemates on another sports team, so it really can be a great opportunity to meet new people. If you don't play, or don't even like sport, many teams encourage social members to join. Whether you are a fan of a sport or just want to meet some new people, Wednesdays are a good opportunity for both.
5. Recreational sport
And finally, if you're looking for something more casual, the University Sports Centre provides a membership purely for use of the sports hall to play badminton, table tennis or basketball. So if you just fancy an hour's break from studying to chill with your mates, then this is the option for you. I can personally say from experience that making time for yourself and having a break is hugely important during your studies.
If you'd like to know more about where you can keep your gym game strong in Coventry, read our blog: 4 of the best gyms in Coventry!
Comments
comments